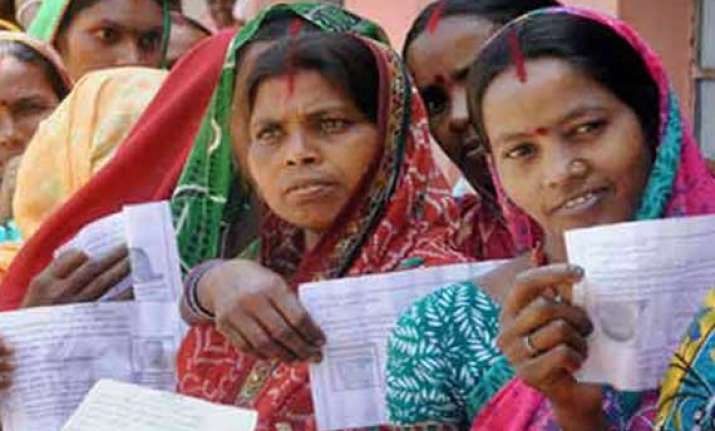 Phulbani (Odisha): Around 64 per cent of the electorate today cast their votes in the bye-election to Odisha's communally sensitive Kandhamal Lok Sabha constituency amid boycott by voters in nine polling stations.
"Around 64 per cent turn out of voters was recorded in the bye-election to Kandhamal Lok Sabha seat. Polling remained peaceful, smooth and incident free," Kandhamal District Magistrate N Thirumala Nayak, who is also the returning officer, said.
Though no untoward incident was reported from any place during the bye-election in the Maoist-hit constituency, voters boycotted voting in nine polling stations voicing their resentment over local problems, he said.
Joint Chief Electoral Officer (JCEO) J P Das said voting was boycotted by people in five polling stations in Daspalla assembly segment, while voters refrained from exercising their franchise in two polling stations in Boudh area.
Polling was also boycotted in a polling booth each in Phulbani and Baliguda assembly segements, Nayak said.
Amid tight security, polling remained brisk in some parts of the Maoist-hit constituency where an estimated 11.4 lakh voters were eligible to exercise their franchise.
Bye-election in the constituency, spread over Kandhamal, Nayagarh, Ganjam and Boudh districts, was necessitated due to death of BJD MP Hemendra Chandra Singh on September 5.
The fate of seven candidates including Pratyusha Rajeswari Singh (BJD), Abhimanyu Behera (Cong) and Rudra Madhav Ray (BJP) were sealed in the Electronic Voting Machines (EVMs).
Pratyusha's late husband had won the polls from Kandhamal in May with a margin of 1.81 lakh votes.
Voting was held in 1,497 polling stations spread over seven assembly segments - Phulbani, G Udaygiri, Baliguda, Boudh, Kantamal, Bhanjanagar and Daspalla. Counting of votes would be held on October 19.
Of the 1,497 polling booths, 530 were identified as sensitive where central paramilitary forces like CRPF and BSF jawans had been deployed to ensure free and fair polling, Nayak said.