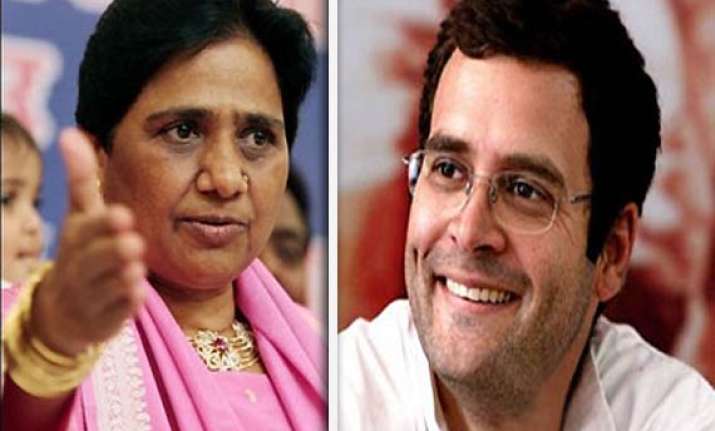 Lucknow, Nov 22: Taking strong exception to Rahul Gandhi's remarks against Chief Minister Mayawati, BSP today said the "Congress' yuvraj" should "learn politics" before issuing statements.

"Congress 'yuvraj's' remarks that Chief Minister said that there was no need of MGNREGA is absolutely far from truth. She had in fact objected to politics on the issue," BSP state unit president Swami Prasad Maurya said in a statement. 

Terming Gandhi's statement as anti-people, Maurya claimed the UP was among the leading states in implementation of the scheme besides it is among the first state in deciding the minimum wages for labourers.

Maurya advised Rahul to "first learn politics and then issue statements like these" and said that he should know that since the past 20 years the people of the state have marginalised the Congress.

"This has, however, has not changed the mindset of the Yuvraj," he said. 

Taking potshots at Mayawati's statement that MNREGA was not benefiting the people, Rahul Gandhi today said that he too was of the same view as the funds meant for the scheme were going into the pockets of officials, contractors and ministers.

Gandhi said that while in the rest of the country says that MNREGA is the most beneficial scheme, the Uttar Pradesh chief minister says that it has no benefits. 

Questioning as to why Rahul has been finding faults in the implementation of the central scheme before the Assembly elections, he allged that despite requests on decisions on some policy issues also on MGNREGA, the Centre has done nothing.

The BSP state unit president also criticised Gandhi on National Rural Health Mission (NRHM) saying that this scheme is being run as per central government guidelines and the role of the state government in it was very limited. 

Recalling as to how the state had favoured CBI inquiry into the NRHM, he said that it should be conducted in an impartial manner.

Maurya said that his party had never expected Gandhi would be using such "undignified" language while criticising the BSP and stressed that it is the Congress which was responsible for scams like 2G spectrum, Commonwealth, among others.

Maurya also blamed the Congress for backwardness, poverty and unemployment in the state where it had been at the helm for the maximum period of time.