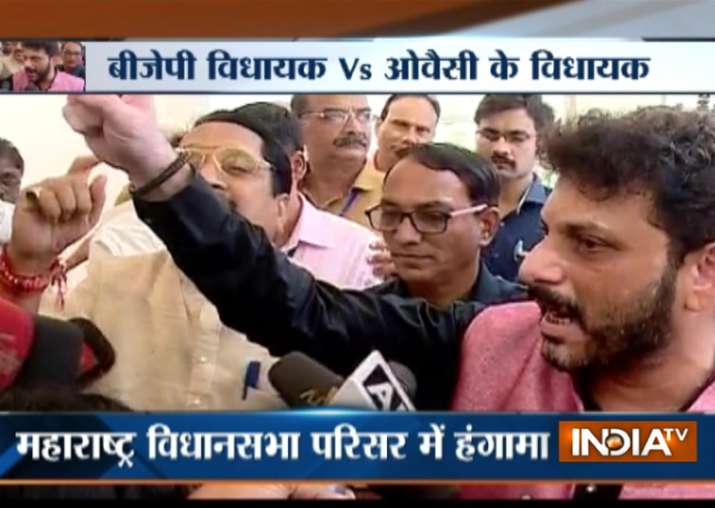 Noisy scenes were witnessed outside the Maharashtra Assembly today when BJP MLA Raj Purohit and AIMIM MLA Waris Pathan engaged in a verbal altercation over the ruling party's demand to make singing of Vande Mataram compulsory in all schools and colleges across the state.
"You have to sing Vande Mataram if you want to live in India, otherwise go to Pakistan. A true Muslim will always sing Vande Mataram," Purohit said. 
"A true Muslim is one who listens only to the Allah…," Pathan replied as he chanted slogans 'Hindustan Zindabad', 'Jai Hind'. 
During the brawl, Purohit even said that the AIMIM should be banned and Pathan should be disqualified from the House. Irked with the BJP MLA's behaviour, Pathan sat on dharna saying 'he was being forced to sing Vande Mataram'. 
"Nowhere in the Constitution is it written… we are being suppressed. No one can ban AIMIM. AIMIM is a nationalistic party. They are forcing me…. I will not say (Vande Mataram) … everybody is free to express his opinion," Pathan said.
The Madras High Court ruling on singing of 'Vande Mataram' has triggered a political slugfest in Maharashtra with Purohit demanding its implementation in schools and colleges of the state, while leaders of some other parties including AIMIM and Samajwadi Party opposing any such move. 
Yesterday, Purohit, who cited the Madras High Court order, said that singing of 'Vande Mataram' should be made mandatory in all schools and colleges across Maharashtra. 
Reacting to this, Pathan, who represents the Byculla constituency in south Mumbai, had said that he will not sing the national song 'even if anyone puts a revolver to his head'. The Samajwadi Party's Maharashtra unit president and MLA, Abu Asim Azmi, also said he will not sing it even if he was 'thrown out of the country'. 
The Madras High Court had on Tuesday made singing of the national song mandatory in schools across Tamil Nadu, at least twice a week. 
Shiv Sena brands Pathan, Azmi as traitors 
Meanwhile, Shiv Sena, which is part of the ruling BJP-led coalition, backed Purohit. Condemning the AIMIM and the SP, senior Sena leader and transport minister Diwakar Raote said they are 'traitors'. "They need to know that it (Vande Mataram) is a patriotic song which was sung by freedom fighters during the struggle for Independence."
As per the Madras High Court order, private and government schools in Tamil Nadu should ensure that their students sing the national song at least twice a week preferably on Monday and Friday. The order also said the national song should also be played in other government and private establishments at least once in a month. 
The High Court also said that if any person or organisation has difficulty in singing or playing the song, they shall not be compelled or forced to sing it, provided there are valid reasons for not doing so.