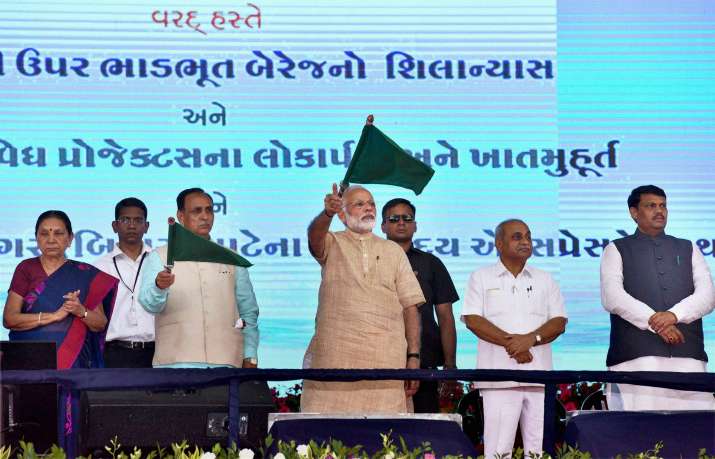 Prime Minister Narendra Modi on Sunday visited his hometown Vadnagar and was greeted by enthusiastic crowds everywhere. Modi, who also paid a nostalgic visit to his school, launched the 'Intensified Mission Indradhanush' and lambasted the previous Congress-led UPA over the state of the healthcare sector.
"The last health policy was announced during Atalji's (former Prime Minister Atal Bihari Vajpayee) regime around 15 years back. After that, the government came to power had some hatred for people's development.
"We brought a new health policy after almost 15 years from that," Modi said, addressing a large enthusiastic gathering, after inaugurating a medical college in Vadnagar, in his first visit to his hometown after becoming Prime Minister in 2014. 
He said his government was committed to making healthcare affordable to the poor and accused the earlier governments of not having cared to evolve a comprehensive health policy and were not being concerned about increasing the number of seats in the medical colleges in the country.
'Intensified Mission Indradhanush' is aimed to accelerate progress towards the goal of full immunization coverage to reach out to still unattended regions.
The Prime Minister received a tumultuous welcome from thousands gathered to greet him as he entered Vadnagar. Every corner of the North Gujarat town was choc-a-bloc with people even as Modi hung out of his Range Rover SUV to greet them. The crowds followed his cavalcade wherever he went.
"Coming back to one's hometown and receiving such a warm welcome is special. I go back with your blessings and assure you that I will work even harder for the nation," said Modi, who is on a two-day visit to Gujarat. 
He recalled the welcome, Major General K.C. Cariappa received in his hometown in Karnataka and stated that he must have got salutations of lakhs of soldiers, "but the reception by people of your home town is special".
"Whatever I am today is due to values I have learnt on this soil, among you all in Vadnagar," he told the people, amid loud cheers.
"I am happy that I have got to inaugurate projects relating to the health sector, particularly Intensified Mission Indradhanush," Modi said.
"Work is constantly being done to make healthcare affordable for the poor."
He said, "I was shocked to find that the stent for the heart cost Rs 1.5 lakh to Rs 2 lakh. The cost itself could give a heart attack to people. I called in experts, doctors and got it studied to know why was it so expensive. I am happy to tell you that there is a reduction of 30 per cent to 40 per cent in it now."
The Prime Minister cited the Jan Aushadhi Scheme, "through which we started generic medicine stores in government civil hospitals to sell cheaper drugs. Medicines which used to be available in the market for Rs 1,000 are now sold at Rs 18 to Rs 20 at these stores."
He said he had appealed to lakhs of doctors in the country to treat poor pregnant women completely free on the 9th of every month. "I am happy to inform you that as many as 80 lakh to 85 lakh women got free treatment like this. But I wish this to become a norm, giving free treatment for 12 days in a year is not difficult at all," Modi said. 
The Prime Minister said the maternal mortality rate and infant mortality rate had come down during the last three years after his government took over in 2014, but added "a lot more still needed to be done".
He inaugurated the Rs 500 crore GMERS medical college in Vadnagar and also interacted with the medical students in the classroom. The Prime Minister said his government increased as many as 6,000 seats in the medical colleges in the country and his aim was to ensure there was a medical college and hospital between every three to four Lok Sabha constituencies.
Modi also visited his school where he knelt and touched his forehead to the ground. He also offered prayers at the Hatkeshwar Mahadev Temple here.
Modi used to vend tea as a young boy at the railway station here.
PM Modi lays foundation stone for Bhadbhut barrage project, flags off Antyodaya Express
Later in the day, PM Modi, on his visit to Bharuch district, laid the foundation stone for the Rs 4,337-crore Bhadbhut Barrage project which aims to stop the ingress of salinity along the Narmada river.
He also also flagged off a new tra in Antyodaya Express between Udhna in Surat and Jaynagar in Bihar. Interestingly, he flagged off the train via a video link.
The prime minister also inaugurated various neem-related projects of the Gujarat Narmada Valley Fertilisers Company Limited (GNFC), and said the idea of 100 per cent neem-coated urea, conceived by his government, has stopped its pilferage and helped in addressing the problem of urea shortage faced by farmers. 
Addressing a public meeting, Modi said the barrage project will solve the issue of drinking water for Bharuch, and also open up new channels for fisheries. 
"Thousands of bighas of land has turned infertile due to salinity of sea water, which (the land) has to be revived. We also have to provide drinking water to people. Thanks to the Gujarat government for this project. I am confident it will be completed in three years," he said. 
"Coming together of river and ocean is good for fisheries. The barrage will be made using scientific methods, to stop saline water, improve drinking water and make two channels for fisheries," Modi said. 
A bridge that will be constructed across the barrage, joining Dahej to Hazira, will help create twin industrial cities and reduce the distance between them, he said. 
"The bridge will reduce the journey to Hazira by 20 kilometres, and help save fuel, environment and also time. Joining Hazira with Dahej will also make them twin industrial cities," he said. 
Modi lauded the GNFC for its projects and said it has helped four lakh rural women who collect and sell the neem fruit and seeds.
"Bharuch GNFC has bought neem fruit and seeds and helped them earn Rs 40 crore. This is extra money, wealth from waste," he said.
The 100 per cent neem-coated urea project of the government has prevented theft of subsidised urea for use as a raw material in the chemical industry, the prime minister said. 
"Earlier I used to write letters to the central government asking for more urea due to its shortage. When I became prime minister, I also used to get letters...For the last two years, not a single chief minister has written to me for urea," he said. 
"Won't urea thieves conspire against me (for stopping pilferage)? But this is Modi. He has grown up on the soil of Gujarat, in the land of Gandhi and Sardar Patel," he said. 
Flagging off a second 'Antyodaya train' from Udhna in Surat to Jaynagar, Modi said it will help migrants from Bihar, who work in Gujarat, to go home during Diwali and Chhat Puja.
 "A hardworking person leaves his old parents back home and comes to work in Gujarat. But during festival season, he faces hardship going back home. To ensure that our friends from Bihar and UP can go back home easily, we have emphasised starting long-route rail service," he said. 
Modi said his government has started Antyodaya Express and Mahamana Express, connecting Vadodara to Varanasi, to join Gujarat with Bihar. 
"These trains have become a great facility for people from Bihar, Uttar Pradesh... (Mahamana Express) will help people to go on pilgrimage to Kashi Vishwanath (in Varanasi) and visit your Modi's Lok Sabha constituency," he said. 
Later, winding up his visit, Modi flew back to New Delhi from the Vadodara airport.