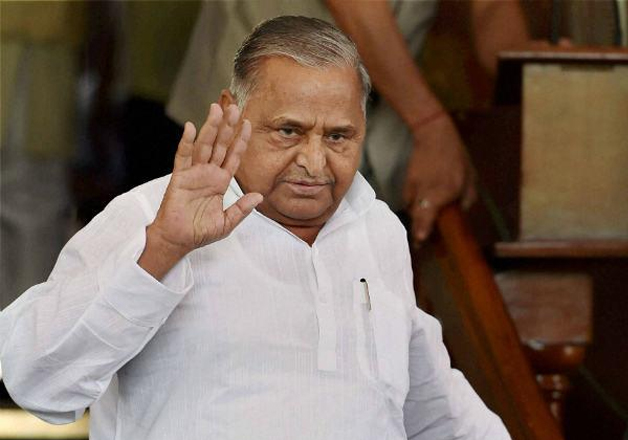 In yet another turnaround by Samajwadi Party founder Mulayam Singh Yadav, the former party chief has now said that the SP's alliance with the Congress has his blessings and that he will campaign for the party after February 9.
The remark comes after the patriarch's recent announcement that he will not be campaigning for the party after it allied with the Congress.    
However, in a major conciliatory gesture just ahead of the Assembly polls in Uttar Pradesh, Mulayam Singh Yadav on Wednesday said that the SP-Congress alliance has his blessings and that he will campaign for the ruling party.
"Will definitely campaign. I will campaign for SP after February 9. After all he (Akhilesh) is my son," Mulayam told reporters outside the Parliament here on Wednesday. 
"They (Congress) are our ally so why won't I do it?" he replied to a question.
When asked about his blessings to the candidates of the alliance, he said: "Yes I give my blessings to all (candidates)."
Mulayam's latest remark contradicts his earlier announcement that he will not campaign for the SP and the Congress alliance as he was against entering the poll fray with any party. 
"I am completely against the alliance. I will not campaign for it. Congress ruled the country for a long time and made it laggard. We always fought against Congress. Samajwadi Party is capable of contesting elections alone. In the past, it fought alone and formed government with a majority. No occasion arose for effecting an alliance," the three-time CM of Uttar Pradesh had told reporters on Sunday, the day Akhilesh and Congress vice-president jointly addresses the media in Lucknow. 
"The 2012 election was fought on my face and we got a majority. I was to become the Chief Minister but I opted for Akhilesh and look what he has done," he had added. 
The two parties reached a seat-sharing agreement late last month. While the Congress will contest 105 seats and the Samajwadi Party 298 seats in 403-member House. 
While the SP aims to retain the power in the politically crucial state, the Congress sees this as an opportunity to revive its lost ground ahead of the 2019 general election. 
Uttar Pradesh will go to polls between February 11 and March 8 in a seven-phased election. Results will be declared on march 11.