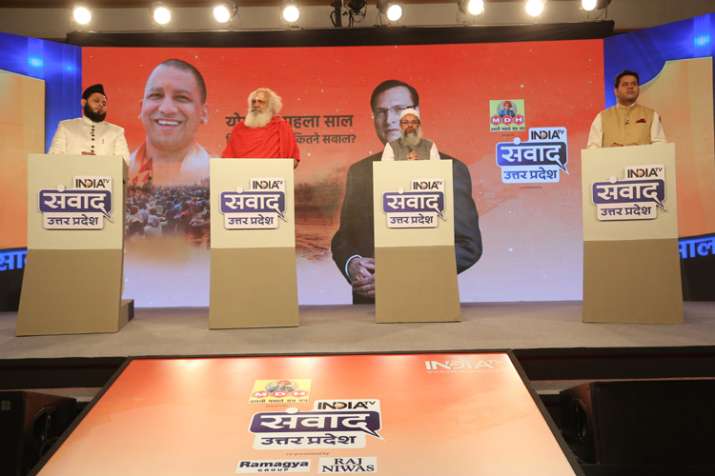 At a time when the Supreme Court's suggestion for an amicable settlement to the Ram Janmabhoomi-Babri Masjid dispute in Ayodhya has rekindled the debate on the subject that has for decades been a religious and political flashpoint, Muslim cleric and Jamiat Ulama-i-Hind general secretary Maulana Mehmood Madani on Tuesday said that the issue is not new and the debate regarding this has been going on since long. 
Discussing the solution of Ram Mandir dispute on India TV Samvaad, Maulana Madani said the matter was very sensitive and a small statement can lead to heated debates. (Follow full coverage on India TV Samvaad)
On Salman Nadvi, Madani said that he was entitled to his views. "Nadvi ji was allowed to speak what he wanted to, he spoke about the formula but at times clash of opinions is natural," Maulana added. 
Mahant Dharmdas of Nirmohi Akhara, who was also part of the panel discussion on 'Mandir and Muslaman - Kya hai Samadhan' at India TV Samvaad, claimed that 'there were some who want Hindus and Muslims to clash on Ram Mandir dispute', while All India Muslim Personal Law Board's executive president Khalid Rasheed said that the issue could have been resolved if there was no political interference in it.
Follow: India TV Samvaad on Yogi Govt's one year LIVE
Maulana Madani mirrored Rasheed's views. "This is my firm opinion that the Ram Mandir dispute should not be under any political influence and that the Supreme Court should resolve it at the earliest," he said. 
The three religious leaders agreed that the government must pay attention to all sections of society irrespective of their religion. 
Mahant Dharmdas said that it was incumbent upon a government to work for all sections of the society, be it Hindus or Muslims. 
"Hindus and Muslims should follow their religion but wishing each other on festivals is the culture of our country and we should not leave that," Rasheed said. 
While Maulana Madani said that the people 'have expectations from PM Modi and there is a lot that he still needs to do for the country'.
Watch video | SC judgement on Ram Mandir may hurt sentiments of one community, says Madani