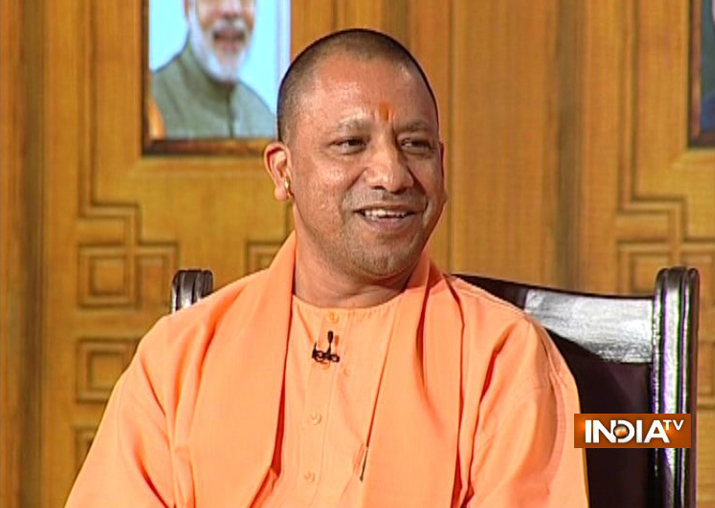 As the Yogi Adityanath-led Uttar Pradesh government is set to complete its first year in office, India TV, the country's leading news channel is hosting its mega conclave in Lucknow on Tuesday where eminent guests, ministers and opposition leaders are discussing the achievements and failures of the BJP-led NDA government in India's most populous state. (Follow full coverage on India TV Samvaad)
India TV chairman & Editor-in-Chief Rajat Sharma along with his team of leading India TV anchors are grilling the political big-wheelers at the mega conclave. The top-line political leaders who are attending the day-long event include former chief minister Akhilesh Yadav, deputy chief minister Keshav Prasad Maurya and Rajya Sabha member Amar Singh.
Also read | 1 year of Yogi Adityanath govt: Know all about UP chief minister, the priest-turned-politician
Highlights:
7:38 pm: To a question will he see himself as the PM candidate next year or anyone from the state will be projected as the PM face, he says, the state has given PM, President and after March 23, the Finance Minister will be from the state.
# Time has come to rise above the vote bank politics. It is necessary for maintaining law and order situation, development.
7:37 pm: Muslims need not to be afraid, they are feeling more safe now. The decision taken by PM Modi... triple talaq have helped them: CM 
# We should honour each other's belief. We will provide security to all who want to celebrate festivals peacefully. 
7:34 pm: I am CM of 22 crore people, but I have some faith as well. I am following my religious faith and I feel proud to be born a Hindu. 
7:31 pm: On Ram Mandir, Yogi says that government is not a party in the case. The government should have taken initiative but it is not a party. If any individual is taking initiative... but when the matter is being heard by the court, it should be left to the court. 
7:28 pm: On banning loudspeakers ar religious sites, he says, the government will roll out the court order. The sound decibel limit set by the court will be followed. 
# Remarks against the Army and women is unacceptable, CM replies when asked about politicians questioning the defence forces.
# My government shifted Atiq Ahmed to Deoria jail, says CM 
7:25 pm: CM Yogi says government is committed to make state free from corrupts. We have taken strict actions against corrupt officials. 
# CM blames SP government present state of teachers' in the state. Yogi says that his government is following all the parameters set by the SC in TET 
7:18 pm: CM Yogi expresses confidence of winning all 80 Lok Sabha seats in 2019. When countered, will Rahul and Sonia too lose, he says, they will migrate before that. 
# Even if they (SP, BSP, Congress) come together, I am sure that the people will once again vote in favour of the BJP. People are aware today: Adityanath 
7:17 pm: Riots were taking place during their regime, Kairan exodus took place during their tenure. No one wanted to come here: CM Yogi 
# Schemes of previous government that were in the interest of state are still running, but schemes that were centric to a special group or party, we will not allow them to run: CM 
7:14 pm: Jewar airport was not erstwhile government's project. It is completely our initiative. Probably by April, the work will begin: Adityanath 
# We want to make youths self-dependent, they (SP) wanted to make youths beggars: CM 
# CM says no state governments have procured wheat like the UP government did: Yogi 
# Farmers are getting due prices for their produce. We made sure that sugarcane farmers get suitable price. More than Rs 80 lakh crore has been transferred into the bank accounts directly: CM 
7:10 pm: CM Yogi announces not only Gazipur, Varanasi, Gorakhpur, Ballia will be linked to the expressway. 
# There were potholes on 1.21 lakh kms long road. We also made arrangements to widen the roads.
7:06 pm: Credit of works can't be taken away by just one per son. Works are still underway on Agra-Lucknow expressway, we had to announce budget for the expressway. 
7:04 pm: Yogi accuses the opposition of running away from debate in the Assembly. 
7 pm: On electricity, CM Yogi says questions be asked to Akhilesh why only four districts were given power. We have ordered uninterrupted power supply in district headquarters. The state has no power deficiency. 
# Over 5 lakh jobs of Uttar Pradesh government are coming, says CM Yogi 
6:58 pm: More than 75 per cent of students who skipped exams were outsiders: CM on strict vigil during board examination 
# CM rejects reports that state government put on hold the hiring of police officials. He said that job openings were halted as per the Supreme Court process.
# Over 1.62 lakh posts were vacant in police department. One the recruitment process is over, results will be visible: CM
6:52 pm: Adityanath says sisters and daughters will surely be given due respect and honour. He says changes will take time and steps that have taken place are part of the process.
6:50 pm: Adityanath also promises more actions in coming years to deal with criminals. 
# People who were once indulging in criminal activities, today they are earning their livelihood honestly: CM 
6:49 pm: CM promises Uttar Pradesh will soon become the safest state in the country.
# More than 40 criminals have been neutralized. Police officials have been directed to honour the human rights while performing their duty: Yogi 
6:47 pm: To control a state like UP, where jungle raj was rampant, strict actions are needed. It is our duty to provide security to every innocent citizen. But if anyone opens fire on police, we will not tolerate: Yogi
# They believe in politics of opportunity. They have disrupted the development process and people have seen what they have delivered: Yogi 
6:41 pm: The alliance between Akhilesh and Mayawati is their defeat. It will become easy for us, otherwise, we had to fight them separately: Yogi
6:39 pm: CM defends Naresh Agrawal's induction into BJP. 
# I had visited a gurudwara, I will visit Masjid, if get an invitation: Yogi
6:35 pm: We should feel proud of Ayodhya, it is our identity. Mathura, Kashi are our identity. Hinduism defines the country, the world knows us of for this. I also visited Chitrakoot.... I had also visit Agra and launched the Swachta campaign: Yogi 
# I am happy that Rahul Gandhi, AKhilesh Yadav have understood the power of Hindus: CM 
# Hindus are neither backward, nor forward. People who used to worship Lord Hanuman within their home, today are coming outside of their home speaking. 
6:34 pm: Hindus can never be communal. I am happy that Akhilesh Yadav has called himself a Hindu. 
6:31 pm: We are working for the development of state. SP never speaks truth, says Yogi 
Uttar Pradesh CM Yogi Adityanath takes the stage 
# Owaisi says that the first page also mentions Tipu Sultan and Mohenjo-Daro. Our Constitution celebrates each and every aspect of India's history.
6:20: It is Lord Ram, who is on the first page of the Constitution: Sambit Patra 
6:14: To a question when Rahulji will visit Ayodhya, Deepak says, "Rahulji had visited Ayodhya and offered prayers to Lord Hanuman." 
# Patra blames Owaisi for the backwardness of Muslims. Patra says according to him (Owaisi), banking system is anti-islamic. You are allowing ATMs to be installed in your region.
6:06 pm: I am again saying that it is a title suit and it can't be decided in the name of belief: Owaisi 
# Owaisi asks Patra to answer him when Lord Ram was born, in tretayug or satyug: To this Patra says, no one can dare to question me when Ram was born, no one can dare to make fun. Ram is born in every yug (era). Ram is in every particle of land.
6:02 pm: Hindus were never communal and still they are not communal. Their DNA is not communal. But it doesn't mean that they be suppressed: Sambit Patra 
5:59 pm: Patra replies: It is a matter of faith and we are confident. This country is secular because there are 100 crore Hindus living here. 
5:58 pm: Owaisi again questions how the BJP is so sure that the verdict will come in the favour of BJP?
5:53 pm: Patra reminds Owaisi of CJI's suggestion of out of court settlement. The CJI had noted that this matter is a very sensitive issue. This is not a fight for just 1-acre of land, that 1-acre of land is the Universe for Hindus. Mandir will surely be constructed.
5:51 pm: Sambit Patra makes fun of Sonia Gandhi's dinner which she is hosting today for opposition leaders. "She is asking people to come attest his son's leadership." 
5:50 pm: Deepak of Congress accuses the BJP of indulging in caste politics. "The BJP can go to any extent to grab power. Only votes matters for them. BJP's faith in Ram and Ram Mandir is matter of show-offs." 
5:45 pm: On Sri Sri initiative for an out of court settlement, Owaisi says that the AIMPLB had taken the decision. "The decision was taken by everyone present there. And I request you not to increase the gap between Maulana and us." 
# On Naresh Agrawal insulting Ram, Owaisi says, " A person who insulted Ram has joined BJP and the party has welcomed him."
5:40 pm: Because of ideologies like this, BR Ambedkar had quit the Hinduism: Owaisi
5:38 pm: Patra counters Owaisi, says it is wrong to say this country can't be run with belief. "Lord Ram has always been out faith, Ram was our belief, is our belief and will remain our belief. Ram temple will surely be constructed." 
# This country can't be run in the name of religious belief, says Owaisi 
5:36 pm: Patra says Deepak Singh should not talk about the failure of other parties. He slams Congress over Sonia Gandhi's past remark in which she had questioned: "who is Ram?"
5:34 pm: Deepak Singh of Congress says we all should wait for the court's verdict. He accuses the BJP of doing politics over the issue. "Since our childhood, we are hearing that temple will be constructed. The matter is in the court and should wait." 
# Parta targets Owaisi over his dressing sense. "From top to bottom, you dress up according to your faith." He also chided Owaisi over his SC remark on triple talaq. "We have full faith in the procedures and the Supreme Court. I want to remind Owaisiji that he had opposed the judgement of Supreme Court on triple talaq."
5:32 pm: Patra slams Owaisi, Kapil Sibal for asking the SC to post the matter for hearing after Lok Sabha polls 2019. "Temple will surely be constructed. Owaisi also knows that temple will be constructed."
# This issue has been politicised, says Owaisi. He reiterates that the matter be posted for post Lok Sabha 2019 polls.
5:30 pm: Owaisi claims that politics are being played on the issue. One leader has said that the temple will be constructed in 2019. "The dispute is still with the Supreme Court and I wonder how come the BJP is so sure that the Ram Mandir will be constructed in 2019. Don't know what is the number game for 2019."
# Ram is not of only Hindus, Ram belongs to all: Patra 
5:28 pm: Sambit Patra exudes confidence that Ram Mandir will come up at the disputed site in Ayodhya 
Asaduddin Owaisi of AIMI, Sambit Patra of BJP, Deepak Singh of Congress take the stage 
5:19 pm: On Ganga cleanliness, Mahana says that works are underway.
5:18 pm: Mahana rejects Aparna's charge. He says that thins have changed after Yogiji took over the charge. 
5:16 pm: Aparna Yadav says officers are not listening to the government. She says that it is fault of the machinery  
5:12 pm: MoU's signed in two days can't be implemented in just 15 days. UP's real image was never presented. It was never said that UP has most fertile land... UP was known for criminals: Mahana
5:07 pm: Mahana claims law and order situation has improved in UP. It is true that girls and women used to feel insecure outside their homes during Samajwadi Party government. Today women are working in night shifts in offices and this shows the change in our society.
# Aparna Yadav praises PM Modi's good works for empowering women. She adds that she respects Modiji because he has inspired us as citizens of this country. I salute the PM for his remarks made from the Red Fort.
5:04 pm: Aparna Yadav says works done by SP government in terms of ensuring women safety were up to the mark.. be it setting up 1090 women helpline number of female police personnel... I am not questioning Yogji 's intention. 
5:02 pm: Mahana promises this will not be repeated in future. We will not be looking back at what anyone has said, but we will move forward and will ensure no such behavior in future.
5 pm: Aditi Singh condemns Naresh Agrawal's remarks, says keep us out of it because it is not related to Congress 
4:59 pm: Aparna Yadav says his remark is unparliamentary and there is no need to indulge in politics over this. Like swach bharat abiyan, a campaign should be launched. This signifies his state of mind.
4:58 pm: Satish Mahana of BJP says he condemns Naresh Agrawal's comment on Jaya Bachchan. He sought to blame his erstwhile associations for this kind of remark. 
Satish Mahana of BJP, Aparna Yadav of SP and Aditi Singh (Rae Bareli MLA) take the stage 
4:21 pm: On law and order situation in Uttar Pradesh, Maurya says, the government constituted anti-romeo squad, identified land mafias and took actions against them. We have managed to check the law and order situation and restore peace. Criminals have been killed in encounters." 
4:20 pm: Jitin Prasad counters Maurya, claims corruption is at all time high under the current dispensation. He also asked him about reasons for which they allowed Naresh Agrawal to join the BJP.
# Maurya also speaks on Naresh Agrawal's induction in BJP. He says that people are joining BJP because of Modiji and that he is working tirelessly to eradicate corruption from the country. "Naresh Agrawalji is now a part of BJP and will ensure he practices the ideology which we follow." 
4:17 pm: Swami Prasad Maurya says people compromises by Baba Saheb's ideology. I was impressed by Modiji's commitment towards Baba Saheb and thus I joined the BJP. and he has  People should worry who have been rejected by the people. 
# Jitin Prasad hits back hard at Maurya. He says that Maurya was dreaming of becoming chief minister. He also spoke about his past association of BSP. 
4:15 pm: Swami Prasad Maurya takes a jibe at the friendship between babua (Akhilesh) and bua (Mayawati) for the bypolls. He says that alliance will be failed. He even termed the alliance of a compulsion 
# All schemes are of erstwhile Congress government, says Jitin Prasad. He also asks Maurya to tell which scheme is successful. 
"Under 
4:10 pm: Swami Prasad Maurya promises commitments on jobs will be fulfilled and that the government has taken many steps to create jobs. he exudes confidence that the schemes that are launched by the Modi government will surely create more than 2 crore jobs. "We are working to provide jobs to 70 lakh youths in 5 years."
# Jitin Prasad says government presenting wrong facts, speaking blatant lies 
4:08 pm: Four years have passed, where are the 2 crore jobs? questions Jitin Prasad
4:07 pm: This government has fulfiled its promises that were made in the sankalp patra (manifesto): Swami Prasad Maurya
4:05 pm: Swami Prasad Maurya claims with the help of recently held investors summit, government will be able to create 30 lakh jobs. Investors summit will be beneficial for the state in coming years. 
# Jitin Prasad accuses the government of failing to fullfil its promise of job creation 
4:03 pm: Farmers are unable to fulfil the compliance for loan waiver, says Jitin Prasad
# Rs 6 crore deposited into bank accounts of farmers, claims Maurya 
4 pm: Under CM Yogi's leadership, the state has moved forward on the path of development. Loans of 86 lakh farmers have been waived off: Swami Prasad Maurya
Swami Prasad Maurya of BJP and Jitin Prasad of Congress take the stage at India TV Samvaad
03:48 pm: There is Hindu-Muslim unity in the state and this was witnessed at the time of Holi, when Muslims postponed their time of Namaz for Hindus: Dinesh Sharma
03:46 pm: Encounter is not a solution to crimes but police personnel do have the right to shoot a criminal in case they try to escape or attack the police: Dinesh Sharma
03:45 pm: Criminal cases during the previous govt were not even registered in the police station, now there are so many ways to come forward in case someone comes across such an experience: Dinesh Sharma
03:44 pm: We have made changes in the curriculum, we have reduced the exam period for the students: Dinesh Sharma
03:43 pm: Gaining a degree should not be the mere aim of the students, they should study for a bright future and this is what we are working for: Dinesh Sharma
03:42 pm: It is not about keeping a watch on the students during exams, we should try and find out why do they want to cheat in the first place: Dinesh Sharma
03:41 pm: The citizens of the country have to be equally responsible for their actions: Dinesh Sharma
03:40 pm: It will not be justified to blame the previous govt for everything: Dinesh Sharma
03:39 pm: There is immense transparency in this procedure and we are committed to providing jobs to the deserving candidates: Dinesh Sharma
03:38 pm: We do not want to give out jobs just to win votes and not do anything for the youth, but we want to do it for the country: Dinesh Sharma
03:36 pm: It is not about the number of employment opportunities we have generated, but we have worked in the same direction: Dinesh Sharma
03:34 pm: We have taken a number of important steps for the country for employment generation, for farmers and other sections as well: Dinesh Sharma
03:32 pm: When BJP came to power, we paid attention to all issues of the country that need to be addressed: Dinesh Sharma
03:30 pm: Uttar Pradesh Deputy Chief Minister Dinesh Sharma takes stage at India TV Samvaad
02:28 pm: Hindus and Muslims should follow their religion but wishing each other on festivals is the culture of our country and we should not leave that: Khalid Rasheed 
02:21 pm: We have expectations from PM Modi and there is a lot that he still needs to do for the country: Maulana Mahmood Madani
02:20 pm: Government should pay attention to all sections of the society, be it Hindus or Muslims: Mahant Dharmdas
02:19 pm: This is my firm opinion that the Ram Mandir dispute should not be taken under any political influence and that the Supreme Court should resolve it at the earliest: Maulana Mahmood Madani.
02:10 pm: Political parties should put forth their honest suggestions over Ram Mandir dispute, and not politicise the matter: Khalid Rasheed
02:05 pm: Ram Mandir dispute could have been resolved if there was no political interference in it: Khalid Rasheed 
02:02 pm: Confident that people of India won't leave their religion and will always work for the welfare of the country: Maulana Mahmood Madani
02:01 pm: There are some who want Hindus and Muslims to clash on Ram Mandir dispute: Mahant Dharmdas 
02:01 pm: Ram Mandir dispute is very sensitive and a small statement can lead to heated debates: Maulana Mahmood Madani
1:57 pm: Won't comment on what happened in Muslim Personal Board meeting on Ram Mandir issue, says Maulana Mahmood Madani.
1:55 pm: Nadvi ji was allowed to speak what he wanted to, he spoke about the formula but at times clash of opinions is natural: Madani
1:52 pm: Ram Mandir is not a new issue and debate has been going on since long: Maulana Mahmood Madani
1:47 pm: Maulana Mahmood Madani, Mahant Dharmdas, Khalid Rasheed take the stage on India TV Samvaad
01:39 pm: The session with veteran leader Amar Singh ends.
01:37 pm: I say a hooligan is a hooligan, not a Hindu or Muslim, be just according to law and not on based on religion: Amar Singh
01:35 pm: Riots in western UP were a direct result of SP leader Azam leader's meddling in an eve-teasing case: Amar Singh
01:32 pm: I don't think that BJP will lose in the Phulpur bypolls: Amar Singh
01:32 pm: Akhilesh Yadav has accepted his defeat and so he has taken the support of the alliance with BSP: Amar Singh
01:30 pm: Modi ji has achieved so much in life that he does not need the support of an actor or actress for his party: Amar Singh
01:26 pm: I wish him well so that he can continue to thrive and use his conniving tactics: Amar Singh on Amitabh Bachchan's ill health
01:25 pm: Amitabh Bachchan can enter anywhere, wherever there is power there is Amitabh Bachchan. He is thirsty for power: Amar Singh
01:23 pm: I cannot give any credit to Akhilesh Yadav, but I will credit Mulayam Singh Yadav because he had faith in me: Amar Singh
01:23 pm: The management was below average and there will be no investments in Uttar Pradesh:
01:22 pm: Investors at the Investment Summit organised in Uttar Pradesh were asked for food coupons: Amar Singh
01:19 pm: Yogi Adityanath and PM Modi have jointly created a govt that cannot be bought by corrupt businessmen: Amar Singh
01:17 pm: Be it Mayawati or Akhilesh Yadav or Mulayam Yadav - all were in the pocket of Ponty Chadha: Amar Singh
01:16 pm: Consider my political career over: Amar Singh
01:15 pm: I had managed to push Naresh Agrawal out of SP while maintaining my position: Amar Singh
01:13 pm: It is better that I keep quiet on Naresh Agrawal. He is the same Naresh Agrawal who called PM Modi a Madari, chai wallah and teli. Amit Shah ji and Modi ji has a lot of patience to welcome him in BJP; Amar Singh
01:09 pm: I would like to ask Jaya Bachchan also why was she quiet when Jaya Prada, who has acted and danced with her husband in numerous movies, was being attacked by hooligans or her honours was being stripped by leaders of her party: Amar Singh
01:09 pm: Naresh Agrawal's statement was expected, he comes from a party which has a tradition of making derogatory statements against women: Amar Singh
01:08 pm: There are other such myths in the society that the people are believing  and we need to get rid of these: Amar Singh
01:08 pm: It is true that every Muslim is not a terrorist, but most of the terrorists being caught are Muslims: Amar Singh
01:03 pm: Was surprised to find out RSS has a front for Muslims, says Amar Singh
01:02 pm: Visited PM Modi's brother in a hospital once. He was in a dormitory. If it was anyone else they would have emptied the entire hospital: Amar Singh, SP
01:01 pm: Not betrayed by anyone, I have taken lessons from my experiences, says Amar Singh on praising PM Modi and BJP
01:00 pm: I am not busy anywhere: Amar Singh on his disappearance from media
12:59 pm: The fourth session with Amar Singh begins. Topic is 'Yogi ka imtehaan kaun jitega 2019'.
12:57 pm: I personally believe that the Ram Mandir will be constructed in Ayodhya however, the Supreme Court is yet to pronounce its verdict on the same.
12:55 pm: Students are the future of the country and our party is concerned for their honest welfare
12:52 pm: We have taken steps to bring down the incidents of cheating in exams and this is evident in the recently conducted board exam.
12:50 pm: Investors Summit organised in Uttar Pradesh was a historic moment and it will lead to strengthening the investment opportunities in the state.
12:48 pm: Akhilesh Yadav ji should first respond on why he removed Mulayam Singh Yadav from the post of Samajwadi Party president.
12:47 pm: Chief Minister Adityanath is concerned for the poor and for the deprived sections of the society and always works for the welfare of all.
12:46 pm: All decisions taken for the state of Uttar Pradesh are taken by the chief minister.
12:45 pm: If a member of the BJP gives out a statement against women, people cannot say that the whole party believes in the same ideology.
12:44 pm: We do not say that criminal activities have come down to 0, there is still a lot more to be done, but our government is making genuine efforts in this direction.
12:42 pm: I don'tt think that there have been 1350 encounters in Uttar Pradesh, but I am confident that BJP is always working to bring down the criminal cases in the state.
12:41 pm: Encounters are natural, police personnel can shoot at the criminals if they try to escape or if they attack the police.
12:40 pm: People did not have access to electricity and smooth roads while SP was in governance in Uttar Pradesh
12:39 pm: I am confident that BJP will again create history by winning in Phulpur and those parties who are expecting their victory should give it a second thought.
12:38 pm: BJP's Lotus symbol will be witnessed in Phulpur tomorrow and this will take the region forward.
Uttar Pradesh Deputy Chief Minister Keshav Prasad Maurya takes stage at India TV Samvaad.
12:38 pm: Akhilesh Yadav and Mayawati do not have any issue to debate on, which is why they give statements against BJP
12:38 pm: The people of the country know which political parties indulge in casteism and so they cannot be mislead anymore
12:35 pm: Other parties are not our inspiration, our inspiration is only the prime minister of the country.
12:32 pm: Have full confidence that Lotus will bloom in Phulpur, says Keshav Prasad Maurya
12:30 pm: I am grateful to UP CM Yogi Adityanath and I'm confident that people will congratulate us on our victory tomorrow in Phulpur
12:25 pm: The panel discussion with GVL Narasimha Rao (BJP), Naresh Uttam Patel (SP) and Akhilesh Pratap Singh (Congress) ends
12:23 pm: It is very easy to put allegations on any political party, but you should look at the achievements by the BJP till date, the number of initiatives we have taken for the country and for individual states: BJP's GVL Narasimha Rao
12:20 pm: As per our records, as of now we had not found the consumption of alcohol as a greater threat, but we will work on that: BJP's GVL Narasimha Rao
12:15 pm: While other parties are focusing on dividing the country and on casteism, we in BJP are working only for development: BJP's GVL Narasimha Rao
12:13 pm: We have been able to curb corruption by note ban and by linking Aadhaar to other facilities: BJP's GVL Narasimha Rao
12:13 pm: Modi ji is working for the transformation of the country and the people have faith in him: BJP's GVL Narasimha Rao
12:12 pm: Akhilesh Yadav ji had taken Uttar Pradesh on the path of development: SP's Naresh Uttam Patel
12:11 pm: BJP should provide employment opportunities to the youth of the country as they had promised: SP's Naresh Uttam Patel
12:10 pm: BJP is not doing anything for the farmers but says that they care about the farmers of the country: Akhilesh Pratap Singh
12:09 pm: There have been a number of criminal cases in UP in 2017 and BJP says that they have controlled the criminal activities: Akhilesh Pratap Singh
12:08 pm: The people of BJP lie and mislead the country, they say that encounters are fake:  Akhilesh Pratap Singh
12:05 pm: The criminals who are with the government are thriving in UP under government's protection: Akhilesh Pratap Singh, Congress
12:03 pm: I am confident that UP Govt has not been able to stand on the commitments it had made and that the people of UP will not elect it next time: SP's Naresh Uttam Patel
12:00 pm: BJP govt in UP is a total failure in our eyes and in the eyes of the Indian people: Naresh Uttam Patel, SP
11:59 am: A number of children died in the Gorakhpur hospital and BJP said that people die in the month of October: Akhilesh Pratap Singh, Congress
11:59 am: 'No government only event' is something that has been initiated by the PM, and he has taken it across all states of the country: Akhilesh Pratap Singh, Congress
11:58 am: BJP is religious, patriot or cow worshippers according to their own convenience: Akhilesh Pratap Singh, Congress
11:57 am: We in our party do not tolerate any indecent comment on any woman, it is good that Naresh Agarwal has himself apologised for whatever happened: GVL Narasimha Rao
11:57 am: We do not underestimate anyone in politics and such allegations on us are wrong: GVL Narasimha Rao
11:56 am: We believe in 'sabka sath sabka vikas' and BJP will continue working on the same: GVL Narasimha Rao
11:55 am: Today the country is witnessing a phase when BJP has become the strongest party of the country: GVL Narasimha Rao
11:54 am: In the current scenario, every leader wants to join the development-oriented party, we welcome all: GVL Narasimha Rao on BJP welcoming Naresh Agrawal
11:50 am: The topic of the panel discussion is 'UP ki agnipariksha mein Yogi pass ya fail' begins
The second session with GVL Narasimha Rao (BJP), Naresh Uttam Patel (SP) and Akhilesh Pratap Singh (Congress) begins
11:40 am: The session with former Uttar Pradesh chief minister Akhilesh Yadav ends.
11:39 am: At India TV Samvaad, the former Uttar Pradesh CM says, "I may be Samajwadi Party chief, but the party still belongs to Netaji".
11:37 am: Samajwadi Party had improved the electricity transmission in Uttar Pradesh, we had better arrangements for the state during our time.
11:32 am: I was made the Uttar Pradesh chief minister as Netaji had faith in me, I have fulfilled all his expectations.
11:30 am: Want to make it clear that our family is not divided.
11:28 am: Will BJP ban cow slaughtering in Tripura? There are states that are provided with a license for the same, BJP is only misleading people.
11:22 am: Samajwadi Party only works for the development of the country, my wife comes from an Army background, how can we talk of dividing the country? 
11:20 am: I'm proud of the fact that I'm a backward Hindu, says Akhilesh Yadav at India TV Samvaad.
11:18 am: BJP wanted to shutdown the slaughterhouses in UP, why are they not closing down the exports? It is because they fear their own loss.
11:16 am: As per records, criminal activities are on the rise under the BJP governance in Uttar Pradesh.
11:15 am: We are no one to decide if Ram Mandir should be constructed in Ayodhya or not, it is for the Supreme Court to decide. But BJP is not ready to even follow the directions of the Supreme Court
11:13 am: I'm an Indian who celebrates all festivals and participate in all religious celebrations, be it for Hindu or for Muslims.
11:13 am: My family is religious and my wife observes fast on auspicious days.
11:12 am: BJP is one political party that does not like the word 'Samajwadi', but it does not matter to us.
11:07 am: I keep Navratra fasts, but I never show that.
11:05 am: There is not a single police station in the state that did not celebrate Janmashtami under Samajwadi Party governance.
11:03 am: BJP had promised that corruption will stop post note ban, but did that happen?
11:01 am: BJP is not generating employment, instead they are snatching away jobs of the people.
11:00 am: There may be just 10 per cent of the students that do not cheat in their exams.
10:57 am: Gorakhpur hospital tragedy was not interrogated properly, no postmortem of children was done who died due to lack of oxygen.
10:55 am: Want to ask them, will they be able to build a better expressway than the one we have.
10:50 am: I'm happy that an Investment Summit was organised in the state on such a large scale.
10:50 am: We organised free Wifi service in Uttar Pradesh's Hazratganj and it is still running there.
10:49 am: I'm a religious person but I'm not superstitious.
10:49 am: No developmental work going on in Uttar Pradesh, this is the only change that I have noticed in the state.
10:40 am: Till date, the electricity limit for Uttar Pradesh has not been increased.
10:39 am: Link our casts with Aadhaar and then record the data, it will be very easy. BJP is just making an effort to link everything to Aadhaar.
10:38 am: Whatever development is happening in Uttar Pradesh was initiated by the Samajwadi Party and those are only being taken forward by the BJP.
10:38 am: We had promised laptops and construction of roads and we fulfilled those commitments, but the BJP has not been able to fulfill the commitments made by them.
#IndiaTVSamvaad: Mega conclave LIVE with @yadavakhilesh and @RajatSharmaLive in #AapKiAdalat https://t.co/wln8pepDGt

— India TV (@indiatvnews) March 13, 2018
10:38 am: Good that Naresh Agrawal has joined Bharatiya Janata Party.
10:37 am: Haven't decided to sit together yet: Akhilesh on alliance with BSP chief Mayawati. Why are the other parties worried about our alliance with BSP? Elections are not near as of now and our party is satisfied.
10:35 am: Once Netaji also made an alliance and tried doing something for the state and for the country, today I am doing it
10:34 am: 'Unholy alliance' is one term that has been given by the people on SP-BSP alliance.
10:30 am: 'Cycle' is one party symbol that can carry people with itself and it moves forward with pace
10:28 am: There is not a single party in the country that has not been divided by the BJP.
The first session with Samajwadi Party chief and former Uttar Pradesh chief minister Akhilesh Yadav begins. | WHO IS YOGI ADITYANATH?
10:00 am: Discussion with former CM Akhilesh Yadav on one year of Yogi government to begin shortly
09:50 am: The Yogi Adityanath government of Uttar Pradesh will be completing one year in office on March 19, 2018.
09:42 am: The conclave will discuss a wide range of issues including achievements of Yogi Adityanath government in last one year, prospects of ruling  BJP and other political parties in 2019 general elections, the solution to the vexed Ram Janmabhoomi-Babri Masjid dispute, the controversy over police encounters in the state.
09:38 am: The India TV Samvaad on Uttar Pradesh shall host state's top political stakeholders.
09:30 am: UP BJP chief Mahendra Nath Pandey, Congress leaders Akhilesh Pratap Singh, Jitin Prasad, Nadeem Javed and Aditi Singh (Rae Bareli MLA), Mahant Dharmdas of Nirmohi Akhara, former Rajya Sabha MP and general secretary of Jamiat Ulama-i-Hind Moulana Mehmood Madani, Chairman of Shia Central Waqf Board Syed Wasim Rizvi, Mulayam Singh Yadav's younger daughter-in-law Aparna Yadav, BJP's national spokespersons Sambit Patra, GVL Narasimha Rao and AIMIM chief Asaduddin Owaisi will also attend the mega conclave in Lucknow. 
09:15 am: India TV team led by its chairman & Editor-in-Chief Rajat Sharma shall himself lead the charge to set the agenda of the long eventful day.
09:00 am: The programme will be telecast live on India TV throughout the day on Tuesday. 
Also read | My govt following 'zero tolerance' policy on crime and corruption, says UP CM Yogi Adityanath