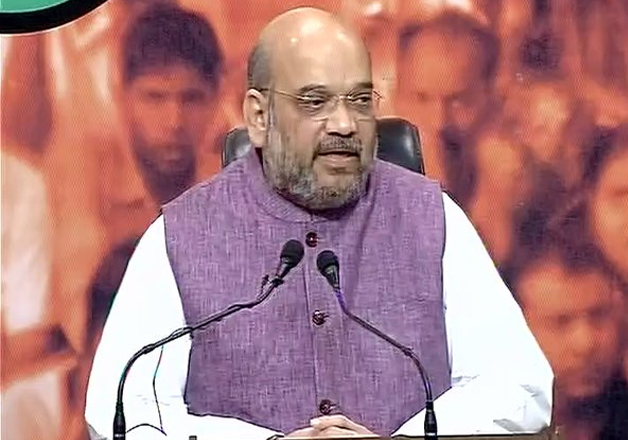 New Delhi: Listing the achievements of the two-year-old Narendra Modi government, BJP president Amit Shah today said that the government is 'successful on every front, and much more work will be done in the next three years'.
Addressing the media here, Shah said that under the Modi rule the world has also accepted that the 21st century belongs to India.
"Our ministers have left no stone unturned in providing people a friendly and corruption-free government that will take India to newer heights," Shah said.
Taking a jibe at erstwhile Congress-led UPA government, he said, "The previous governments had constantly been involved in baseless arguments and tiffs, Modi government has put an end to that."
The BJP president also stressed that the opposition has not been able to raise even a single corruption charge against the Modi government.
"We have given a corruption free government, will inform the citizens of the work we have done so far," he said.
Shah also said that the party will celebrate the next 15 days as 'Vikas Parv' to mark the completion of the two years in power.
"30 teams have been formed to ensure that citizens are informed of the work done so far by the government," he told the reporters.
On BJP MP Subramanian Swamy, who is demanding removal of Raghuram Rajan as RBI Governor, the BJP president said, "There is no need for the party to give opinion on this matter."
When asked about BJP's prospects in the upcoming Uttar Pradesh Assembly polls, he replied, "Our main rival is Samajwadi Party… We will definitely win."
Prime Minister Narendra Modi yesterday addressed a mega rally in UP's Saharanpur to mark the completion of two years of his government.
On May 28, the I&B Ministry will organise a talk show 'Zara Muskura Do' at the iconic India Gate in national capital to highlight the achievements of government. To host the five-hour long show, the Narendra Modi government has roped in Bollywood mega star Amitabh Bachchan. The programme will comprise alk shows highlighting the achievements of two-year-old BJP-led NDA regime, interspersed with cultural programmes.