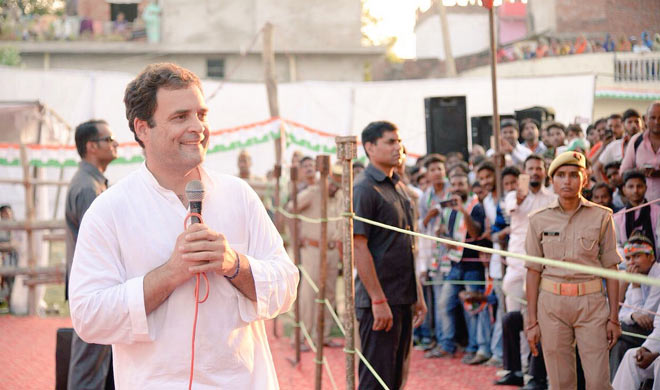 Continuing his attacks on the Narendra Modi government, Congress vice-president Rahul Gandhi on Thursday said that the BJP governments at the Centre and in Uttar Pradesh were inaugurating projects launched by the erstwhile UPA dispensation in his Lok Sabha constituency Amethi. 
"I am happy to note that our BJP friends are out to re- inaugurate these projects started by us...but I am happy that we initiated these works for the people of Amethi," Gandhi said. 
He was having an informal chat with newspersons in Tiloi on the second day of his three-day visit here. 
Gandhi was seeking to take the wind out of the sails of BJP chief Amit Shah, Chief Minister Yogi Adityanath and Union minister Smriti Irani who are scheduled to visit Amethi on October 10 to launch a number of new projects in Amethi. 
Giving details of the works done by him, the Congress MP mentioned projects like a hospital worth Rs 90 crore, FM radio, sainik school, Rajiv Gandhi aviation university at Fursatganj and Institute of Hotel Management. 
He also named the projects like Central school at Jais, Amethi-Uchahar new rail line, doubling of Rae Bareli-Amethi rail line, multi-functional complex at the railway station, four-laning of Lucknow-Sultanpur NH 56, bypass of NH and six national highways through Amethi. 
"These are our works," he asserted. 
Attacking Prime Minister Narendra Modi again, Gandhi said, "the BJP government has completed three-and-a-half years and has only one-and-a-half years left. The prime minister should work now for employment generation and for farmers." 
The Congress vice president had yesterday also criticised the Modi government over the issue of unemployment and farmers' problems. 
During a chaupal (village gathering) at Kathaura village in Jagdishpur, Gandhi had said yesterday, "Farmers and youth are the two main issues concerning India...if Modiji cannot address them he should say so and Congress will come and do his work in six months." 
He had said that "Prime Minister Narendra Modi needs to stop wasting time of the countrymen and start giving employment to the youth as promised.
(With PTI inputs)