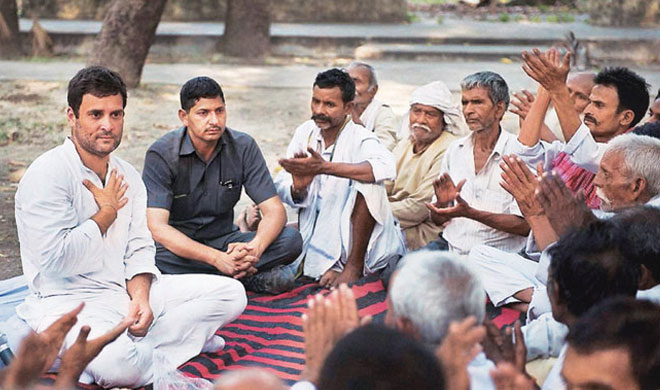 Coming down heavily on the BJP-led NDA government for not addressing the main issues concerning farmers and youth, Congress vice president Rahul Gandhi today said that Prime Minister Narendra Modi should concede that he can't resolve their problems and vacate the office to allow the grand old party to find a solution.
Addressing a farmers' rally in his Amethi Lok Sabha constituency, Rahul claimed that the Congress will find a solution to the issues of farmers and youth within six months. 
"If Modi cannot address main issues concerning farmers and youth, he should say so; Congress will come and do it in six months," Rahul, whose party has ruled the country for six decades, said. 
Further, he advised PM Modi, who took over as the head of the government in May 2014, to stop wasting time of countrymen and start giving employment to youth as promised.
He also noted that 'reckless implementation' of UPA programmes like the Goods and Services Tax (GST) and causing hardships to the common man.
Rahul, who arrived on a three-day visit to his parliamentary constituency Amethi, attacked Prime Minister Narendra Modi, saying he was only changing the nomenclature of Congress-led UPA schemes and programmes and running them.
Addressing a farmers' rally in his Amethi Lok Sabha constituency, he recalled how Modi had "ridiculed" the rural job scheme, MGNREGA, which was a Congress brainchild.
"But Modi realized later what the MGNREGA meant for the common man and he began praising it. The Congress initiates programmes after consulting common people, taking their suggestions.
"But the BJP people don't do that. Modi doesn't consult anybody. For example the Swachhta scheme. He suddenly thinks that India should be cleaned and without asking anyone will order everyone to take a broom and clean India," he said.
The Congress leader said the GST was also a Congress initiative and the party-led government had come up with the tax reform after consulting people, including small traders and farmers.
"They told us that it was good to replace several taxes with one tax but there should not be any increase in taxes. We promised them that there will be a maximum tax of 18 per cent under the GST. But the BJP government created many slabs with the maximum of 28 per cent and then every state has its own GST."
He said the "wrong implementation" of the GST has caused several hardships to small traders and narrated how a shopkeeper, who also sells a mixture of dry fruits in small packets, told him he was in a quandary.
"The shopkeeper was confused. In the packet of the mixture, one item carried a different GST slab and the other carried a different one."
He said the BJP government had not understood the spirit behind the GST and implemented it "hastily and recklessly".
Gandhi also lashed out at the government for failing to create jobs and said in India everyday 30,000 people seek employment.
"And you know out of those 30,000 how many people get jobs. Only 400," he said.
Gandhi will spend the night at the Munshiganj guest house and meet common people of his constituency on Thursday morning after which he will hold a dialogue with party workers at the Rajiv Gandhi college at Mohanganj Pakargaon in Tiloi.
The district administration had earlier refused to give permission to Gandhi to visit Amethi on October 5, citing conclusion of many religious functions like Moharram and Dusshehra. The Congress had alleged the state government was jittery about their leader's visit, and after some stand off, permission was granted for the VIP visit.