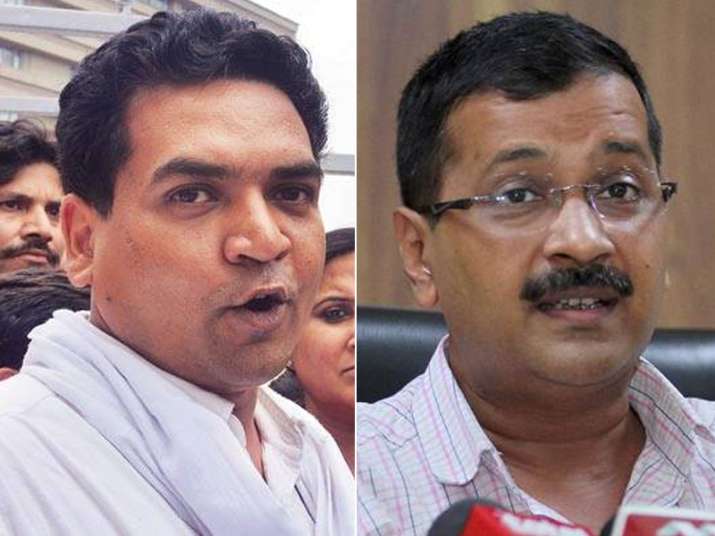 A fresh crisis erupted in the Aam Aadmi Party on Saturday as sacked Delhi minister Kapil Mishra indicated an open revolt against Chief Minister Arvind Kejriwal. 
Soon after he was sacked by Kejriwal, Mishra claimed he would "expose" the involvement of certain AAP leaders in an alleged scam in the supply of water on Sunday. He met Lieutenant Governor Anil Baijal in the morning today before he headed to Rajghat for his press conference.
Addressing the media here, the AAP leader claimed that he saw Kejriwal taking Rs 2 crore in cash from Health Minister Satyendar Jain, a charge rejected by Deputy Chief Minister Manish Sisodia as 'unsubstantiated'.
Here's who said what:
'Shameless' Kejriwal won't resign, says Swamy
"How can one expect a shameless person like him (Kejriwal) to resign? I have been aksing for his resignation since the beginning. I used to call him Shri 420. I know him since he was a part of Anna Hazare's campaign and everyone is aware that he is more inclined towards communism. Hence, one cannot expect him to step down under moral responsibility, until he is given a clean chit. I think the CBI should take suo motu action"
"AAP supremo has no moral right to continue in office as his corrupt face had been totally exposed. Party (Congress) had for long been maintaining that Kejriwal was a 'dacoit', who was only interested in filling his pockets. But being a shameless person that he is, the Aam Aadmi Party leader will not even quit now"
Arvind Kejriwal has broken my dreams, says social activist Anna Hazare
Kejriwal became CM due to fight against corruption in Delhi, and the news of allegations on him today is saddening: Anna Hazare pic.twitter.com/JmuNtL5AMt

— ANI (@ANI) May 7, 2017
* The true test of character comes in adversity. We are now seeing the true faces of AAP's remnants as its ship sinks. What an opportunity lost: Prashant Bhushan
* If someone says Arvind Kejriwal is authoritarian, or he is political opportunist, or greedy, arrogant, I will believe. But if someone says he takes bribes, then we may need evidence. Such serious evidences should not be thrown around and those who have made these allegations should be asked to produce evidence. I want to ask him what he was doing during all these years, if he knew about this: Former AAP leader Yogendra Yadav
* Kapil Mishra should file a complaint immediately. Investigation will bring everything together: : Kiran Bedi, Lt Gov.Puducherry
* The Arvind Kejriwal Government, which lasted only 49 days, is far different from the present one. The government which came in mid-February 2014 had a message that corrupt will not be spared. But now after Kapil Mishra's revelation it has been proved that this party has completely compromised with corruption: Ex-AAP leader Devinder Sehrawat
​
जिस दिन सत्येंद्र जैन जेल जाएंगे, उस दिन तो आप भी मानोगे भैया। तब तक "एकला चलो रे" https://t.co/UsZcmK4FpC

— Kapil Mishra (@KapilMishra_IND) May 7, 2017
कल तक सारी दुनिया को कह रहे थे कि EVM के कारण हारे चुनाव अब अचानक पानी का मुद्दा। मीडिया के सामने आने से क्यों बच रहे है @ArvindKejriwal

— Kapil Mishra (@KapilMishra_IND) May 7, 2017
* If he (Kapil Mishra) has evidence, he should have put it before the appropriate platform inside the party: Kumar Vishwas
* Not even Kejriwal's opponents can believe that he would take bribe. I am very hurt with Kapil Mishra's allegation: Kumar Vishwas
​
Arvind Kejriwal bhrastachaar karenge ye main kabhi bhi nahi soch sakta, ye unke shatru bhi manenge: Kumar Vishwas pic.twitter.com/PXbVP1M4Kt

— ANI (@ANI) May 7, 2017
Mishra's claim that Kejriwal took Rs 2 crore is not mere allegation rather an affidavit before the public of what he saw. He is saying what he saw as an eyewitness: Ajay Maken
The Centre, the Anti-Corruption Bureau and the CBI should immediately take action and register an FIR against Kejriwal. Kejriwal has no moral right to continue as the Chief Minister. He should immediately resign: Ajay Maken, Delhi Congress chief
* Kejriwal has no moral right to hold the post of Chief Minister. He must resign immediately. I have said a number of times that Kejriwal is directly involved in corruption. Mishra's allegations have proved our point: Delhi BJP chief Manoj Tiwari
​
Whole of Delhi is absolutely shocked by today's remarks of Kapil Mishra.Its not an allegation but statement of a witness: Manoj Tiwari,BJP pic.twitter.com/1TSnhxpqqT

— ANI (@ANI) May 7, 2017
* Will meet Lieutenant Governor tomorrow to seek inquiry into the allegations. Will also raise this issue in the Assembly and seek clarification from Chief Minister: Vijender Gupta, BJP
Sisodia rejects allegations 
* His allegations do not merit a response. He has been sacked due to poor performance. The allegations are so absurd and there are no facts: Sisodia 
His allegations are not even worth responding to, they are so absurd and without any facts: Manish Sisodia,Delhi Dy CM on Kapil Mishra pic.twitter.com/FoJLcHZetB

— ANI (@ANI) May 7, 2017
Kejriwal took money, says Mishra​ 
* This is being repeatedly said that I have been moved out because water problems have not been solved in Delhi. But both Sisodia and Kejriwal have never raised the issue of water problems earlier: Mishra 
I was not informed of the sacking decision and as per my knowledge, it was taken unilaterally by Kejriwal. The Cabinet or the Political Affairs Committee (the AAP's top decision-making body) was not involved: Kapil Mishra 
* I am also ready to make a statement before the CBI or Anti Corruption Bureau if required: Mishra 
* Why are attempts being made to shield Satyendar Jain? Satyendar Jain had himself told me that he settled land deals worth Rs 50 crore for Kejriwal's relative: Kapil Mishra
* After having seen Jain hand over such a big amount to him, I had to come out. I have handed over the details to Lt Governor Anil Baijal: Mishra 
* I kept quiet all this while due to complete faith on Arvind Kejriwal. Day before yesterday, I saw Jain giving Rs 2 crore in cash to Kejriwal. Kejriwal said few things happen in politics: Kapil Mishra