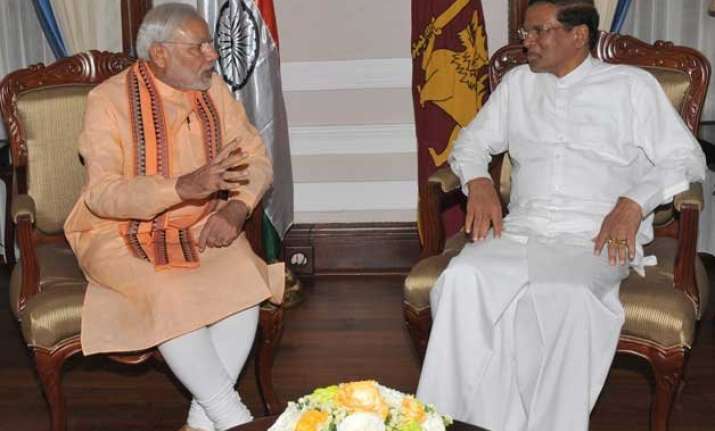 Colombo: Prime Minister Narendra Modi, who is presently in Sri Lanka on a bilateral visit for the first time in last 28 years, offered Colombo 'first claim' to India's growing economic muscle, signing off on a slew of business pacts aimed at undercutting rival China's considerable influence over the strategically-positioned island.
During his address to lawmakers in Sri Lankan Parliament, Modi said, "The Indian Ocean is critical to the security and prosperity of our two countries. And, we can be more successful in achieving these goals if we work together; build a climate of trust and confidence ... We are two countries at the crossroads of the Indian Ocean."
ALSO READ: Modi seeks a life of peace & dignity for Tamils in SL
"I will be happy if India serves as a catalyst in the progress of our neighbours," he said.
"First claim (among) neighbours will be Sri Lanka," he added very quickly, attracting loud thumping of desks by MPs.
India and Sri Lanka yesterday signed four agreements with the Prime Minister announcing a slew of measures aimed at resetting ties with the strategic neighbour. Modi said the progress made by two countries reflects 'our shared commitment to stronger economic cooperation'.
ALSO READ: Economic ties key pillar of our relationship: Modi in SL
The Indian side said that it stands ready to help Trincomalee become a petroleum hub and announced that New Delhi will provide a fresh Line of Credit of up to USD 318 million for the railways sector in Lanka. The Reserve Bank of India and the Central Bank of Sri Lanka also agreed to enter into a Currency Swap Agreement of USD 1.5 billion to help keep the Sri Lankan rupee stable.
Meanwhile, a commentary in the Chinese media has said that China-Sri Lanka relations will not be affected by Narendra Modi's visit but 'only grow stronger'.
China's official press agency, Xinhua, reported: "Some foreign media's narrow-minded interpretation of Modi's visit as a move to tame China's influence over the island nation is driven by outdated geopolitical and confrontational mindset."
Xinhua writer Sun Ding said that as Modi began the first bilateral visit by an Indian Prime Minister to Colombo since 1987, some brooked no delay to babble on New Delhi's attempt to mitigate Beijing's growing influence over (Sri Lanka) in a bid to alienate the two most populous and fast-developing economies.
"Those motivated but evident efforts, however, are destined to no avail as China-Sri Lanka relations will not be affected by Modi's visit, but only grow stronger," the writer added.
The commentary said "China welcomes a thaw in Sri Lanka-India relations troubled by a decades-long civil war in the Island nation against the Tamil Tiger rebels, as it is in the interests of all three parties."
The Xinhua commentary also quoted Lankan President Maithripala Sirisena as saying that 'Sri Lanka knows the importance of his country's relationship with China'.
It added: "The attempts to drive a wedge between Beijing and New Delhi are doomed to fail... "China encourages its neighbours to mend fences with one another and pursue common development and equality-based and win-win cooperation, which has long been an irreversible trend for global partnership."
"Having proved itself a trustworthy and reliable partner, China will continue to honour its commitment to its time-honoured and resilient ties with Sri Lanka," it further said.
"It is also believed that the leaders of China, India and Sri Lanka have the wisdom to make correct judgment from strategic perspectives and keep relations between the three nations on a healthy track," it added.