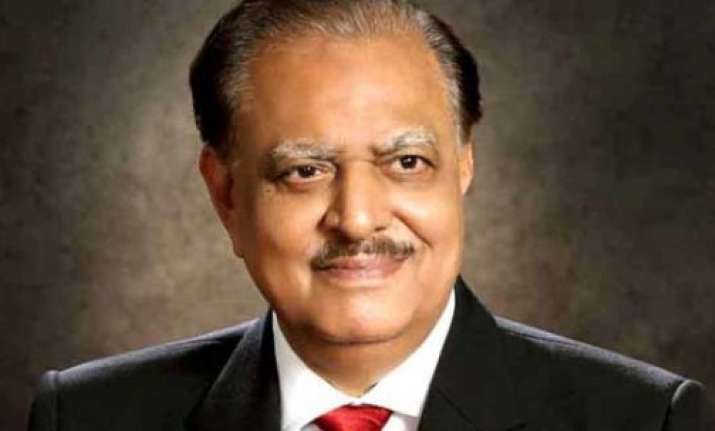 Islamabad: Pakistan President Mamnoon Hussain yesterday greeted Hindus on Diwali and assured the minorities in the country that their rights and security will be safeguarded.
"I extend my heartiest greetings to the Hindus and Scheduled Caste community on the occasion of Diwali. May this occasion bring peace, prosperity and joy in the lives of all those who commemorate this day," Hussain said in his Diwali message.
"The merriments of Diwali that denote victory of light over darkness, knowledge over ignorance and hope over despair is an occasion to rededicate to those noble ideals that promote peace, mutual love and goodness in the world. Indeed, the need for following these ideals had never been as great as it is today," he said.
Hussain said that the Pakistan government is firmly committed to making every possible effort for the upliftment and welfare of the minorities in the country and would continue to safeguard their rights, safety and security.
The government would facilitate them in playing their role in the national developmental process, he said.
"In this effort we are guided by the injunctions of our religion, the vision of our Quaid and our Constitution. Indeed Quaid-e-Azam Mohammad Ali Jinnah was a true guardian of the minorities and his words still serve as a guideline to our government for the protection of minorities in the country," the President said.
He said that the challenges Pakistan faces can only be addressed through collective efforts.
"Let us all as true Pakistanis refuse to yield before a handful of elements that disrupt our peace, harass our people and try to impose their agendas through use of force. Let us stand together in overcoming our mutual challenges and steering the country towards peace, prosperity and progress," he said in his message.
Hussain urged the Hindu community and other segments of the minority communities to continue making their valuable contributions for the prosperity of Pakistan and promoting inter-faith harmony.
"Indeed such events should serve to strengthen our resolve to make greater efforts in the path of good and noble.  Once again I greet the Hindus and Scheduled Caste Community on the occasion of Diwali and extend my best wishes to them," he said.
Diwali will be celebrated by hundreds of thousands of people across the globe today.