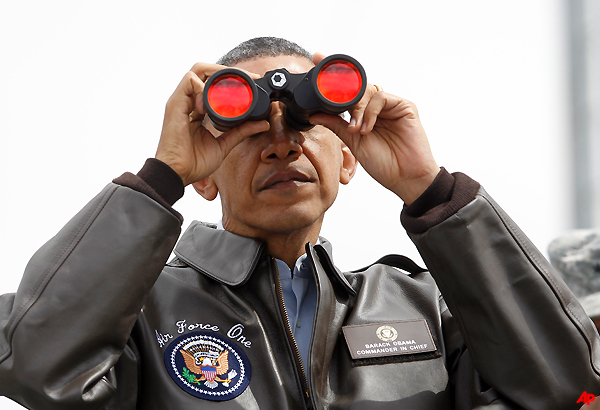 Observation Post Ouellette (South Korea), Mar 25: US President Barack Obama made a symbolic visit to the world's most militarized border on Sunday, striding into the surreal Demilitarized Zone separating North and South Korea and telling U.S. forces stationed along the DMZ they serve on "freedom's frontier."
Obama shook hands and spoke briefly in the dining hall at a U.S. military camp just outside the 2.5-mile-wide zone, then walked into the heavily patrolled no-man's land to tour a small post where South Korean forces patrol just 100 meters (yards) from the demarcation line.
Obama, positioned behind bulletproof glass, peered through binoculars across the line that has bisected the Korean peninsula for 60 years. The president spent about 10 minutes at observation post, looking first toward North Korea, then back to the South.
It was an unmistakable show of force to communist North Korea and its new leader at a time of diplomatic standoff. Obama underscored the Cold War symbolism by making the tour his first order of business ahead of a gathering of world leaders pledged to keep nuclear materials safe. Nuclear-armed North Korea will not attend.
The U.S. is threatening to cancel planned food aid to the North over its announcement that it will launch a long-range rocket next month, news that overshadows the gathering of world leaders committed to nuclear security that Obama will attend in Seoul.
"I could not be prouder of what you do," Obama told smiling American troops at Camp Bonifas at the edge of the DMZ. Obama said the same is true at every U.S. military post, but "there's something about this spot in particular."
Obama's visit takes place as North Koreans mark the end of the 100-day mourning period for longtime leader Kim Jong Il, who died of a heart attack in December. Since Kim's death, son Kim Jong Un has been paying a series of high-profile visits to military units and made his own trip to the "peace village" of Panmunjom inside the DMZ earlier this month.
"The contrast between South Korea and North Korea could not be clearer, could not be starker," Obama told the troops.
That was a reference to the political freedom and prosperity in democratic South Korea, and the repression and desperate food shortages of the North.
In the midst of an election year focused on economic concerns at home, Obama has designed a rare Asia visit that features time in just one country. He'll use much of the time to keep pressure on North Korea to back off the planned rocket launch and return to disarmament talks.
Obama's visit to the border separating the Korean peninsula is the fourth by a U.S. president. Ronald Reagan, Bill Clinton and George W. Bush all visited the DMZ; other U.S. officials regularly go there.
The border zone is a Cold War anachronism, a legacy of the uncertain armistice that ended the Korean War nearly 60 years ago. Hundreds of thousands of troops stand ready on both sides of the border zone, which is littered with land mines and encased in razor wire. Obama officials said the goal is to thank U.S. and South Korean military members and show U.S. resolve from "the front line of democracy" on the peninsula.
The United States has more than 28,000 troops in South Korea.
North Korea plans to launch a satellite using a long-range rocket next month, which the U.S. and other powers say would violate a U.N. ban on nuclear and missile activity because the same technology could be used for long-range missiles. Taken by surprise, the U.S. warned that a deal to resume stalled food aid to the North could be jeopardized if North Korea goes ahead.
The U.S. considers the rocket launch practice for a ballistic missile test and a violation of North Korea's international responsibilities. The planned launch appears to be part of a long pattern of steps forward, then back in U.S. dealings with North Korea, and plays into Republican claims that Obama is being played for the fool.
Campaign politics surrounding a sitting president typically subside when he is abroad, although Obama's posture toward threats to America will be scrutinized by his rivals.
The timing comes as daily economic worries, not foreign ones, are driving the concerns of American voters. Yet the setting does give Obama a few days to hold forth on the world stage while, back home, Republican presidential candidates keep battling each other.
The goal of the large gathering of world leaders is to secure nuclear material and prevent it from being smuggled to states or groups intent on mass destruction. Progress has been uneven since 2010, when Obama set an ambitious goal of locking down vulnerable nuclear materials by 2014. No breakthroughs are expected now.
Obama has called nuclear terrorism the gravest threat the United States and the world may face. North Korea is a prime suspect in the proliferation of some nuclear know-how, along with missiles that could be used to deliver weapons of mass destruction. Iran is suspected in the arming of terrorists with non-nuclear weaponry, and the U.S. and other nations suspect Iran's nuclear energy program could be converted to build a bomb.