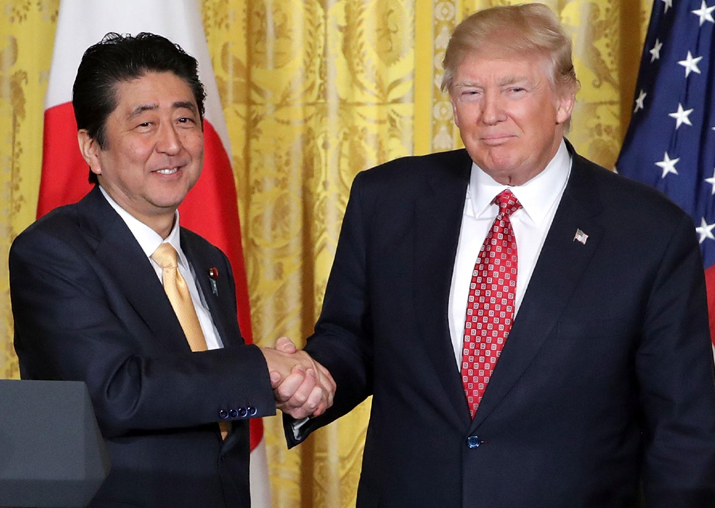 US President Donald Trump has congratulated Japanese Prime Minister Shinzo Abe on his electoral victory and reaffirmed his desire to continue working closely with him, the White House said today. 
Abe's conservative coalition secured a landslide win, winning more than 300 seats in the 465-seat parliament in snap polls yesterday. 
Trump is scheduled to visit Japan early next month. The president "spoke yesterday with" Abe to congratulate him on his recent electoral victory, the White House said. 
"The two leaders underscored the importance of a free and open Indo-Pacific region, and a strong United States-Japan alliance," it said. 
During the telephonic conversation, Trump reaffirmed his desire to continue working closely with Abe, and said he looks forward to visiting Japan in early November. 
Japan would be Trump's first stop in the five nation Asia trip early next month that would also take him to South Korea, China, Vietnam and the Philippines. 
"The president will commence this visit to Asia beginning with Japan on November 5," a senior Trump administration official told reporters at the White House in a preview of the visit from November 3 to 14. 
"In Japan, he is going to affirm the US-Japan Alliance as the cornerstone for regional peace and security. The president's meetings in Japan will focus on ways for the US and Japan to work together to promote a free and open Indo-Pacific Region," the official said. 
Trump will also speak to American and Japanese service members at Yokota Air Force Base and participate in bilateral meetings with Abe, who will host the president for a meeting with families of Japanese citizens abducted by the North Korean regime, the official said. 
Responding to questions on media reports, the official said that it would not be surprising that the two leaders play golf during the trip. 
Trump and Abe, the official said, have forged a personal relationship that they have built upon in terms of "our alliance, our close economic ties, cultural ties and the values that the United States and Japan share". 
"This is a great opportunity for the two to continue working together well into the future," he said. 
On the other hand, Trump has a very good working relationship with Chinese President Xi Jinping. 
Trump wants to continue building on what the president terms a constructive and result-oriented relationship with Xi.