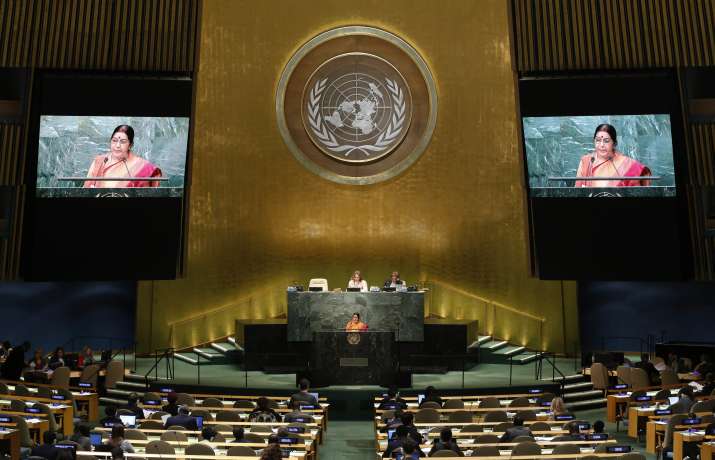 In a fiery response to Pakistan's Kashmir tirade at the United Nations General Assembly, External Affairs Minister Sushma Swaraj today told Islamabad to "abandon the dream" of obtaining Kashmir, asserting that the valley is an "integral part of India and will always remain so". 
Coming in the backdrop of a terrorist attack at the army base in Uri that led to the death of 18 soldiers, Sushma sought to isolate countries that harbour terrorists.  
Here are top 10 quotes from Sushma Swaraj's nearly 20-minute-long speech: 
1- We must acknowledge that terrorism is undoubtedly the biggest violation of human rights. It targets the innocent and kills indiscriminately.
2- Terrorists do not own banks or weapons factories, so let us ask the real question: who finances these terrorists, who arms them and provides sanctuaries?
3- The germ of evil has grown into a hydra-headed monster, backed by technological sophistication that threatens the peace and harmony of our world. 
4- Therefore if we want to defeat terrorism, there is only one way – that we unite across our differences, add steel to our resolve and inject urgency in our response. We need to forget our prejudices and join hands together to script an effective strategy against terror.
5- In our midst, there are nations that still speak the language of terrorism, that nurture it, peddle it, and export it.
6- These nations, in which UN designated terrorists roam freely, lead processions and deliver their poisonous sermons of hate with impunity, are as culpable as the very terrorists they harbour. Such countries should have no place in the comity of nations.
7- Those who live in glass houses should not throw stones at others.
8- I can only say that those accusing others of human rights violations would do well to introspect and see what egregious abuses they are perpetrating in their own country, including in Balochistan.
9- We have attempted a paradigm of friendship in the last two years which is without precedent. And what did we get in return? Pathankot, Bahadur Ali, and Uri.
10- My firm advice to Pakistan is: abandon this dream. Let me state unequivocally that Jammu and Kashmir is an integral part of India and will always remain so.