Follow us on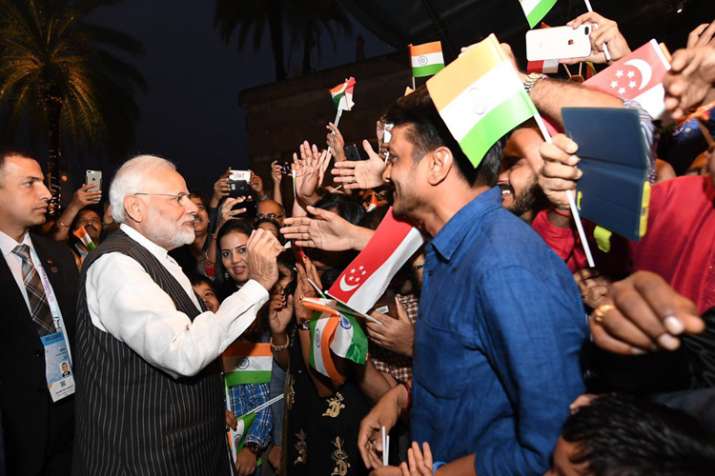 Prime Minister Narendra Modi received a rousing welcome in Singapore where he arrived early Wednesday morning. Despite rains, hundreds gathered to get a glimpse of the Indian PM. 
"Extremely touched by the affection of the Indian community in Singapore. Their warm welcome, so early in the morning amidst the rain, was touching. India's diaspora makes our nation very proud. They have succeeded all over the world, in a wide range of areas," PM Modi said in his tweet.
During the two-day Singapore visit, PM Modi will attend the East Asia Summit, an ASEAN-India informal meet, the Regional Comprehensive Economic Partnership summit and hold a meeting with US Vice President Mike Pence.
Modi's first engagement in Singapore would be to deliver the keynote address at the Singapore Fintech Summit, the Prime Minister's Office (PMO) said in a tweet. 
"The Prime Minister landed in Singapore a short while ago. He will be joining a series of programmes through the day, beginning with the keynote address at the Singapore Fintech Festival," it said.
Before leaving for Singapore, PM Modi said in New Delhi that his participation in the ASEAN-India and East Asia summits symbolised India's "continued commitment" to strengthen its engagement with ASEAN members and with the wider Indo-Pacific region. 
Modi also said he was confident that his visit to Singapore would impart fresh momentum to New Delhi's growing partnership with ASEAN and East Asia Summit nations. 
PM Modi's packed schedule 
The prime minister will have a number of high-profile multilateral and bilateral meetings with global leaders including US Vice President  Mike Pence and Singapore premier Lee Hsein Loong.
Pence will participate in a bilateral meeting with Prime Minister Modi, the White House said Tuesday releasing the schedule of the Vice President Pence on the eve of the meeting.