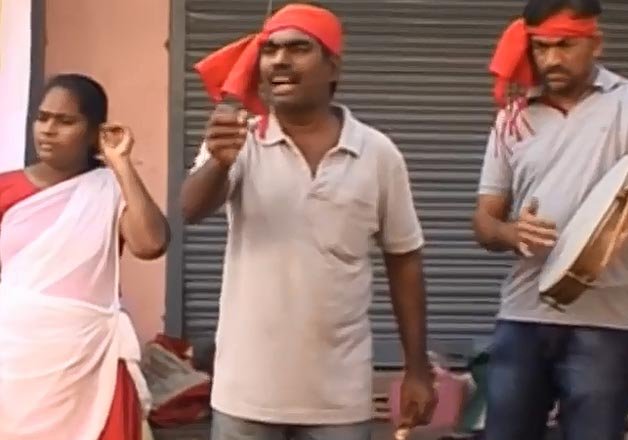 Chennai: The cyber branch of Chennai police has detained Tamil folk singer Kovan for a song in which he was criticising the state's Chief Minister J Jayalalitha.  The police arrested the singer at 2 am on Friday.   
S Sivadas alias Kovan (45) was picked from his house at Maruthanda Kurichi near Tiruchi. He was brought to Chennai for further investigation.
Police said Kovan had been associated with the Makkal Kalai Ilakkiya Kazhagam(MKIK). The outfit is involved in various  revolutionary activities in the state.
They said he had written lyrics demanding closure of Tasmac shops (liquor shops) in the state where he made offensive statements against Jayalalithaa. The video of the song --"Oorkku oorkku sarayam" -- was uploaded online.
The song Title....
जनता का अधिकार....
गाँव गाँव में शराब है...पूरा तमिलनाडु लड़खड़ा रहा है।
जिस आदर्श महिला ( जया) ने इसे बढ़ावा दिया है वो पॉएस गार्डन में आराम से है...
इडली 1 रूपये, टाइलेट जाने के लिए 5 रूपये, खाना 5 रूपये दाल 100 रूपये....एक बोतल पानी 10 रूपये लेकिन पढ़ाई की फीस 1 लाख रूपये...
अगर आप ये नहीं कहोगे कि उस देवी ने आपको जिंदगी नहीं दी है तो मार दिए जाओगे ( speculation is that becasue of this line only he was arrested)....
पढ़ने की स्कूल को बंद कर रहे हैं, लेकिन शराब की दुकान मंदिर के पास खोल रहे हैं...
महीने में एक बार ही केरोसिन देते हैं लेकिन TASMAC ( शराब) की दुकान हर रोज आधी रात को ही बंद करते हैं..
बेकार पड़े गाँव में दुकान खोली, और हर मर्द और औरत को पीने दिया....
अम्मा की सरकार ने भेड बकरी, फेन मिक्सी भरभर कर दिया...गली गली दुकान की वजह से सब छिन गया...
बिना मांगे इस सरकार ने सबकुछ दिया लेकिन साथ में पहनने वाली धोती भी छीन ली।
तमिलनाडु के बार की मुख्य नदी MIDAS है ( कहा जाता है MIDAS शशिकला की लिकर फेक्ट्री है)
जो कलेक्टर जनता को दारु पिलाये उसको शाबास है...
हर बार के मालिक आतिमुका( AIADMK) के गुंडे हैं
इनकी आल टाइम सेक्युरिटी पुलिस है।
IAS IPS फोर्सेस को तनख्वाह...
पोलिस क्वालिस नाम में बहुत खर्च...
अम्मा अगर आके जाएँ तो खर्च भयंकर है....
अगर बंद करने की बेवकूफी कर दी तो उनके फ्यूचर का क्या होगा...
Kovan had been booked under various sections of the IPC, including 124 (A) (sedition).He has also sings about the increasing price of food and education.
The song has gone viral on social media.