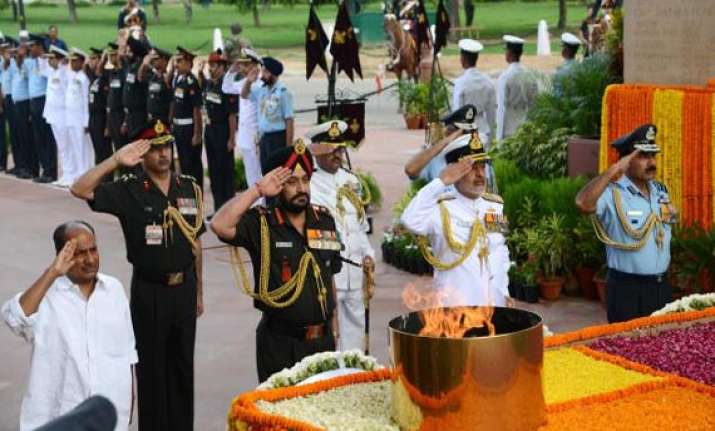 New Delhi, July 26: India and China are trying to develop effective mechanisms to prevent the "embarrassing" face-offs between their troops along the disputed points of the Line of Actual Control (LAC), Defence Minister A.K. Antony said in Delhi on Friday.
Terming the stand-off between the two sides in Depsang Valley in Daulat Beg Oldi area as an "unusual" incident, Mr. Antony said the two countries will meet soon in Beijing to discuss issues and try to find a solution for such "unpleasant incidents".
"Till the final settlement of the border issue, we are trying to find out more effective mechanisms to prevent occasional incidents. There are many points in the LAC that are disputed and they are patrolled by both sides. So, sometimes it leads to some face-off," he told reporters on the 14th anniversary of Kargil Vijay Diwas.
Mr. Antony said, "There are disputed points where both sides are going there, which sometimes causes some embarrassing situations."
He said after the Depsang incident in April, India and China had "free and frank" talks and "we are trying to have more border personnel meeting places and have more effective mechanisms to prevent such unpleasant incidents."
"On the one side, both sides are trying to find a long-term solution to the long-pending border dispute. Till that time, our aim is to maintain peace and tranquillity at the border," Mr. Antony said.
"We are going to have another round of this meeting in Beijing soon on this issue. So, I think we will be able to find out solutions to such unpleasant incidents on the border," he said.
Housing project
Meanwhile, commenting on the alleged "mistreatment" of armed forces personnel and the lack of accommodation for them, Mr. Antony said though the situation had improved in comparison with past but "a lot was still required to be done".
"Under the married accommodation project, nearly 1.99 lakh houses are to be built for forces. Out of that, 50 per cent has been completed," he said.