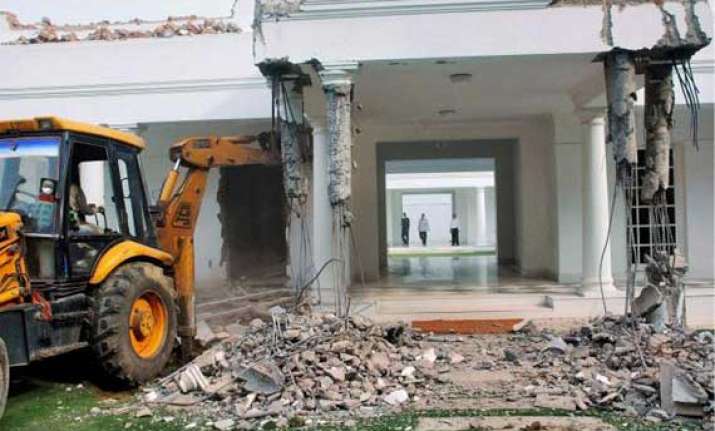 New Delhi: As many as 889 unauthorised constructions have been targeted by the North Delhi Municipal Corporation as part of its anti-encroachment drive till July this year, an NDMC official said today.  Among all its zones, Rohini alone accounted for over 320 such properties, a report released by the corporation said.  "The civic body under its anti-encroachment drive has either demolished these properties or has taken sealing actions against them," Director, Press and Information, NDMC, Yogendra Singh Mann said.
According to the report, maximum properties were targeted in July, i.e., 259 followed by June (143) and May (142), among others.
The properties targeted for rest of the months are— January (26), February (130), March (102), April (87), the report said.
The properties targeted among its various zones for the seven-month period are—City (22), Civil Lines (134), Karol, Bagh (126), Narela (159), Rohini (321), Sadar Paharganj (127).  According to the report, a survey of dangerous buildings was also conducted from 2012 to April 2014, in which 205 buildings were found dangerous in Sadar Paharganj Zone. Over 200 notices were also issued in the same zone.  Nearly 70 dangerous buildings were also identified in the City Zone, where demolition action were taken against 40 properties.
Meanwhile, in the last one month North Delhi Municipal Corporation (NDMC) has demolished illegally-developed portions in 139 properties and sealed 20 properties in its various zones.
Illegal portions of 11 properties were demolished in Sadar Pahar Ganj Zone in areas such has Nabi Karim, Singhara Chowk, Sadar Bazar, Main Pahari Dhiraj Road, among others.  The illegal portions of 89 properties were demolished in Karol Bagh Zone. Besides above, illegal portions in 18 properties were sealed or re-sealed in the area.  Illegal portions of 14 properties demolished in Civil Lines Zone, it said.
Similarly, demolition action was taken against 22 properties in City zone.
Municipal Commissioner Praveen Gupta has directed all the Deputy Commissioners of the zones to have a zero-tolerance against unauthorised constructions.
He has also directed them to lodge criminal cases against those builders or owners who are constructing buildings by violating safety norms.