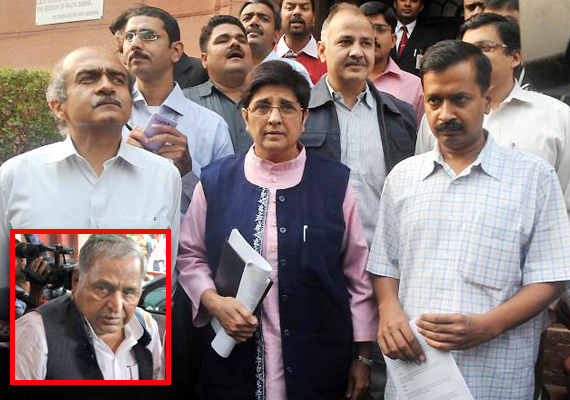 New Delhi, Mar 30: Slamming Team Anna for using derogatory and unparliamentary remarks in their speeches against the country's lawmakers over the delay in the passage of the Lokpal Bill, Samajwadi Party chief Mulayam Singh Yadav on Friday called them a 'den of corrupt perople'.
''Anna Hazare is surrounded by corrupt people," Yadav told media here.
Earlier, Yadav had demanded the passage of a breach of privilege motion against Team Anna.
''You can forgive, but not forget. Take action against them under a breach of privilege motion. Call them here in Parliament as accused and let them stand here,'' Yadav said.
Team Anna has come under attack from the political class after social activist Arvind Kejriwal passed derogatory remarks against parliamentarians on March 25.
Kejriwal had also released a list of 14 ministers who would be under investigation under for corruption if a strong ombudsman bill is passed.
He took the names of around 25 politicians, including ministers Sharad Pawar, S M Krishna, P Chidambaram, Praful Patel, Kapil Sibal,
Kamal Nath
, Farooq Abdullah, Ajit Singh, Sri Prakash Jaiswal, Sushil Kumar Shinde, Vilasrao Deshmukh, M K Alagiri and G K Vasan.