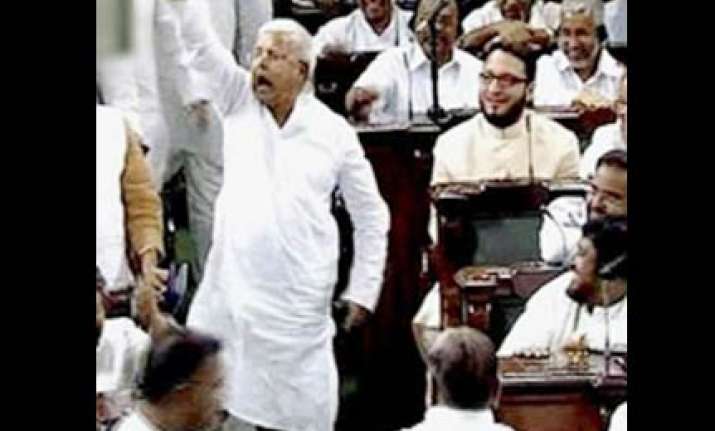 New Delhi: Dissatisfied by the quantum of hike in the salaries approved by the Cabinet, members from non-BJP opposition parties on Friday  stalled proceedings in the Lok Sabha demanding that wages be raised to at least Rs 80,001. 
The members, led by RJD chief Lalu Prasad and Samajwadi Party leader Mulayam Singh Yadav, created uproar and forced two adjournments before the one for the day soon after the lunch recess. 
Hours after the Cabinet cleared a proposal for raising the basic salary of MPs from Rs 16,000 to Rs 50,000, several non-BJP opposition members raised the issue in the Lok Sabha in the Question Hour, saying the hike was inadequate. 
Demanding that the salary be raised to Rs 80,001, Re one more than a Secretary to the government, the members of SP, BSP, JD(U), RJD, Shiv Sena and Akali Dal chanted slogans like "stop the insult of MPs" and "implement the report of the Parliamentary Committee" on Salaries and Allowances. 
The members contended that government had "insulted Parliament" by rejecting the recommendation of its own Committee to raise the basic salary to Rs 80,001 per month.
Citing protocol, the members have been wanting the salary to be more than that of a Secretary to the government. In view of the uproar, the House was adjourned till noon. 
When the House reassembled, Yadav and Prasad, led their members to the well raising slogans. Members of Shiv Sena, Akali Dal and JD(U) also joined them in the well. 
Prasad and his party colleague Raghuvansh Prasad Singh were raising slogans for salary hike. In the din, the House approved amendments made by the Rajya Sabha to the Trade Marks (Amendment) bill by voice vote. As the protests continued, the Speaker adjourned the proceedings till 1400 hours. 
Similar scenes were witnessed when the House met again, with Prasad and Yadav, along with their party colleagues, rushing into the well. Amid the pandemonium, the Indian Medical Council bill, moved by Health Minister Ghulam Nabi Azad, was passed without any discussion.
This led to protests by BJP and JD(U) which termed it as "murder of democracy". They created uproar, saying the important legislation should have been taken up for voting only after discussion. In view of the pandemonium, Deputy Speaker Karia Munda adjourned the House for the day. After the House was adjourned, members of RJD, SP, BJP and JD(U) staged a dharna in the well, although for different reasons. 
Kirti Azad (BJP) tore the business papers in front of Deputy Leader of Opposition Gopinath Munde, saying if this issue was not raised strongly tomorrow, he would create further pandemonium. 
Lal Singh (Cong) challenged the agitating opposition members to remain in the House till tomorrow morning. At this Uday Singh (BJP) shot back, saying the issue was not limited to a particular party but concerned democracy. 
Lalu and Mulayam were seen talking to Leader of House Pranab Mukherjee. BJP members were seen protesting to Parliamentary Affairs Minister Pawan Kumar Bansal who said the government had to conduct business as per the proceedings despite the din. As the members continued to sit in the well, media galleries were cleared. PTI