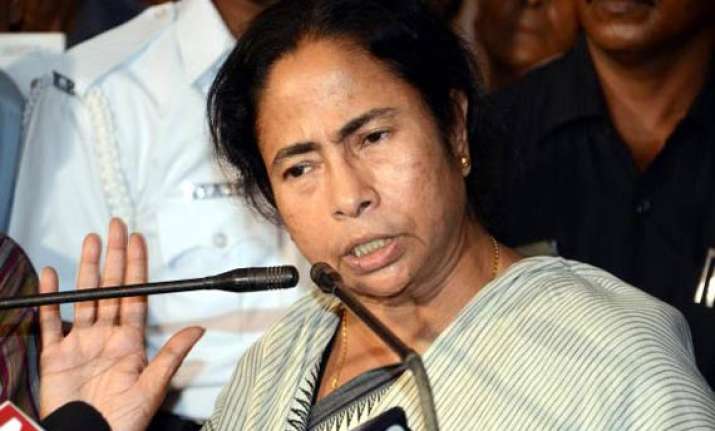 Kolkata, Nov 28 : West Bengal Chief Minister Mamata Banerjee on Sunday said that Kishehnji and his Maoist accomplices were given three days to surrender before the encounter with Joint Forces which claimed his life. 
"The Maoists, led by Kishenji, were given three days time to surrender, but they did not listen to the call by the Joint Forces," Banerjee said at a campaign rally for Kolkata South Lok Sabha constituency.

"The Maoists, led by Kishenji, fired 1000 rounds. The Joint Forces had no other alternative but to counter it to save lives of hundreds of innocent villagers," Banerjee said.  The Maoists under Kishenji's leadership had gathered there to plan a major attack on targets which even included a metro railway station.

"Would you have spared the government if it remained silent after Maoist attack?" she asked the listeners.  However, the state government has ordered a probe into the incident which claimed Kishenji's life, Banerjee said. 
"I asked the Maoists to surrender and return to the mainstream, but they did not listen to the government's appeal. Terrorist activity was being planned to destabilise my government which I can't allow to happen," she said.  "Such plans had also been hatched in 1984, 1987, 1990 and 1995 to claim my head," Banerjee said adding "I don't bother. I want to live bravely."

Criticising those shouting for human rights, Banerjee expressed surprise, asking 'where were these people and human rights organisations when innocent people were being killed by the Maoists?'

"Don't teach me human rights. I am more aware of human rights than those raising this question now," Banerjee said. 
Saying that she first learnt of Kishenji's death from the media while she was in New Delhi, she said, "I am still in favour of peace.
The Maoists should surrender and return to the mainstream to strengthen the government's peace process." The chief minister reminded the audience at the rally how her government had restored peace and democracy in the Darjeeling hills and Dooars.

She took a swipe at the rights organisations which, she said, were silent on issues like Bhikhari Paswan, adulterated oil at Behala, killing of innocent people by the Maoists one after another at Jangalmahal and killing of workers of Trinamool Congress and other parties.  She also criticised their silence on other issues like the killing of intelligence officer Partha Biswas and his teacher friend Soumyajit Basu.

"How many processions were organised and protests raised then by the those rights organisations?" she said. 
"Any death is painful to me particularly when people are being killed by other people", she said.  She also criticised the CPI(M) without naming it, saying the erstwhile Left Front government had failed to take any measure to contain Maoist violence in Jangalmahal.