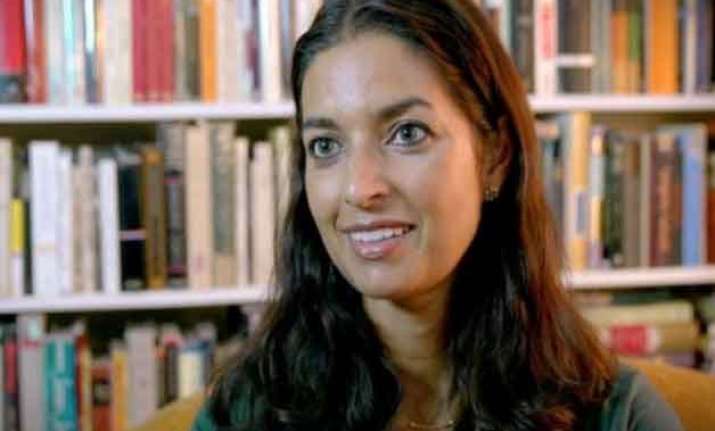 New Delhi: Indo-American writer Jhumpa Lahiri has won the USD 50,000 DSC Prize for Literature, one of South Asia's top literary awards for her book 'The Lowland'.  The announcement was made at the Jaipur Literature Festival on Thursday evening.
The four other authors shortlisted for the award were Bilal Tanweer for "The Scatter Here is Too Great", Kamila Shamsie for "A God in Every Stone", Romesh Gunesekera for "Noontide Toll" and Shamsur Rahman Faruqi for "The Mirror of Beauty".
Lahiri, 47, who could not be present at the ceremony,  thanked the judges through video conference on Skype from Rome.
"This is an enormous honour for 'Lowland' and for me personally. I wish I was there in person to receive the award," said Jhumpa.
Publisher Caroline Newbury accepted the award on her behalf.
Her second novel narrates the story of  two brothers in 1960s Calcutta during the Naxalite movement.
"I had published this book with the apprehension that I had not done justice to the time and events that inspired the story. I am therefore particularly proud of this DSC prize," Lahiri added.
The prize was given by Pulitzer Prize winning poet Vijay Sheshadri who is the chief guest at the ongoing Zee Jaipur Literature Festival.
"I am very honoured to be here as the chief guest. President Barrack Obama and I are the chief guest here this weekend but I have the better job as I am celebrating the literature and he's celebrating armament," she said.
Actor Dalip Tahil, better known for his negative roles in Bollywood films, announced the names of the nominees in a cinematic manner but failed to lift the mood at Baithak where the event was relocated from the lawns of Diggi Palace.
Rahman Faruqi was the crowd favourite but the final announcement came as a shock to many.
His masterpiece The Mirror of Beauty is the English translation of the Kai Chand The Sar-e-Aasman which was published eight years ago in 2006. Faruqi traced the events in Wazir Khanum's life during the last few years of Mughal Empire.
HS Narula who runs the DSC group with his wife Surina announced that the prize would no longer be associated with the Jaipur Litfest which came as the most surprised announcement of the evening.
DSC prize is the second most generous literary prize after the Man Booker (50,000 Euros).