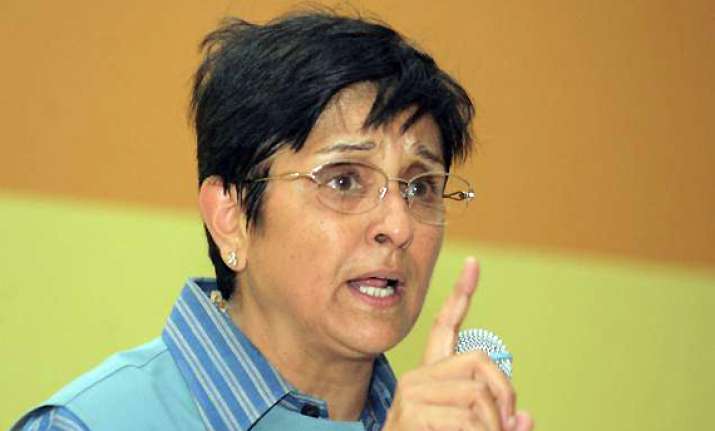 New Delhi, Oct 26: Some of the NGOs and institutions which sponsored trips of Kiran Bedi over the past two years say they were categorically told "she flies Business class" and were not aware if she travelled Economy. They added that they took her bills at "face value", reports The Indian Express.

"We were told that she only flies Business class. We had no idea she was availing Economy class tickets," Irene Almeida, administrator of Mumbai-based Shri Mahila Griha Udyog Lijjat Papad, which hosted Bedi for a function on August 6, 2009, said.

About Bedi's offer to return the money, Almeida said: "We have not been approached by any of her representatives willing to refund the amount to us."

For the Lijjat Papad function, Bedi took an Indian Airlines flight (IC 165) to Mumbai from Delhi and returned the same day on IC 888. The total fare paid by her was Rs 8,689 but the bill submitted to the organisation was for Rs 32,495.

The payments for each of the flights Bedi took were made to her NGO India Vision Foundation (IVF).

Ashutosh Aggarwal, secretary of Guwahati-based Sanskriti school, where Bedi attended a function on December 16, 2009, said: "We took her at face value. We were told that she flies only Business class. At that moment it was not possible for us to check. I am not aware whether she has plans to reimburse the extra amount charged from us."

Bedi flew from Delhi to Guwahati on IC 8611 and came back on IC 8612 the next day. She incurred an expenditure of Rs 17,081 but the bill sent to the school was for Rs 39,100.

The Ahmedabad chapter of FICCI's Ladies Organisation (FLO) where Bedi attended a function on May 6, 2011, said they were not aware of the monetary aspect. Pooja Agarwal, FLO chairperson, said: "She did attend a function organised by the FLO in May this year but I would not be in a position to state whether she charged for Business class fares while she actually travelled Economy."

Bedi charged the FLO Rs 21,234 and Rs 20,763 for Delhi-Ahmedabad and Ahmedabad-Mumbai-Pune flights while the actual expense incurred was Rs 5,569 and Rs 5,923 respectively.

Neetu Sharma, Principal, Rajasthan College of Engineering for Women (RCEW), where Bedi attended a function on May 22, 2010, said: "We arranged her travel on our own. She is an honest officer and we did not know that her travel agent was overcharging. We only paid for her travel expenses."

Bedi travelled to the function on Kingfisher's IT 4315 and was back the same day on IT 4313. While the fare paid by her was Rs 7,042, the bill submitted was for Rs 14,057.