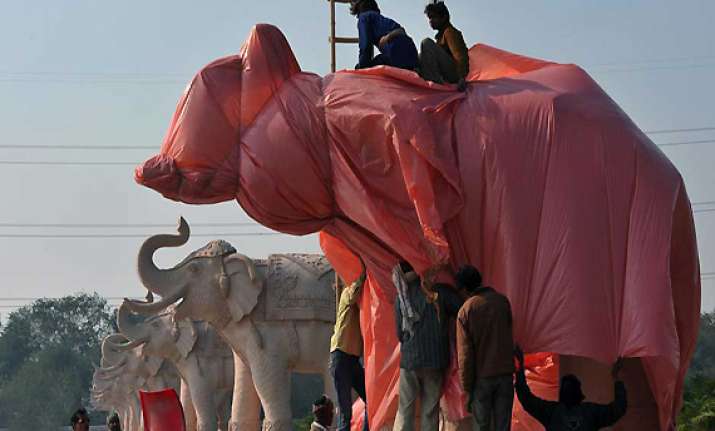 New Delhi, Jan 18: The Election Commission has rejected BSP plea to reconsider its order to cover statues of party symbol 'elephant' and that of Chief Minister Mayawati in poll-bound Uttar Pradesh built using public funds.

Replying to BSP leader Satish Chandra Mishra's complaint, the EC dismissed his argument that the statues were erected using party funds and the posture of the elephant was different from that of the party symbol.

"...the Commission does not see any reason or justification to reconsider its order," R K Srivastava, Principal Secretary, Election Commission, said in a letter to Mishra.

The BSP leader, on January 11, had accused the EC of giving a "one-sided" direction to cover the statues of Mayawati and the elephant symbol.

On references in Mishra's letter to the 'statues being established by the BSP', the EC pointed out that the party, during the proceedings on a plea to freeze the 'elephant' symbol in 2010, had taken the stand that the statues were built by the UP government and the party was not in anyway concerned.

The EC pointed out that since the BSP had said that it was not concerned with the installation of the statues, it cannot contend that the Commission should have given notice to the party before issuing directions to cover the statues.

"However, it view of the present admission by your party that the statues were established by BSP, the Commission may have to have a relook as its earlier order dated October 11, 2010," it said.

In October 2010, the EC had rejected petitions by some lawyers to freeze the elephant symbol of the BSP.

The EC also rejected BSP contention that the statues of elephants were different from the election symbol of the party saying these aspects were considered by it in 2010 were not accepted.

"You have stated that statues of icons at public places inspire people. And in the same breath, you have claimed that the statues of Ms. Mayawati would not influence voters, which is contradictory," Srivastava said in the letter dated January 14 to Mishra.

The EC said the order was in conformity with its consistent practice to remove from all public places photographs of active political leaders put up at the cost of the public exchequer.

Statues which have resemblance with any party symbol and put up in public places at the cost of public money also come in this category, the Commission observed.