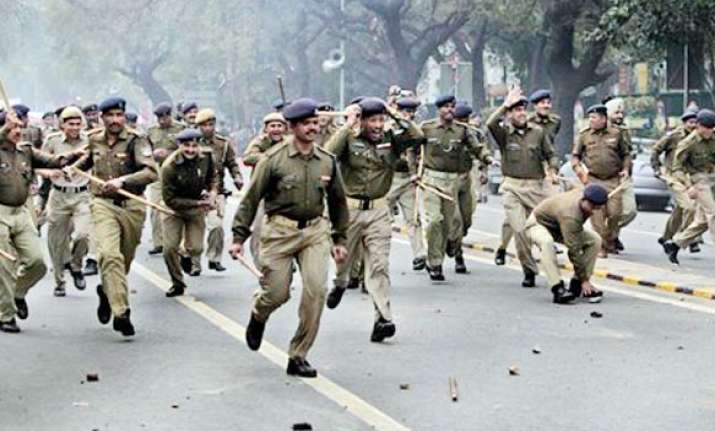 New Delhi, Feb 25: After vociferous protests by BJP in both Houses of Parliament, the Government today said "any excess" by the police during an agitation by BJP workers in the capital would be examined.
Home Minister P Chidambaram said in the Rajya Sabha during Zero Hour that he was "sorry" if any political worker was injured yesterday but maintained that such incidents happen due to "breach of understanding".
Earlier, the Question Hour could not take place in Rajya Sabha as BJP members engaged in slogan shouting against police action demanding a response from the Home Minister leading to adjournment of the House barely five minutes after it met for the day.
"What happened yesterday reminds me of emergency days. Is it democracy or dictatorship? Many people were injured and brutally assaulted (in the lathicharge)...If someone protests against corruption will you beat him like this...," senior BJP leader M Venkaiah Naidu said.
The issue was also raised in the Lok Sabha during Question Hour but the members had relented after an assurance that the Home Minister will be apprised of their sentiments.
Chidambaram said he has asked for video tape of the incident which captures most of the scenes of agitation and promised to see "if there is any indication of any excess".
He at the same time, he regretted that Question Hour was not allowed to function. "There is no reason to disrupt Question Hour. If you want a minister to respond, I could have responded even then."
Quoting a police report, he said "mild lathicharge" was carried out only after agitating BJP workers tried to cross the second barricade. He said they were allowed to hold demonstration and asked not to cross the first barricade, to which the party leaders had earlier agreed.
Chidambaram said that a Samyutka Morcha of Angandwadi workers comprising of odd 500 women was also holding agitation during the same time at barricade number 2 and 3 and the BJP workers as such could not have been allowed to go beyond.
He said the police first used water canons after which most agitating BJP workers including its leaders disbursed but some tried to cross barrier number one.
"Leaders also left the place, which was a mistake. Leaders should have stayed there and restrained other workers. The leader should be the last to leave," the Home Minister said. He also did not accept the number of injured as being claimed by BJP.
Naidu said he did not want "any personal sorry from the minister" but added that the Home Minister was "misled by police" to believe that there was a mild lathicharge. "Does a mild lathicahrge lead to fractures," he wondered.
Leader of the Opposition Arun Jaitley requested Chidambaram to personally ascertain facts. PTI