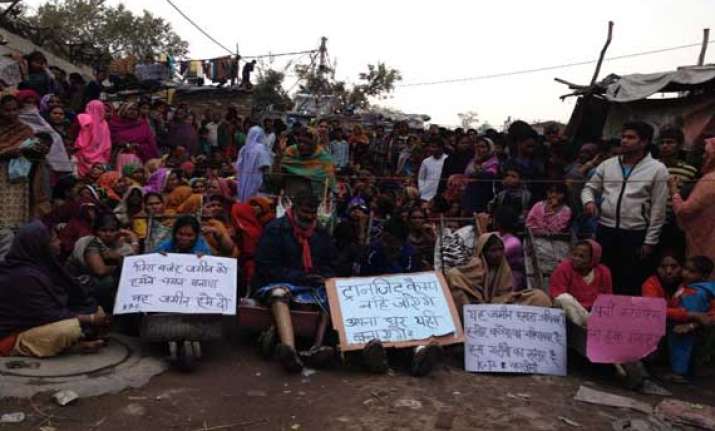 New Delhi : Their day starts with resistance. From 10.30 in the morning, the puppeteers, folk musicians and entertainers of Kathputli Colony in west Delhi leave aside their daily chores and sit at the entry to their colony, all geared up to fight the government and a private builder who they allege are trying to "kill" their art and livelihood.
With banners proclaiming "Jis banjar zameen ko humne chaman banaya, wohi zameen humein do" (give us back the land which we turned into a garden), and shouting slogans like "Simon go back, DDA go back", the over 3,000 inhabitants of the folk artisans colony are up in arms against their proposed eviction.
The womenfolk are seen to be at the forefront of the protests, holding banners and singing songs of protest.
The controversy triggered off after the Delhi Development Authority (DDA), the capital's land management authority, roped in Raheja Developers to build multi-storeyed flats to house the artisans who live in squalid conditions amid open drains, overflowing garbage, stray dogs and flies.
The DDA wants to shift them to a nearby transit camp at Anand Parbat for two years during the time the flats are built.
"When we came here the area was lying waste. What you see today has been developed by us. We have been staying here for almost 50 years now. How dare they ask us to shift?," Balbir, a musician, asked while speaking to IANS.
When the IANS reporters visited the site, they saw the residents united against shifting out. They accuse the Delhi government of getting their thumb impressions on "fake receipts" and luring them to move to the transit camp. The residents are demanding they be given small plots of land instead of flats. They maintain they will lose their clientele once they shift to flats. The DDA maintains they would be providing an amphitheatre and a place to display their puppets and other ware in the newly constructed camp.
The government claims that nearly 50 percent of the residents are willing to move and everything is being done in a transparent manner, but the residents refute the claim.
"The receipt (government document) says that we have been forcibly living on government land. This is untrue. They are not even giving us an assurance that they will bring us back to our original place of living after two years," said Rani, a 50-year-old resident.
The government has a different version.
"More than 50 percent of the people here have agreed to move, but they continue to live here as they fear the consequences. There are a few anti-social elements who have spread fear among these people," a DDA official told IANS.
"Some of them who signed the agreement are now sitting among the group to resist us," the official said, pointing to the protesters.
Dilip Bhat, president of the Kathputli Colony, flatly refused the claim.
"You see so many people around, ask anyone here if they are willing to move. Nobody is! This is our area, and we demand plots in the existing area, not multi-storey buildings," Bhat told IANS.
DDA has promised the residents flats measuring approximately 30.5 sq mt, each consisting of one bedroom, a multipurpose room, a kitchen, a balcony, a bathing area and a toilet.
"This will be in addition to an amphitheatre, school site, playground and display area among other things. So, while they are accusing us of killing their art, we are just trying to modernise it," S.K. Jain, director DDA, told IANS.
But the residents do not want this "modernisation", and are even willing to pay the price, Rs.6.11 crore, at which the land was auctioned to the developer.
"Where will we keep our 15-feet-tall puppets, the long poles we use in our performances and our musical instruments? We can't carry all of that up to the 15th floor," Vicky, a 24-year-old puppeteer, told IANS.
"If we had been told on time we would have somehow tried to accumulate that much money through donations. There are 3,200 families here, imagine our plight," he added.
According to a representative of Raheja Developers, a door-to-door survey was conducted in 2010-11 by DDA at Kathputli Colony based on which a Permanent Unique Number (PUN) was allotted to the residents.
"During the survey in 2011 the number of legitimate residents was found to be 2,800. Now, they claim to be 3,200," the official told IANS on condition of anonymity.
So, does the future of the remaining 400 residents hang in uncertainty?
"We will consider the remaining 400 families if they are found to be legitimate," she added.
Dunu Roy, director, Hazard Centre, an NGO, this week met Lt. Governor Najeeb Jung, who is said to have assured them that the residents will not be evicted.
Jung has invited the residents to submit by April 1, 2014, a proposal to redevelop the colony.