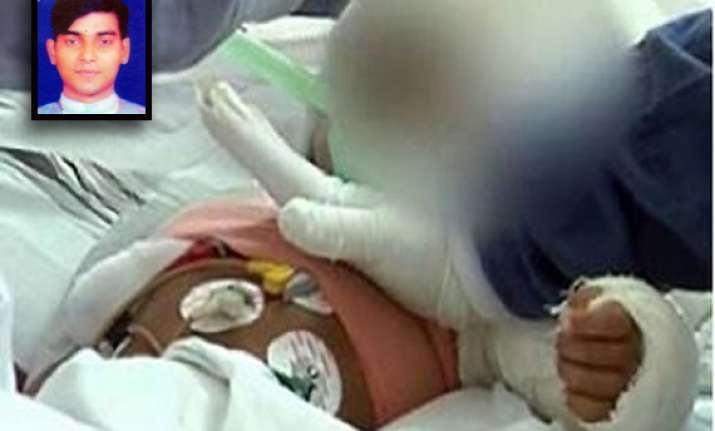 New Delhi, Jan 30: Delhi Police today released the picture of taxi owner Raj Kumar who has been absconding since the case of the battered two-year-old baby Palak came to light.

DCP South Delhi Chhaya Sharma said, police have detained a woman Lakshmi, who claims the baby was given to her by her maid Munni. She is being intensely interrogated.

It was Raj Kumar who had taken the baby from Lakshmi alongwith the 15-year old girl who was staying with him. Raj Kumar has been giving the police the slip by keeping his cellphone switched on and off.

A Delhi Police team had even gone to Mumbai to trace him

Meanwhile, the two-year-old battered girl Falak admitted at the All India Institute of Medical Sciences' underwent another life-saving surgery on Monday even as police spread the net to locate  Raj Kumar who "adopted" the baby and gave her to a teenaged girl for upkeep.

Police also questioned Lakshmi who got the baby from her biological mother and later handed her over to Rajkumar alias Dilshad (28), who left the girl with his minor girlfriend before heading to Mumbai for the treatment of his children.

The child was admitted to the AIIMS with severe injuries and is battling for life after a teenaged girl got her admitted. The teenager was looking after the baby after Rajkumar left the child with her.

Though investigators traced him to his in-laws' house, Rajkumar managed to slip out of police net in Mumbai after his friends tipped him off.

Into her 12 day of stay in the hospital, doctors said that the child's condition has not improved much and she had to be put back on ventilator in the wee hours of the day.

After investigations revealed water accumulation in her brain, doctors were compelled to carry out the surgery in the afternoon.

Dr. Deepak Aggarwal, a neurosurgeon attending on the girl said, "We finished a surgery on her brain some time back. Water had accumulated in her brain and it needed to be taken out. It was a bed-side surgery. If we did not do it early it would be fatal for her."

This is the second surgery she has undergone after she was brought to the hospital on January 18, 2012. "The first surgery was conducted for removal of a blood clot in the brain. It was conducted immediately after her admission here," he said.