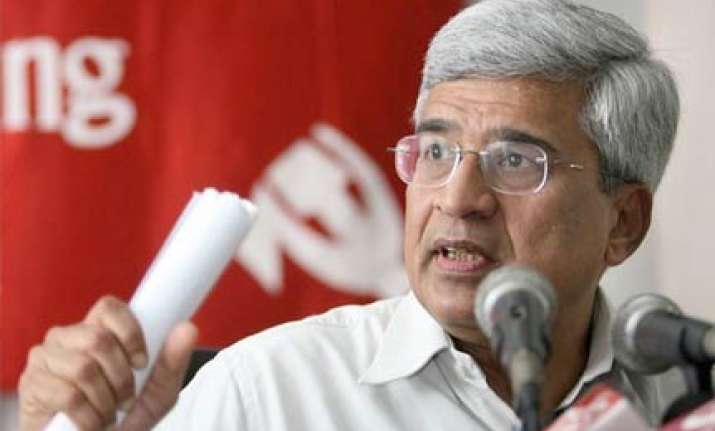 Observing that political parties are victims of 'paid news syndrome' during elections, opposition parties on Saturday favoured amendments in the Representation of the People Act to declare such news as an electoral malpractice.
The suggestion by CPI(M) general secretary Prakash Karat was supported by senior BJP leader and Leader of Opposition in the Lok Sabha Sushma Swaraj at a seminar here on the paid news syndrome organised by the Editors Guild of India and the Indian Women's Press Corps."Paid news should be declared an electoral malpractice," Karat said.
He felt a major hurdle in stopping this syndrome was that there was no record of the money exchanged in the deal and said those who paid money too should be held accountable.
Swaraj said since the Election Commission was not adequately empowered to deal with the issue, a bill should be introduced in Parliament to amend the Act. The Model Code of Conduct does not cover the issue of malpractice.  "It should be done. I endorse the suggestion," she said.
Recalling her experience while campaigning in Vidisha Lok Sabha constituency in Madhya Pradesh, Swaraj said she was offered a "package of Rs one crore by a media organisation" to write news in her favour including photographs of her visit to different places in her constituency.
She felt the phenomenon has become institutionalised over the years and said her party was ready to name publications which approached BJP for publishing news during elections.
Swaraj said if Election Commission sought details in this regard, BJP would provide evidence. "We are ready to name them. We are ready to give evidence if Election Commission formally asks us," she said.  Congress spokesperson Manish Tewari said he would discuss the issue at party level and take it up with the Government.
Tewari too said he would provide details to EC if asked.  Karat said his party has already conveyed to the Commission about the phenomenon of paid news.
However, in a lighter vein he said, "Nobody approached our party as they (publishers) know that we cannot pay."
Election Commissioner S Y Quraishi said several political parties have told the Commission about paid news but no one has lodged a formal complaint.
The EC will augment its machinery to tackle the problem, he said adding self-regulation by media is also required.
He, however, felt there were certain limitations up to which the EC can act especially when its control runs only during the elections. "We are lions only during elections."
Former BSP MP Shahid Siddiqui said ban on hoarding, posters and wall graffiti during elections has left little scope for political parties to reach out to voters.
Prasar Bharati Chairman Mrinal Pande said editors alone cannot be held responsible for what is appearing in newspapers as they cannot check each and every edition published from different places.
President of Editors Guild Rajdeep Sardesai suggested incorporating disclosure norms in news and programmes paid for by a particular party.
The seminar was organised in association with Press Association and Broadcast Editors Association. PTI