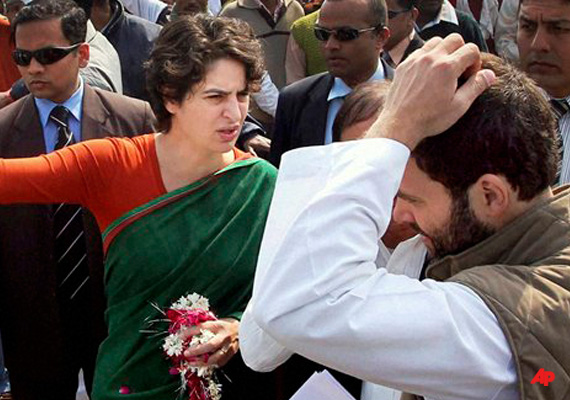 Rae Bareli (UP), Feb 17: Congress is heavily banking on the charisma of the Gandhis to maintain or improve its 2007 Assembly performance in which the party had secured five out of seven seats in this family pocket borough. 

In the changed scenario after creation of CSM Nagar, Rae Bareli which goes to polls on February 19 has five seats---Sadar, Sareni, Bachrawan, Harchandpur and Unchahar.  Congress has fielded its four sitting MLAs, who are banking on development work done by Sonia and the charisma of Rahul and Priyanka.

In the Sadar seat despite all efforts, the Congress has failed to make any inroads into the citadel of independent MLA and erstwhile Congress leader Akhilesh Kumar Singh. Singh, who is national general secretary of the Peace Party is in the fray again.

SP, BJP and BSP have fielded R P Yadav, Susheel Sharma and Pushpendra Singh, respectively.

This seat is retained by Akhilesh Singh since 1993, when he won on a Congress ticket and repeated his victory in 1996 and 2002 from the same party.

In 2007, Singh, who is considered a heavyweight in the area won as an independent candidate despite hectic campaigning by Priyanka against him.

Besides the Gandhi family, prestige of BSP state president Swami Prasad Muarya, who has fielded his son Utkarsh from Unchahar is also at stake.

In Unchahar, which came into as come into existence after dismantling of Dalmau, Congress has fielded its sitting MLA Ajay Pal Singh.

In 2007, Singh had defeated BSP state president Maurya.  SP and BJP have fielded Manoj Pandey and Ramesh Maurya, respectively while Jan Kranti Party is fielding Ganesh Lodhi. 

The Harchandpur seat, which came into existence after dismantling of Sataon, where Shiv Ganesh Lodhi of Congress had won in 2007 is in fray again. He is facing BJP's Narendra Singh Bhandari, Jay Narayan Shukla (BSP) and former MLA Surendra Vikram Singh alias Punjabi Singh (SP). 

In Sareni seat, sitting Congress MLA Ashok Singh is in the fray again but it's no smooth sailing this time round. The seat is dominated by Vaishya and Thakurs and the entire area falls in Baiswara.

Taking note of the caste factor, SP has fielded former MLA Devedra Pratap Singh while BJP has given ticket to former Lucknow University General Secretary Dhirendra Bahadur Singh while BSP has fielded Susheel Yadav.

In Bachhrawan (reserved) seat sitting Congress MLA Rajaram Tyagi is in fray again against BJP's MD Pasi. While SP and BSP have fielded former MLA Ramlal Akela and Jagjivan Ram Badle, respectively.

The BSP turncoat Shyam Sundar Bharti, who is contesting on a Peace Party ticket has made the fight interesting with the support of party leader Akhilesh Singh, who has some say in the area after delimitation.