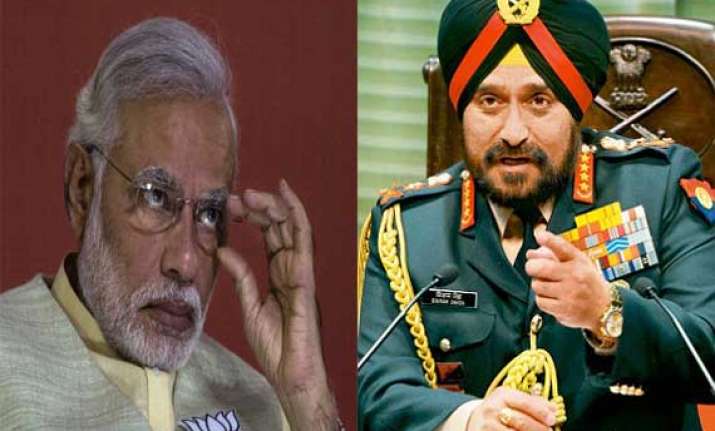 New Delhi: Army Chief Gen Bikram Singh today met Prime Minister Narendra Modi and is believed to have briefed him on the prevailing security situation in the country.
The Army Chief, who is also the Chairman, Chiefs of Staffs Committee, met the Prime Minister for around 15 minutes and is understood to have discussed the security scenario in the region as well.
The Army chief and the IAF chief also held separate meetings with Defence Minister Arun Jaitley and briefed him on the various issues faced by them.
The Army chief made a 40-minute presentation to the Defence Minister on various issues including the situation along the borders with China and Pakistan, the militancy situation in Jammu and Kashmir and the northeast, Defence Ministry officials said.
He is also understood to have briefed Jaitley on the critical requirements of the force in terms of equipment and its priority areas in the present scenario.
The status of the new 17 Strike Corps being raised along the border with China is also understood to have come up during the presentation given by the outgoing Army chief.