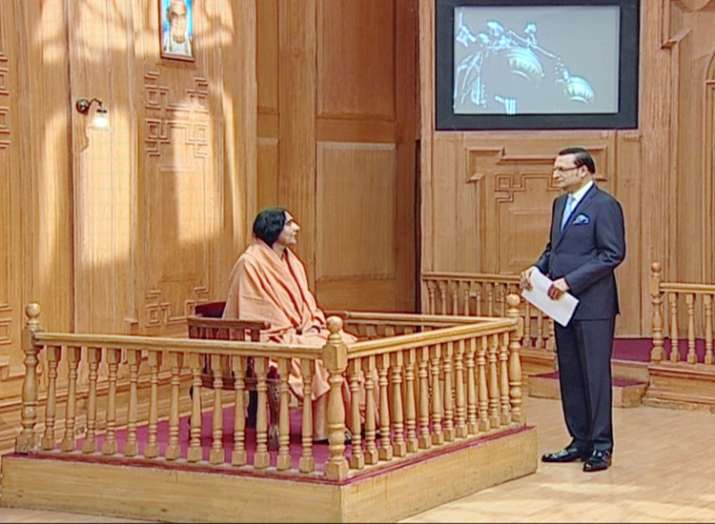 Ram Janmabhoomi movement leader Sadhvi Ritambhara today clearly said that if the Centre refused to bring an ordinance on Ram Temple soon, "the next step, whatever may be decided, will be taken." She did not elaborate. She was replying to questions from Rajat Sharma in India TV show 'Aap Ki Adalat'. 
When Sadhvi Ritambhara was told that BJP president Amit Shah has said that the ordinance cannot be brought in view of the upcoming winter session of Parliament, the Sadhvi replied: "The government must bring the ordinance. A way has to be found out as to how to bring the ordinance. We are pressing for it. The government has the strength. Modi ji is ruling at the Centre and Yogi ji is ruling in UP. If a temple cannot be built now, when will it be built? We hope our demand will be met. If it is not met, the next step, whatever may be decided, will be taken."
(Sarkar ko adhyadesh lana chahiye, kaise layegi uska raasta talaashna chahiye. Hum agrah kar rahe hain laiye, aap itni badi taaqat me hain. Kendra me Modiji, Uttar Pradesh me Yogiji hain. Agar abhi mandir nahin banega, toh kab mandir banayenge? Hamen aasha hai, hamari baat maani jayegi. Nahin maani jayegi toh agla kadam jo bhi tay hoga, uthaya jayega)
Asked whether a fresh movement will be launched on the lines of 1992 Ram Janmabhoomi movement, the Sadhvi replied: "I think a movement will not be required. The government and the judiciary should ensure that the sentiments of the people are respected, an early verdict is given, and the construction of Ram Lala Temple begins in a cordial atmosphere. There should be no need to launch a movement."
The Sadhvi, known for his provocative speeches and one of the accused in the Babri demolition case, rejected allegations that the demand for Ram Temple was being made in view of next year's Lok Sabha general elections. She said the Supreme Court's stand on Ayodhya dispute hearing has triggered the demand.
"Election is not the reason behind our demand for Ram temple. Everybody knows the actual reason. When the Supreme Court observed that hearing on Ayodhya dispute was not one of its priorities, it seriously hurt our sentiments. The apex court took note of the sentiments of same gender (LGBT) activists. Are our sentiments so  unworthy that the issue is not in their priorities?"
Sadhvi Ritambhara clarified that she never said in the Nagpur rally that the river Saryu in Ayodhya will turn red, if the temple is not built. "What I said was, the river Saryu had turned red with the blood of kar sevaks  in the past,  and if one has to give more sacrifice, be prepared for sacrifice.  After all, 70 generations of Indians have given their sacrifice in Ayodhya, and yet Ram Lala idol is still being worshipped inside a tent."
Sadhvi Ritambhara said, Hindus were fast "losing patience" because of the delay in hearing on Ayodhya dispute. "This is the country of Raghavendra, this is not the country of Babar. No Indian has any connection with Babar (the founder of Mughal empire). How long will our patience last? If you rub sandalwood too much, it can ignite too."
On Rajasthan Congress leader C. P. Joshi's remark that Ram Temple will be built when Rahul Gandhi will become Prime Minister, the Sadhvi replied: "They were the ones who raised doubts about Ram Sethu. Questions were asked from which college Lord Ram took his degree. How can those who doubted the very existence of Lord Ram, build the temple? But yet, if they now have a change of heart, it is welcome."
On Congress President Rahul Gandhi visiting Kailas Mansarovar and becoming a devotee of Lord Shiva, the Sadhvi remarked: "I like it very much. Twenty five years ago, they used to do politics by abusing Hindus, and now they are trying to project themselves as Hindus. It is wonderful."
On Rahul Gandhi revealing his 'gotra', the Sadhvi said: "Our gotra, our caste are proved from our actions (karma). Our work should be such which can prove how authentic our work is, for the betterment of the nation."
On AIMIM leader Asaduddin Owaisi's remark that if the Muslims conceded in Ayodhya, similar demands will crop up for Mathura and Varanasi, Sadhvi replied: "This means, he admits that mosques were constructed in all these three holy places on the rubble of temples. There are thousands of similar temples which were demolished. Yes, our movement in 1991 began with the demand for these three holy places, and yet, we are still fighting for Ram Lala in Ayodhya. 
"These three holy places are the centres of our faith. Whenever Hindus visit these holy places, their hearts fill with sadness. Our first President Dr Rajendra Prasad and our first Home Minister Sardar Patel felt the same for Somnath, and got the temple constructed. The same should be done for Ayodhya, Varanasi and Mathura. Nobody is going to talk about the remaining temples."