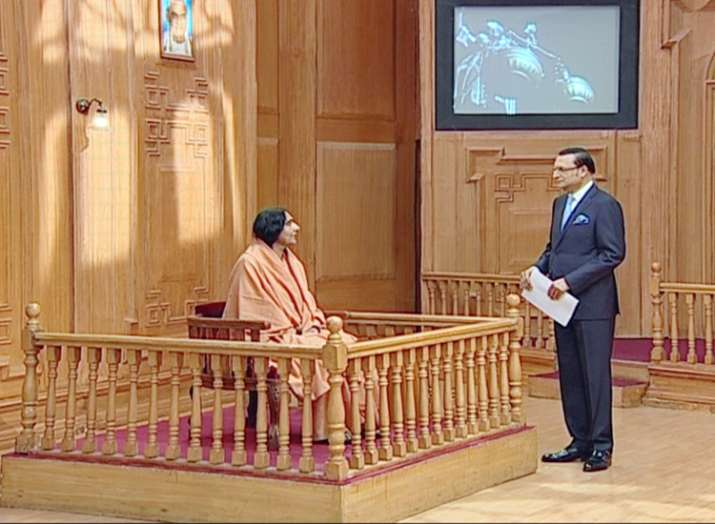 Firebrand Ram Janmabhoomi movement leader Sadhvi Ritambhara on Saturday answered questions from India TV Chairman and Editor-in-Chief Rajat Sharma in his popular show "Aap Ki Adalat". She opened up on a number of issues ranging from her expectations from Narendra Modi govt on Ram Mandir issue, Rahul Gandhi publicly flaunting his "Hindu" credentials to controversy over Lord Hanuman's portrayal as a "Dalit".
Sadhvi Ritambhara in Aap Ki Adalat Highlights:
11:06 pm: Aap Ki Adalat with Sadhvi Ritambhara comes to en end. 
10: 55 pm: Incident like Bulandshahr shows that traitors are present in various pockets of our country: Sadhvi Ritambhara
10:53 pm: It's unfortunate that daughters are being killed in a country where Durga is worshipped: Sadhvi Ritambhara
10:40 pm: Babri structure was not a mosque, it was built over Ram Temple: Sadhvi Ritambhara
10: 38 pm: Every Indian should respect sentiments of fellow countrymen: Sadhvi Ritambhara
10:35 pm: I did not provoke people during demolition of Babri structure, I made them wake up: Sadhvi Ritambhara
10:33 pm: Hindus should rise above cast lines and unite: Sadhvi Ritambhara
10:28 pm: People want commitment from the BJP on Ram Temple. They want the BJP to act on the promise of Ram Temple: Sadhvi Ritambhara
10:26 pm: Three holy places -Ayodhya, Mathura and Kashi -are the centres of our faith. Whenever Hindus visit these holy places, their hearts fill with sadness. Our first President Dr Rajendra Prasad and our first Home Minister Sardar Patel felt the same for Somnath, and got the temple constructed. The same should be done for Ayodhya, Varanasi and Mathura. Nobody is going to talk about the remaining temples
10:23 pm: Owaisi has in a way  admitted that  mosques were constructed in all these three holy places on the rubble of temples? There are thousands of similar temples which were demolished.
10:20 pm: Our gotra, our caste are proved from our actions (karma). Our work should be such which can prove how authentic our work is, for the betterment of the nation: Sadhvi Ritambhara on Rahul Gandhi revealing his 'gotra'
10:14 pm: Now that PM Modi is in power at Centre and Yogi Adityanath in UP, why we still have to wait for Ram temple, asks Sadhvi Ritambhara
10:10 pm: If our demand for Ram Temple construction is not met then we'll take appropriate action: Sadhvi Ritambhara
10:08 pm: People belonging to every religion believe that the blood of Lord Ram  and Lord Krishna flow in their veins: Sadhvi Ritambhara
10:06 pm: I never said that the river Saryu in Ayodhya will turn red, if the temple is not built. What I said was, the river Saryu had turned red with the blood of kar sevaks  in the past,  and if one has to give more sacrifice, be prepared for sacrifice.
10:05 pm: India is a country of Raghav, not Babar: Sadhvi Ritambhara
10:03 pm: The government and the judiciary should ensure that the sentiments of the people are respected, an early verdict is given, and the construction of Ram Lala Temple begins in a cordial atmosphere. There should be no need to launch a movement
10:01 pm: I don't see any need for another 1992 type Ram Janmabhoomi movement: Sadhvi Ritambhara
10:00 pm: Sadhvi Ritambhara arrives in Aap Ki Adalat