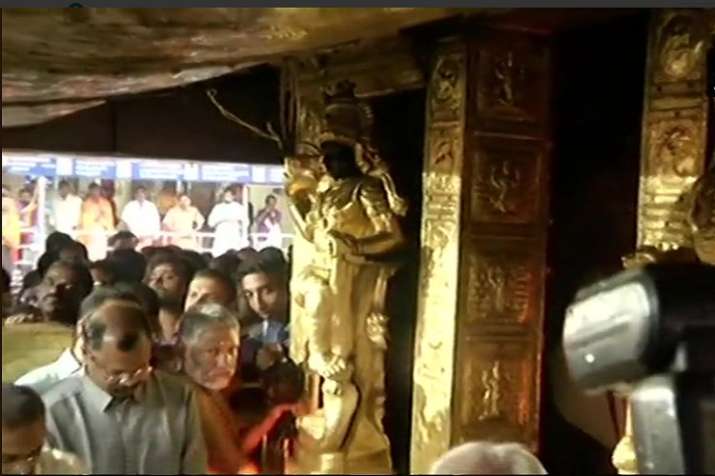 Sabarimala Temple opened for 62-day-long Mandala Pooja-Magaravilaku annual pilgrimage season on Friday. This is the third time that the shrine has been opened for the devotees since the September 28 Supreme Court verdict allowing women of all ages to offer prayers at hilltop Lord Ayyappa temple.
HIGHLIGHTS OF THE SABARIMALA TEMPLE REOPENING
7:26 pm:  Protestors threatened taxi drivers from providing us services.Hotel staff was threatened of damage to hotels if rooms were given to us. It saddens me to see that ppl who call themselves Ayyappa devotees are abusing&threatening us: Trupti Desai at Kochi airport.
6:00 pm: Trupti Desai to return to her hometown Pune tonight.
5:42 pm: Travacore Devaswom Board, managing the Ayyappa temple, decides to move Supreme Court seeking more time to implement its verdict on entry of women in the 10-50 age group.
5:40 pm: The 41-day mandalam festival will conclude on December 27 after Mandala pooja
5:35 pm: Temple opened at 5 pm in the presence of head priest Kandararu Rajeevaru.
5:30 pm: Sabarimala Karma Samithi holds protest against Trupti Desai
Sabarimala Karma Samithi holds protest against Trupti Desai in #Kerala's Trivandrum. #SabarimalaTemple pic.twitter.com/cV6aNeZJoP

— ANI (@ANI) November 16, 2018
5:05 pm: Temple opens for 62-day long Mandala Pooja-Magaravilaku annual pilgrimage season.
4:20 pm: Trupti Desai should go back. She will have to step on our chests and walk over us if she wants to enter #SabarimalaTemple: Activist Rahul Easwar protesting outside Kochi airport
4:00 pm: Author Taslima Nasreen questions the enthusiasm of women to enter Sabarimala
I do not understand why women activists are so eager to enter Sabarimala. Better they should enter the villages where women suffer from domestic violence, rape, sexual abuse,hate, where girls have no access to education, heath-care,and no freedom to take a job or get equal pay.

— taslima nasreen (@taslimanasreen) November 16, 2018
3:30 pm: Kochi-Mumbai air tickets available, tweets activist Rahul Easwar
Kochi Mumbai tickets are available in Spice Jet SG 164 & GO Air G8 468

For Trupti Desai & feminists. Would request @TheKeralaPolice to send them back .

As a Gandhian good will measure we will cooperate with Kerala Police for assisting them in returning them#SaveSabarimala https://t.co/OVxNlwwFYi

— Rahul Easwar (@RahulEaswar) November 16, 2018
12:30 pm: Kerala High Court dismisses activist Rehana Fatima's anticipatory bail plea. Rehana had tried to enter Sabarimala Temple on October 19. Police had booked her under Section 295A of IPC.
10:50 am: Police tried to evacuate us from another gate but protesters were there as well. Protests being held here. Does this mean protesters are scared that we'll reach Sabarimala once we reach Nilakkal, or, are they trying to scare us? We won't return until we have 'darshan', says activist Trupti Desai
09:55 am: The Kerala State Road Transport Corporation (KSRTC) has announced plans to run 10 electric buses for pilgrims to travel to Sabarimala when the temple opens for the annual 'mandala' pooja festivities on Friday evening. 
09:33 am: Section 144 (prohibits assembly of more than 4 people in an area) has been imposed in Nilakkal , Pamba and Sannidhanam ahead of opening of the Sabarimala temple, reports ANI.
09:00 am: Protestors should not resort to violence. Once we reach there, we'll see what level of security state gives us. Even if the state doesn't give us any security, we'll still go, but I can be attacked. I have received so many threats of attack & killing, says Trupti Desai.
08:10 am: Police in large numbers have reached the airport to control the situation. Police officers held discussions with Desai and protesters but both sides stick to their stand. Talking to media over phone, Desai said she would not go back to Maharashtra without a darshan at the Lord Ayyappa temple. Taxi drivers at the airport said they would not take Desai and her colleagues outside the airport. Police in large numbers were present in the domestic terminal of the airport to deal with the situation.
Kochi: Trupti Desai, founder of Bhumata Brigade, having breakfast at Cochin International Airport as she hasn't been able to leave the airport yet due to protests being carried out against her visit to #Sabarimala Temple. #Kerala pic.twitter.com/ILDV7silTx

— ANI (@ANI) November 16, 2018
08:00 am: Protesting local BJP leaders at the airport said the devotees would not let Desai and her colleagues, reportedly total six in numbers, to come out of the airport and proceed to Sabarimala temple. They alleged that Desai and her team came here to violate the centuries--old custom of the temple that prevents entry of women and girls in the age group of 10 and 50. "She (Desai) came here not for darshan but for disturbing a peaceful Sabarimala pilgrim season beginning Saturday," they said. The Ayyappa devotees comprising women and BJP workers, assembled in large numbers outside the airport, continued their protest chanting Ayyappa mantra.
07:20 am: BJP stages protest over arrival of Trupti Desai. "Won't allow Trupti Desai to go out from airport using police vehicle or other govt means. Airport taxies also won't take her.If she wants,she can use her own vehicle.There will be agitations all along her way even if she  goes out from airport", said BJP worker MN Gopi.
06:00 am: Trupti Desai, founder of Bhumata Brigade arrives at Cochin International Airport from Pune, She had written to Kerala CM seeking security for her visit to Sabrimala Temple on 17 November.
Kerala: Protesters gather outside Cochin International Airport. Trupti Desai, founder of Bhumata Brigade, has arrived at the airport from Pune. She had written to Kerala CM seeking security for her visit to #SabrimalaTemple on 17 November. pic.twitter.com/QbzdSZeyKa

— ANI (@ANI) November 16, 2018
Meanwhile, Kerala braced for fresh protests after an all-party meeting called on Thursday ended in a stalemate.  Opposition parties walked out after the state government maintained it was duty-bound to implement the Supreme Court order allowing entry of women of all age into the hill shrine. At the meeting, Chief Minister Pinarayi Vijayan rejected the Opposition suggestion that the government seek time from the Supreme Court to implement its order since a clutch of review petitions are to come up for hearing before the top court on January 22.
The Congress-led UDF and the BJP staged a walkout, calling the meeting a "farce" and slamming the government for its "adamant stand".
Amid fears of fresh protests, officials have issued prohibitory orders under section 144 CrPC banning assembly of four or more people has been imposed in Sabarimala in Kerala from midnight Thursday for a week.
State Director General of Police Loknath Behara told reporters at Nilackal, a base camp, that security has been doubled at Sabarimala and nearby areas for the season, compared to the previous two occasions when the temple opened last month and early this month.
Over 15,000 personnel, including women police personnel and 860 women civil police officers, would be deployed during the season, when lakhs of devotees from different parts of the country are expected to throng the shrine, police said.
The state had witnessed a string of protests by the Congress, the BJP, RSS and right wing outfits against the LDF government's decision to implement the court verdict. Frenzied devotees had prevented at least a dozen women in the 10-50 age group from entering the temple when it opened for five days last month and two days this month for monthly and special puja amid high drama.
The sanctum sanctorum will open at 5 pm Friday. Though devotees will be allowed into the shrine from 5 pm to 10 pm, pujas will be held only from the next day, the first day of Malayalam month of 'Vrischikom', an official release said.