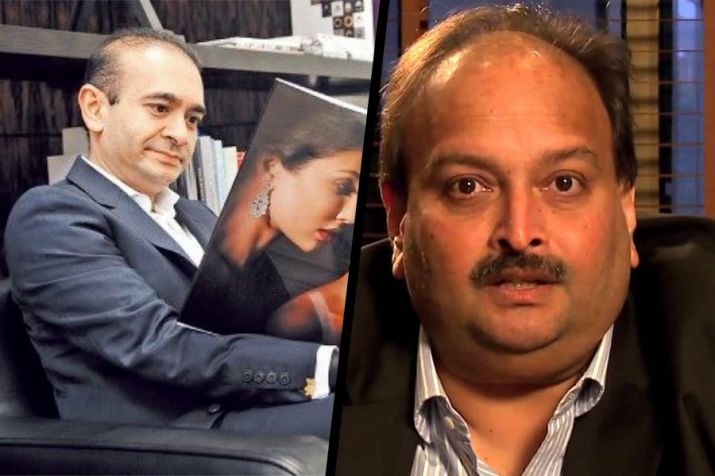 As law enforcement agencies intensify their search for fugitive diamond czar Nirav Modi and his maternal uncle Mehul Choksi in big fraud at the Punjab National Bank, India TV has accessed a fresh FIR copy against Choksi that reveals how he stole Rs 4886 crore using Letter of Understanding (LoU) and Letter of Credit. As per the FIR, in the alleged fraud to the tune of Rs 14,400 crore, he alone defrauded Rs 4886 crore.
As per the Central Bureau of Investigation (CBI), 143 LoUs were fraudulently issued to three Mumbai-based private companies of Nirav Modi's associate Choksi -- Gitanjali Gems, Nakshatra and Gili -- during the period 2017-18.
In a 22-paged FIR, it was also revealed how overseas branches of domestic banks which includes Frankfurt and Mauritius branches of the State Bank of India, Bahrain branch of Canara Bank, Antwerp (in Belgium) branch of Bank of India, and Hong Kong branches of Axis Bank and Allahabad Bank became part of the fraud.
WHO ALL ARE PART OF NEW FIR?
The accused in the new FIR include Gitanjali Gems Managing Director Choksi, Punjab National Bank retired DGM Gokulnath Shetty, Punjab National Bank single window officer Manoj Kharat and companies -- Gitanjali Gems Ltd, Gili India Ltd, Nakshatra Brand Ltd, directors of thE companies Krishnan Sangameshwaran, Nazura Yash Ajaney, Dinesh Gopaldas Bhatia, Aniyath Shivraman Nair and Dhanesh Vrajlal Sheth.
The FIR also names Jyoti Bharat Vora, Anil Umesh Haldipur, Chandrakant Kanu Karkare, Pankhuri Abhijeet Warange, Mihir Bhaskar Joshi and unidentified bank officials.
PNB BANK OFFICIALS CONNIVED WITH ACCUSED COMPANIES?
The CBI has alleged in the FIR that accused bank officials Shetty and Kharat in connivance with accused companies and others defrauded PNB to the tune of Rs 4,886.70 crore. The agency alleged that the accused officials issued fraudulent and unauthorised Letters of Undertakings in favour of foreign branches of different India-based banks.
The officials omitted entries of LoUs in the core banking system of the bank issued on behalf of the accused companies to avoid detection, they said. It is alleged that they used SWIFT--global messaging service to move money internationally -- and did not make any entries in core banking system, used to process daily transactions, to avoid any scrutiny.
WHAT IS LETTER OF UNDERTAKING?
An LoU is a letter of comfort issued by one bank to branches of other banks, based on which foreign branches offer credit to buyers.
HOW MUCH MONEY WAS RECOVERED THROUGH LETTERS OF UNDERTAKING?
Gitanjali Gems  Rs 2144.37 crore
Gili India Ltd  Rs 566.65 crore
Nakshatra Brand Limited Rs 321.10 crore
Total amount: Rs 3032.12 crore
WHAT IS LETTER OF CREDIT?
A letter issued by a bank to another bank to serve as a guarantee for payments made to a specified person under specified conditions.
HOW MUCH MONEY WAS RECIEVED THROUGH LETTERS OF CREDIT?
Gitanjali Gems  Rs 575.11 crore
Gili India Ltd  Rs 625.40 crore
Nakshatra Brand Limited Rs 598.85 crore
Total amount: Rs 1854.60 crore
WATCH | PNB fraud case: Exclusive details from fresh FIR against Mehul Choksi