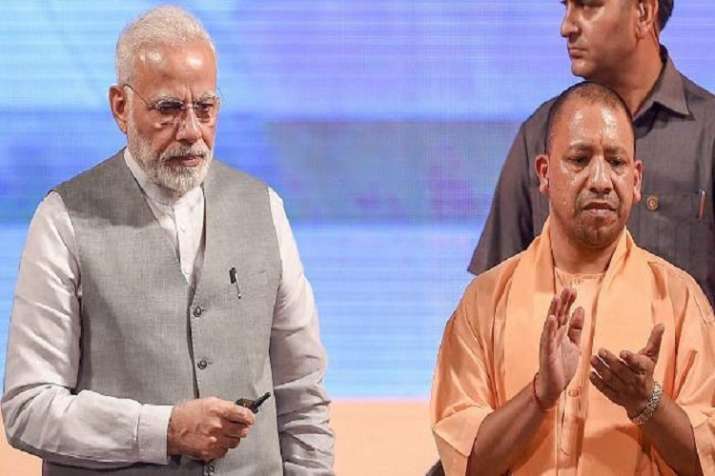 Prime Minister Narendra Modi on Sunday launched 81 projects worth close to Rs 60,000 crore during a 'Ground Breaking Ceremony' in Lucknow, Uttar Pradesh. These projects were part of the 1,045 MoUs signed at the Uttar Pradesh Investors' Summit organised earlier this year.
"These projects will prove to be a big step in giving a new direction to Digital India and Make in India. Be it setting up of fibre or establishment of IT centre for internet service in Uttar Pradesh, digital infrastructure will give a new direction, new pace to the state," PM Modi said.
Asserting that the investment of Rs 60,000 crore is a big amount, PM said the move will help the state government create more than 2.1 lakh direct jobs.
The Prime Minister said that it was not a ground-breaking ceremony but a record-breaking ceremony considering the manner in which development works have been carried out in such a short span of time.
Modi said that at this speed of investments, Uttar Pradesh will soon become a trillion dollar economy.
PM Modi further said that the nation is becoming a hub for mobile manufacturing for the world with Uttar Pradesh leading this manufacturing revolution.
"More than 50 mobile manufacturing companies are working in Uttar Pradesh and the largest mobile manufacturing unit in the world has also been established here," PM Modi said.
PM Modi also lauded the efforts of Yogi Adityanath-led Uttar Pradesh government for their efforts behind the  successful implementation of the schemes.
"I have been Chief Minister of Gujarat, an industry driven state and can well understand the number of difficulties and problems the team of Yogi ji must have faced and hence kudos that you all made this happen," he said. 
"It is a big, significant and an unconceivable thing where everyone from the Chief Minister to the last revenue official is involved," he added.
"This is exceptional success... I am speaking on basis of experience," Modi said while nothing that the ground-breaking ceremony which he was presiding over should ideally be called "record breaking" as the state had competed the journey from "intent to investment". 
Taking a dig at previous governments in Uttar Pradesh, Modi said they did not have a will and their intentions were not clear. "When the intention is clear and the intentions are noble, the result shows," the PM said, adding that his government is working towards taking Digital India and Make In India campaign forward.
Prime Minister Narendra Modi today slammed the opposition parties, holding them answerable for what he called the "ills the country has beenfacing for 70 years".
Attacking them for calling industrialists "chor and luterey", Modi said that he did not hesitate in standing with them as his "intentions" are clear.
"We are not those who are scared of standing next to businessmen," he said, adding like farmers, bankers, government employees and labourers, industrialists also contributed to the development of the country.
"You cannot have blot on you simply by standing with anyone if your intentions are good and clear. Gandhiji's (Father of the Nation) intentions were so pure that he never hesitated in staying with Birla family," he said.
The prime minister also took the opportunity to attack his political rivals who have been ridiculing his frequent visits to the state and saying that it smacked of his
nervousness ahead of the Lok Sabha polls.
"As an MP from the state, I will come twice, five times, ten times... I am your MP and will keep visiting (the state)," he said.
Modi's Uttar Pradesh tour on Sunday marked his sixth visit to the state this month and second to Lucknow in as many days. 
He was here yesterday to attend a programme on "Transforming Urban Landscape", marking the third anniversary of three key government initiatives related to urban development -- Pradhan Mantri Awas Yojana (Urban), Atal Mission for Rejuvenation of Urban Transformation (AMRUT) and the Smart Cities Mission.
Earlier this month, Modi visited his parliamentary Lok Sabha constituency Varanasi, Azamgarh and Mirzapur, besides Noida (Gamtam Buddha Nagar). He had visited Sant Kabir Nagar on June 28.
WATCH VIDEO: