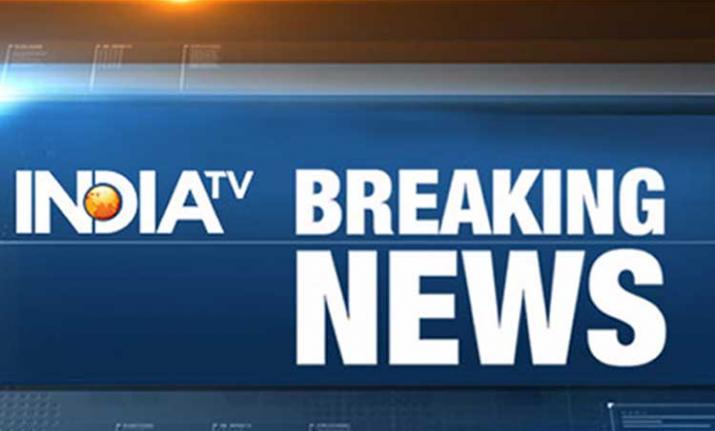 Daily dose of news plays very important role in our daily life. For some people, the morning is incomplete without knowing about what's happening across the world. Some digital-savvy people have a habit of consuming news even when they are travelling or in their free time. In today's world, where people rely on news websites for everything that's happening around, IndiaTV News provides you all breaking news, latest news, breaking story videos, Live TV and top shows of IndiaTV, country's leading news channel on a single platform to ensure you don't miss anything important.
Internet, Twitter, Facebook are buzzing with breaking news and news alerts from India and rest of the world. You can find here the LIVE COVERAGE of all breaking news alerts and latest news updates on just one page. IndiaTV Digital covers all top news as and when it happens and ensures its readers don't miss anything important.
Live Breaking News India: Get latest news headlines from India and around the world on politics, elections, sports, entertainment, business, lifestyle and much more on IndiaTV News.
BREAKING NEWS OF SEPTEMBER 14:
5:53 pm: No rape victim will want to see the place where she was raped, but this nun has shifted from room no.12 to 19, which is right next to room 20 where incident allegedly happened. She is still staying there: Missionaries of Jesus statement on Kerala nun rape case
5:47 pm: For every rape victim, meeting the offender after the incident is like dying. How could the nun and the Bishop travel together over 20 times between 2014-16? Its clear that complaint is backed by lies and is fabricated: Missionaries of Jesus statement on Kerala nun rape case
5:38 pm: A bail application for Advocate Surendra Gadling and Shoma Sen who are accused in Bhima Koregaon violence case was moved in Pune Sessions Court today, it will be heard on September 27. Court will also hear an application for jail transfer on the same day.
5:26 pm: Majerhat bridge, a portion of which collapsed, to be demolished; new bridge to be constructed: West Bengal CM Mamata Banerjee 
5:22 pm: Gutka Scam- Central Bureau of Investigation (CBI) conducted search at Annamalai Industries in Chennai yesterday seized tonnes of Gutka ingredients and 53 machines.
5:14 pm: In the light of this we should consider raising our 2 way investment target to $50 billion from $30 billion by 2025: Union External Affairs Minister Sushma Swaraj  at Inter Governmental Commission On Technical And Economic Cooperation in Russia's Moscow
5:13 pm: I am happy to note that Russian investment in India till 2017 has reached $18 billion & India's total investment in Russia is over $13 billion. We have already crossed overall investment target of $30 billion which we had set for 2025: EAM Sushma Swaraj in Moscow #Russia
5:07 pm: Ex Meghalaya CM & veteran Congress leader DD Lapang resigned from the party earlier today.His statement reads, "Lately,AICC has been embarking on a policy of phasing out senior&elderly people. In my opinion it means that their service&contribution is no longer useful to the party"
4:23 pm: Sukhdev Singh, a head constable of 5th battalion of Pune NDRF unit is missing since September 8. He had boarded a train from Mumbai for his hometown Amritsar & is untraceable ever since. An FIR has been lodged with Mumbai railway police. 
3:57 pm: There are mechanisms to tackle it, one's border meetings between those who are at borders of India-China, if they can't resolve then they can take it to the higher level: Ex-Foreign Secy Shyam Saran on reports that Chinese Army transgressed at Line of Actual Control thrice in August
3:49 pm: Amol Kale, an accused in Narendra Dabholkar murder case has been sent to magistrate custody for 14 days.
3:26 pm: Accused Rohit Tomar who was seen beating a woman in a viral video in Delhi's Tilak Nagar has been arrested
3:20 pm: 17 people have died, 16 people injured & 11 people have been airlifted by a helicopter to Jammu: DC Kishtwar Angrez Singh Rana on Kishtwar matador van accident, earlier today
03:10 pm: Delhi's Saket Court orders framing of charges against Environmentalist RK Pachauri in a sexual harassment case. Next hearing of the matter is on October 20.
02:47 pm: Delhi Police registers a case of rape against the accused, Rohit Tomar in connection with a video in which he can be seen beating a woman in Tilak Nagar.
02:20 pm: Congress President Rahul Gandhi approves names of Bhakta Charan Das as the chairperson & Jothimani Sennimalai & Sharmishtha Mukherjee as members of the screening committee for Telangana.
01:40 pm: Vice President M Venkaiah Naidu embarks on a three-nation visit to Serbia, Malta & Romania.
12:50 pm: DMK President MK Stalin appoints TR Baalu as party's Principal Secretary
12:10 pm: WPI inflation eases to 4.53 per cent in August, from 5.09 per cent in July
11:20 am: SC asks Centre to consider framing separate rules for granting disability certificate to leprosy patients for availing reservation benefits
11:19 am: SC issues slew of directions to Centre, all states for eradication of leprosy and rehabilitation of those suffering from it.
10:40 am: Jammu And Kashmir: 1 dead, 7 injured after a matador van rolls down deep gorge in Thakrai area of Kishtwar; Rescue operation underway: DC Kishtwar Angrez Singh Rana
10:20 am: Bihar: Three children die after drowning in Son river, Arrah
09:20 am: Arrest warrant has been issued by Maharashtra's Dharmabad Court against Andhra Pradesh CM N Chandrababu Naidu, AP irrigation minister and 14 others in connection with an agitation held by TDP in 2010 against the Maharashtra govt opposing the construction of Babhali project.
9:15 am: Markets open in green; Sensex up by 250 points, opens at 37,987; Nifty up by 84 points, opens at 11,454
08:56 am: North and South Korea open joint liaison office in Kaesong ahead of President Moon's visit to Pyongyang next week
08:00 am: Delhi: A 10-year-old girl was allegedly sexually assaulted in New Ashok Nagar area, yesterday; Accused absconding, police investigation underway.
07:29 am: 6 injured, hundreds evacuated after dozens of explosions hit gas pipeline in Boston
06:45 am: Petrol at Rs 81.28/litre (increase by Rs 0.28/litre) and diesel at Rs 73.30/litre (increase by Rs 0.22/litre) in Delhi. Petrol at Rs 88.67/litre (increase by Rs 0.28/litre) and diesel at Rs 77.82/litre (increase by Rs 0.24/litre) in Mumbai.
06:27 am: We didn't receive any request for clearance regarding visit of Mamata Banerjee to Chicago for any event.Reports about denial of permission are,therefore,not true: MEA in response to reports in media regarding denial of permission to West Bengal CM Mamata Banerjee to visit Chicago