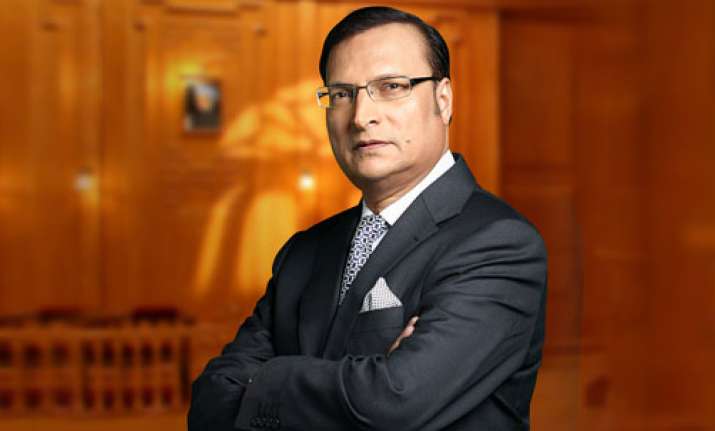 India TV Chairman and Editor-in-Chief Rajat Sharma has been re-elected President of News Broadcasters Association (NBA) along with all present office bearers, an NBA press release said. 
 
At the NBA Board Meeting, after the 11th Annual General Meeting (AGM), the following Board Members have been re-elected as Office Bearers of NBA for the year 2018-19 :-
 
1. Mr. Rajat Sharma – President (Chairman & Editor-in-Chief (India TV) – Independent News Service Pvt. Ltd.)
2. Mr. M.V. Shreyams Kumar – Vice President (Joint Managing Director, Mathrubhumi Printing & Publishing Co. Ltd.
3. Mrs. Anurradha Prasad – Honorary Treasurer (Chairperson-cum-Managing Director, News24 Broadcast India Ltd.)
The other Members on the NBA Board are:
4. Mr. M.K. Anand, Managing Director & Chief Executive Officer – Times Network - Bennett, Coleman & Co. Ltd.
5. Mr. Rahul Joshi, CEO News & Group Editor-in-Charge - TV18 Broadcast Ltd.
6. Mr. Avinash Pandey, Chief Operating Officer - ABP News Network Pvt. Ltd.
7. Mr. I. Venkat, Director - Eenadu Television Pvt. Ltd.
8. Ms. Kalli Purie Bhandal, Vice-Chairperson & Managing Director - TV Today Network Ltd.
9. Ms. Sonia Singh, Editorial Director, NDTV - New Delhi Television Ltd.
10.Mr. Ashok Venkatramani, Managing Director - Zee Media Corporation Ltd.