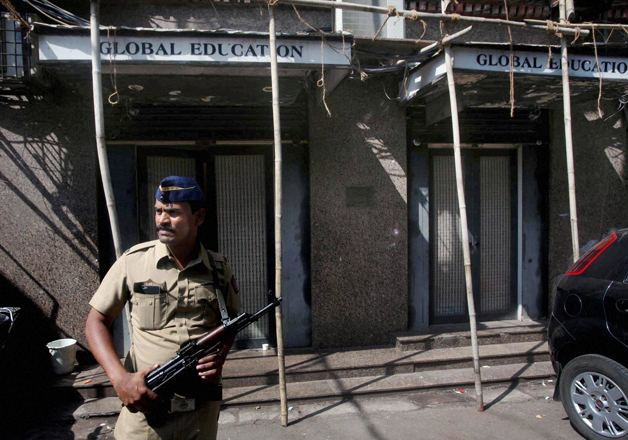 The National Investigation Agency (NIA) today conducted search operations at 12 premises of controversial Islamic preacher Zakir Naik's Islamic Research Foundation (IRF) in Mumbai and seized incriminating documents /files, electronic storage devices and about Rs 12 lakh in cash. 
The recovered documents relate to various activities including financial transactions and property details of Zakir Naik and IRF.  
To assist the search teams of the NIA, the centre also sent an Income Tax team to Mumbai from Delhi. The searches are still going-on and are likely to continue till late in the night.
The early morning operation - starting around 5 a.m. - came a day after the NIA lodged a case against Naik and his IRF under various sections of the Indian Penal Code and Unlawful Activities (Prevention) Act.
Meanwhile, police have handed over a copy of the Central notification banning IRF for five years to office-bearers of the NGO.
"After receiving the copy of notification from Ministry of Home Affairs yesterday, the Mumbai Police served it to IRF office-bearers (in their office at Dongri here)," Deputy Commissioner of Police, Ashok Dudhe said. 
The Union Cabinet had approved a proposal to outlaw the IRF on Tuesday for its alleged terror activities. 
In a gazette notification, the Home Ministry had said the IRF and its members, particularly, the founder and its president Zakir Naik, has been encouraging and aiding its followers to promote or attempt to promote, on grounds of religion, disharmony or feelings of enmity, hatred or ill-will between different religious communities. 
IRF came on radar of investigative agencies after one of the terrorists in Dhaka attack had allegedly posted on social media that they had been inspired by Naik's speeches. 
Youths from Malavani in western suburbs who had left their home to join Islamic State earlier this year were alsoallegedly inspired by the preaching of the televangelist. 
Police had arrested some members of IRF for allegedly motivating and radicalising group youths from Kasargod in Kerala to join ISIS. The case is under investigation of the NIA. 
Naik is currently out of country apparently to evade arrest.