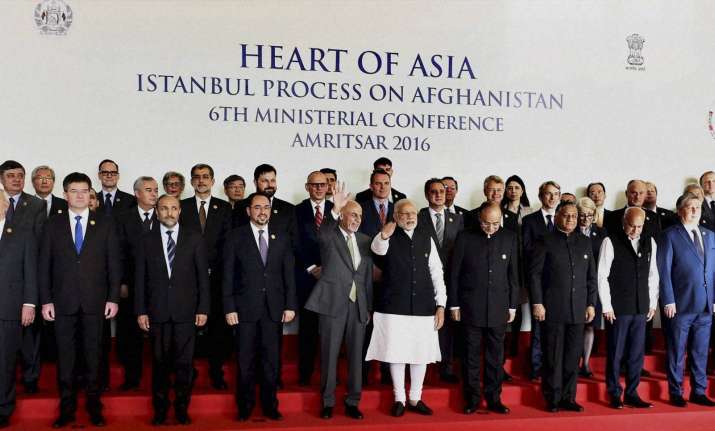 Combating terrorism was at the centre-stage of Heart of Asia (HoA) conference which sent a clear message to Pakistan, holding terror and violent extremism as the biggest threat to peace, but could not firm up a regional framework proposed by Afghanistan to effectively deal with the menace.
After the two-day deliberations, attended by over 40 countries including major regional and global powers and blocs, the HoA, a platform to help Afghanistan in its transition, issued the Amritsar Declaration which called for dismantling of terrorist sanctuaries and safe havens in the region, as well as disrupting all financial, tactical and logistical support for terror networks. 
The resolution adopted at the 6th ministerial 'Heart of Asia conference - Istanbul Process on Afghanistan' in this Punjab city near India's border with Pakistan, said it was "concerned by the gravity of the security situation in Afghanistan, in particular, and the region".
The declaration said that among other terror groups propagating "high level of violence" were "the Taliban, Daesh (Islamic State) and its affiliates, the Haqqani Network, Al Qaida ... Lashkar-e-Taiba, Jaish-e-Mohammad, Tehreek-e-Taliban Pakistan ... and other foreign terrorist fighters".
"Acknowledging the support that terrorism derives in our region", the joint declaration demanded "an immediate end to all forms of terrorism, as well as all support to it, including financing of terrorism".
Citing the declaration, Finance Minister Arun Jaitley, who chaired the meeting in the absence of ailing External Affairs Minister Sushma Swaraj, said the document "strongly" called for "concerted regional and international cooperation to ensure elimination of terrorism, in all its forms and manifestations, including dismantling of terrorist sanctuaries and safe havens in the Heart of Asia region, as well as disrupting all financial, tactical and logistical support for terrorism".
Jaitly said terrorism was the "core" of deliberations and "at the centrestage" of the Afghan conference that was also attended by Pakistan's de facto foreign policy chief Sartaj Aziz.
The mention of the Pakistan-based terrorist organisation is an Indian diplomatic victory over its western neighbour -- accused of using terrorism as an instrument of foreign policy since decades.
Indian efforts to include names of the terrorist groups, the Lashkar and Jaish, in the Goa Declaration of the October Brics summit had failed after China allegedly scuttled the move.
New Delhi alleges that the Lashkar and Jaish have been enjoying financial and logistical support from the Pakistan government and its agencies and were being used as tools to disrupt peace in India. Pakistan denies this.
Jaitley said that for India the issue of connectivity for Afghanistan was also important. "The focus area for India is developing infrastructure in Afghanistan. Housing and skill development are also on our agenda."
The two-day ministerial conference, which concluded on Sunday, was attended by delegations from 14 participating countries, supporting countries and international organisations - 45 in all.
(With IANS inputs)