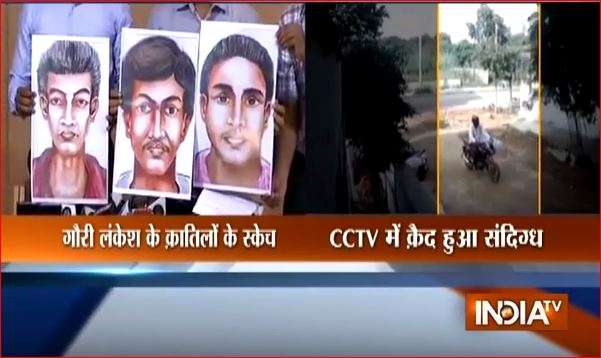 In a significant development, the Special Investigation Team (SIT) probing the murder of journalist-activist Gauri Lankesh today released three sketches of two persons suspected to be her killers. 
SIT Head and Inspector General of Police (IGP) B.K. Singh told media persons that these sketches have been made on basis of the inputs received from the eyewitnesses.
 
"Three sketches of two suspects have been made on the basis of their description by eyewitness. Two sketches of one suspect were made by two sketch-makers as per eyewitness account," he said. 
Singh also said that the SIT has received video clips of a motorcycle rider who is suspected to be involved in the commission of the offence.
55-year-old Gauri Lankesh was shot dead outside her house in Bengaluru on the night of September 5.
The murder of the editor of Kannada weekly tabloid "Gauri Lankesh Patrike" had sparked outrage and protests all across the country. 
Giving details of the investigation, SIT head Singh said that the suspects, aged between 25-35 years, were residing in the city for at least one week before they committed the crime. He also disclosed that suspects carried out a "recce" around Lankesh's home prior to committing the crime.