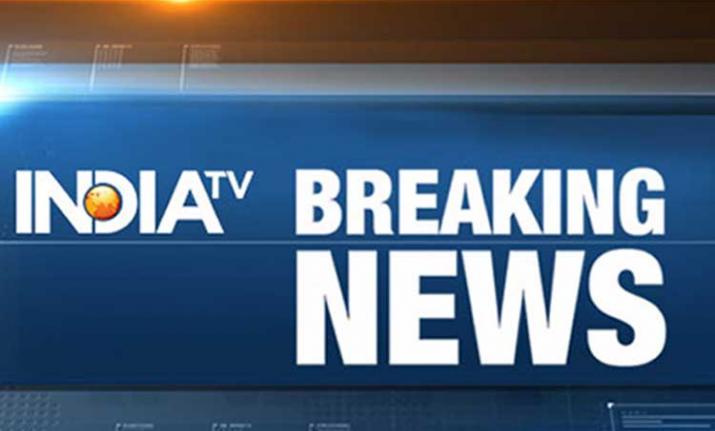 Daily dose of news plays very important role in our daily life. For some people, the morning is incomplete without knowing about what's happening across the world. Some digital-savvy people have a habit of consuming news even when they are travelling or in their free time. In today's world, where people rely on news websites for everything that's happening around, IndiaTV News provides you all breaking news, latest news, breaking story videos, Live TV and top shows of IndiaTV, country's leading news channel on a single platform to ensure you don't miss anything important.
Internet, Twitter, Facebook are buzzing with breaking news and news alerts from India and rest of the world. You can find here all breaking news alerts and latest news updates on just one page. IndiaTV Digital covers all top news as and when it happens and ensures its readers don't miss anything important.
BREAKING NEWS OF OCTOBER 15:
6:00 pm: Massive fire breaks out at a chemical factory in Kolkata's Tangra area. Three fire tenders at spot. No injuries reported. 
5:51 pm: Elections to be held through ballot papers in 84 out of 92 municipal bodies in Uttarakhand on November 18. Candidates can file nomination from October 20 to October 23. Results will be announced on November 20.
5:48 pm: Allotting bungalow and giving Z+ security to Shivpal Yadav clearly gives the message that he is being given protection by BJP and has started working for BJP, says OP Rajbhar, UP Minister
5:32 pm:  Central Bureau of Investigation (CBI) files closure report in JNU student Najeeb Ahmed missing case before Patiala House Court. Court will consider the report on November 29
5:29 pm: This is a law of National Green Tribunal. I have written twice to Prime Minister, Agriculture Minister, & Food Minister. My sympathies are with the farmers, but law is the law & the law must take its course: Punjab CM Captain Amarinder Singh on stubble burning
5:15 pm: Border Security Force (BSF) seized 5.5 kgs of silver ornaments worth Rs 2,20,000 from Sasani in Malda earlier today. The seized items have been handed over to Customs authorities for investigation.
5:11 pm: Interstate gang of robbers has been busted by Delhi Crime Branch; three robbers arrested. Four country-made pistols, 8 live cartridges along with 2 stolen motorcycles have been recovered from them.
4:57 pm: In this whole MJ Akbar episode the anti-women face of the BJP Government has been exposed. By not asking the minister to resign, BJP is being arrogant and insensitive: BSP
4:39 pm: Delhi High Court directed DG Prison Tihar and Secretary PWD to conduct meeting and finalize the timeline for procuring & installation of CCTV cameras in Tihar Jail
4:32 pm: CJM Court allows narco test of accused in AK-47 recovery case in Bihar
4:27 pm: FIR registered by Patna AIIMS administration against Kanhaiya Kumar, Sushil Kumar, and 80-100 unknown persons at Phulwari Sharif police station over an altercation of the former president of the JNU Student's Union with junior doctors of hospital yesterday evening. 
4:09 pm: Exports enter negative zone in September, declines 2.15 % year-on-year, says government data 
3:42 pm: While digging land in Meerut's Daurala a rocket shaped iron object was recovered, forensic team has been sent for investigation. Army team is present at the spot: Ranvijay Singh, SP (City)
3:30 pm: PM highlighted that consuming countries, due to rising crude oil prices, face many other economic challenges including serious resource crunch.  Cooperation of oil producing countries would be very critical to bridge this gap.
3:28 pm: Prime Minister noted that the oil market is producer driven; and both the quantity and prices are determined by the oil producing countries. Though there is enough production, the unique features of marketing in the oil sector have pushed up the oil prices.
3:27 pm: Global CEOs and Experts appreciated steps taken by Government over last 4 years, for ease of doing business&specifically in energy sector in India. Experts made special mention of India's competitive ranking from upstream investment point of view which has gone up from 56 to 44
3:25 pm: CEOs and Experts from the Oil and Gas sector, from both India and abroad, met Prime Minister Narendra Modi today. Union Ministers Arun Jaitley and Dharmendra Pradhan; Vice-Chairman NITI Aayog Dr. Rajiv Kumar were also present at the interaction.
03:19 pm: Palestinian tries to stab Israeli soldier, shot dead, army says (reports AFP)
03:14 pm: MJ Akbar files defamation suit against one of the women who have accused him of sexual misconduct
2:38 PM: It is very unfortunate that students are wanting to leave midway. AMU VC, teachers,HM Rajnath Singh and MHA officials should solve this issue.I hope this will be taken seriously: Asaduddin Owaisi on reports that 1200 Kashmiri students threaten to leave Aligarh Muslim University
2:03 PM: Chinese troops transgress across Indian border; two Chinese helicopters seen near Ladakh border
1:10 PM: BSP leader Jugram Mehndi shot dead in Ambedkar Nagar, Uttar Pradesh
12:34 PM: NCLAT stays all proceedings against IL&FS, group companies until further orders
12:20 PM: North Korea and South Korea to meet in late October to discuss plans to jointly host 2032 Olympics
12:17 PM: Chinese soldiers crossed Line of Actual Control in the Arunachal Sector but returned when Indian Army conveyed to them that they have entered the Indian side. The incident happened 10 days back. Both the armies are resolving such matters as per a set protocol: Sources
12:07 PM Congress President Rahul Gandhi offers prayers at Peetambra Shaktipeeth in Datia. Congress leaders Jyotiraditya Scindia and Kamal Nath also present.
12:06 PM: Shiv Sena releases first list of its candidates for Madhya Pradesh state assembly elections, scheduled to be held on 28 November.
12:05 PM: Uttarakhand: Four people killed, six people injured after a car carrying ten people met with an accident on Jogat-Chinyalisour route in Uttarkashi; Police and SDRF present at the spot of the accident, injured persons have been shifted to a hospital.
11:34 AM: Chinese troops transgress into Dibang Valley, Arunachal Pradesh, says Defence sources
11:25 AM; Kerala High Court has laid down the conditions that Bishop Franco Mulakkal should not enter Kerala & should surrender his passport before the court.
11:24 AM: Kerala High Court grants conditional bail to Bishop Franco Mulakkal who is the accused in Kerala nun rape case.
11:10 AM: President Xi Jinping & PM Modi will meet in Argentina this November: Chinese ambassador to India Luo Zhaohui, at the inauguration of 1st Joint India-China Training Programme for Afghan Diplomats
10:40 AM: Kerala: Travancore Devaswom Board has invited the representatives of Pandalam Royal Family, Sabarimala priests, priests organisation and Hindu organisations for a meeting tomorrow. The meeting will be held at Devaswom board office in Trivandrum. 
10:10 AM: Gujarat CM Vijay Rupani met UP CM Yogi Adityanath at his official residence in Lucknow today.
09:40 AM: Sensex opens at  34,687.49 ; Nifty opens at 10,450.20 points
09:33 AM; Karnataka: At least 4 people barged into Havanur Public School, located in Bengaluru's Agrahara Sasarahalli area, and killed the school principal yesterday. One of the accused was injured and shifted to hospital. Case has been registered. More details awaited.
09:10 AM: Rajasthan: Customs officers arrested a gold smuggler at Jaipur airport y'day & seized 2 kg of gold jewellery from him. He was coming from Bangkok. He had painted the jewellery to dupe security officials. Further investigation is underway. 
08:36 AM: Wife of additional sessions judge shot dead by the judge's gunman in Gurugram yesterday: The gunner's mother and cousin have been detained. They are being interrogated. 
08:00 AM: Delhi: 2 people have been arrested for allegedly raping their colleague, an MNC executive, on the night of 13 October in Vasant Kunj area. The victim, who registered a complaint yesterday, alleged that she was raped by the two after they offered her a lift. Investigation is on.
07:30 AM: Petrol and diesel prices in Delhi are Rs 82.72 per litre and Rs 75.46 per litre (increase by Rs 0.08), respectively. Petrol and diesel prices in Mumbai are Rs 88.18 per litre and Rs 79.11 per litre (increase by Rs 0.09), respectively.
07:22 AM: According to the latest AQI data, major pollutants PM 2.5 is at 168 (moderate) and PM 10 at 224 (poor) in Delhi's Lodhi Road area.
06:50 AM: FIR registered. The contractor has been arrested. Owner hasn't been traced yet. Investigation is underway: Amrit Tripathi, District Magistrate, on under-construction building collapsed in Shahjahanpur yesterday.
06:00 AM:  President Trump backs off his claim that climate change is a hoax, but says he doesn't know if it's man-made (AP).
05:30 AM: The death toll in the Dum Dum Blast rose to three on Sunday after Sarat Shetty, a 45-year-old man who was injured in the explosion, passed away late night.