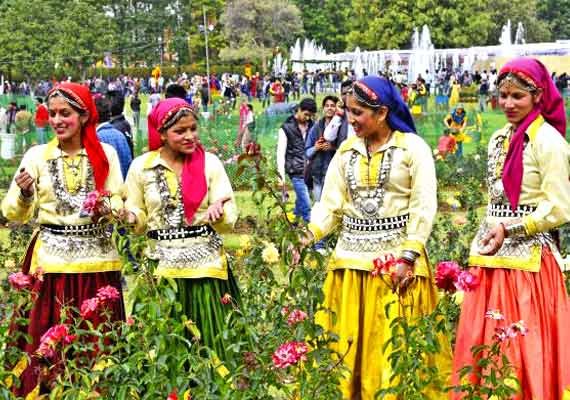 Chamba: Himachal Pradesh Forest Minister Thakur Singh Bharmouri Tuesday inaugurated the three-day festival 'phul yatra' or a procession of flowers in Chamba district.
Bharmouri said the fairs and festivals in Chamba's Pangi Valley were part of state's rich cultural heritage and should be preserved.
"The state government is doing its best to retain its (festival) sanctity," the forest minister said.
The festival will conclude Oct 16.
The festival is celebrated to mark the end of the harvest period and prepare for the winter ahead, old-timer Ramesh Chand told IANS.
According to the tradition, deities assemble at Killar, the headquarters town of Pangi, on the first day of the festival and a procession is taken out amid beating of drums and playing of shehnai.
The festival marks invocation to gods and offering the harvested crops to them for a bumper crop the next summer.
People believe the festival ensures prosperity of the families and protection to livestock and crops from natural calamities.
The festival also sees people purchasing new utensils and clothes, and cooking special dishes.
"For next five months there will be no work in the fields owing to harsh winter. From now onwards, we will start stocking food and fodder for us and our livestock," Barkha Devi said.
The Pangi Valley remains cut off from rest of the state for seven months from November onwards every year owing to closure of snowbound Saach Pass (14,500 feet).
The idyllic and pastoral settings of Pangi have been drawing an increasing number of backpackers, especially foreigners, for adventure-related activities like mountain biking, rock-climbing and cross-jungle trekking.