Follow us on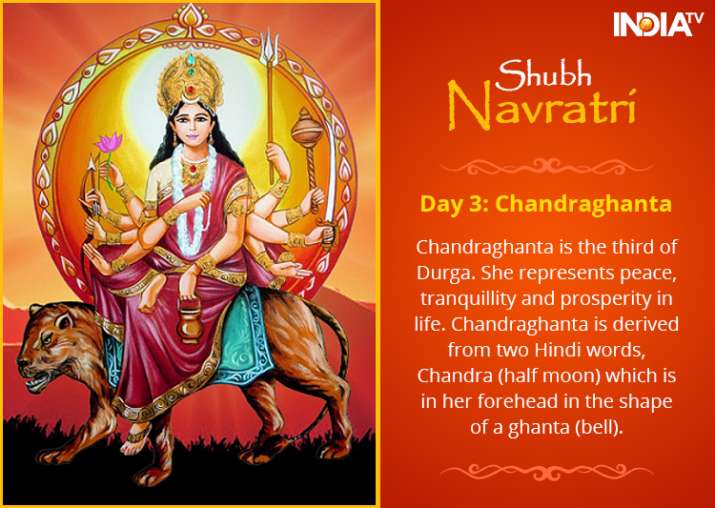 Navratri marks the beginning of festive season in the country. There are four Navratris in a year. However, only two are celebrated with great prominence by masses while the rest two are observed by 'sadhaks'. Devotees worship the nine manifestations of goddess Shakti on nine days namely-  Shailputri, Brahmacharini, Chandraghanta, Kushmanda, Skandmata, Katyayani, Kaalratri, Mahagauri and Siddhidatri. On the third day of Navratri, devotees bow down before Goddess Chandraghanta and seek her blessings to ward off evils and sufferings from their lives.
Maa Chandraghanta
She is the 10 armed goddess riding on a lion. On each of her arm, she holds different types of weapons and spiritual objects. Having radiant golden complexion and aura around her, the Goddess has crescent moon (chandra) on her forehead which appears like a bell (ghanta). That's why she is called Chandraghanta. Tough from outside but generous and compassionate from within, Maa Chandraghanta destroys hurdles and negative energies from her worshipper's life. She is an epitome of beauty and bravery and give her devotees strength and courage to tackle obstacles coming on their way. Worshipping Chandraghanta brings fame and respect
Maa Chandraghanta Puja Vidhi
Offer jasmine flowers, sindoor, kheer and cow milk, kumkum, betel leaves and akshat (rice mixed with turmeric and kumkum) to her. As per ganeshspeaks.com, one shoud first offer prayers to all gods, goddesses and planets in the kalash followed by worshipping Lord Ganesha, Kartikeya, Saraswati, etc. Finally worship Goddess Chandraghanta and conclude the puja by offering prayers to Lord Shiva.
Maa Chandraghanta Mantra
You can chant  Om Devi Chandraghantayai Namah (ॐ देवी चन्द्रघण्टायै नमः॥) while offering puja to the goddess. You can also recite a prayer to please the goddess- Pindaja Pravararudha Chandakopastrakairyuta Prasadam Tanute Mahyam Chandraghanteti Vishruta (पिण्डज प्रवरारुढ़ा चण्डकोपास्त्र कैर्युता प्रसादं तनुते मह्यं चंद्र घंष्टेति विश्रुता)
What to eat during vrat
As Goddess Chandraghanta is offered cow milk, you can prepare badam kheer, makhana kheer or sabudana kheer for her and then serve everyone in the family as prasad.