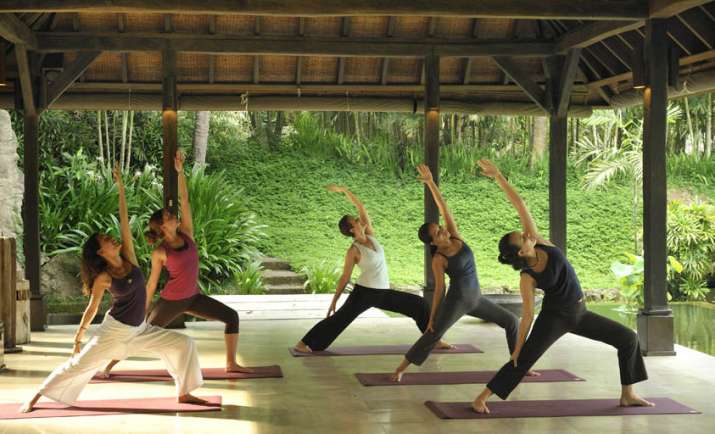 Many of us prefer to spend our holidays vacationing on hills, beaches etc, but rarely we think of places like Ashrams where we can actually relax. There are many places apart from hills and mountains where we can relax our minds and souls by just meditating in Ashrams. On this International Yoga Day, Ixigo has come up with a great package where you can visit top destinations for a spiritual retreat. This place is surely going to give you a rare feeling of  an enlightenment through a spiritual journey which soothes your soul and body.
1- Sri Aurobindo Ashram, Pondicherry – This place is considered as one of the best place in India to practice internal yoga. This Ashram is known for internal yoga which will help you have an intrinsically spiritual experience. Its main aim is to make a person self-consciousness on both mental as well as a spiritual level.
2- Sivananda Yoga Vedanta Dhanwantari Ashram, Thiruvananthapuram – This place is more suitable for the beginners. Teachings here are basic and helps in basic understanding of meditation, focusing on both practice and theory. A typical course is for six days with a class of 90 minutes for each day. Apart from the basic meditation practices, the chanting of mantras to ease focus while meditating is one of the key features of this place.
3. Phool Chatti Ashram, Rishikesh – Phool Chatti Ashram is situated deep in the Shivaliks at Rishikesh. This place offer beginners and intermediate courses in yoga. Usually running for seven days, there are two sessions of yoga; one for spring and one for autumn. Apart from course this place let you experience the life of an ashram. 
4- Ananda in the Himalayas, Narendranagar – This place is known for the most sought-after spas other than yoga retreat in the country. A group of yoga experts guides through the revolutionary practices of hatha yoga and Satyananda Yoga. The main teachings of this place is to aid you in attaining a work life balance. The various forms of meditation that you can practice at Ananda are Psychic Sleep, Chakra Cleansing, Inner Silence, Chidaksha Meditation and more.
5- Yoga Vidya Spiritual Retreats, Kochi – A group of yoga teachers took an initiative and started this spiritual retreat. The teachers here teaches benefits of yoga to the, while also allowing them the rich experience of Ashram life. While trained yoga performers help you bring in your sync your body and soul, you can pick from several programmes designed for beginners as well as experts, depending on your proficiency of the practices.
6- Ayurveda Yoga Meditation Resort, Coonoor - Ayurveda, yoga, reflexology, acupressure, or just strolling around amidst natural bounty, this one offers it all. Add to it the panchakarma detoxification programme, weight loss programme, advanced therapies to deal with depression, and you've a perfect getaway from the din of cities. There are some five packages to choose from, while you get to stay amidst tea plantations.
7 - Tushita Meditation Centre, McLeodganj - Apart from guided meditation and spiritual discourses, you can also opt for sessions on Buddhism. Located in McLeodganj, Tushita Meditation Centre exile of the Dalai Lama in India, there's the added treat that comes as "movie days" and more, when you can join the other followers for interactive sessions. You can choose from personal and group retreats. Giving you company here are the usually snow laden Dhauladhars.
8- Osho Meditation Resort, Pune - Situated at Koregaon in Pune, Osho Meditation Resort is a hub of meditation. There are a number of workshops, courses, massage options and the much-followed Daily Meditation Program. Spread over an area of 28 acres, it's a perfect retreat for the people of nearby Mumbai. If not meditation, you can simply stay here or go for a swim in the campus pool. There are people from more than a 1000 countries coming in for meditation here.
9 - Dhamma Giri, Igatpuri – Dhamma Giri is known for Vipassana. This place provides with a course of minimum of ten days. This place is presided by SN Goenka, one of the pioneers in the field of Vipassana. Considered to be one of the best meditation forms for self-awareness, Vipassana is one of the toughest forms too. The meals served here are strictly vegetarian, while you can choose dormitories, single occupancy rooms and double occupancy rooms to stay here.