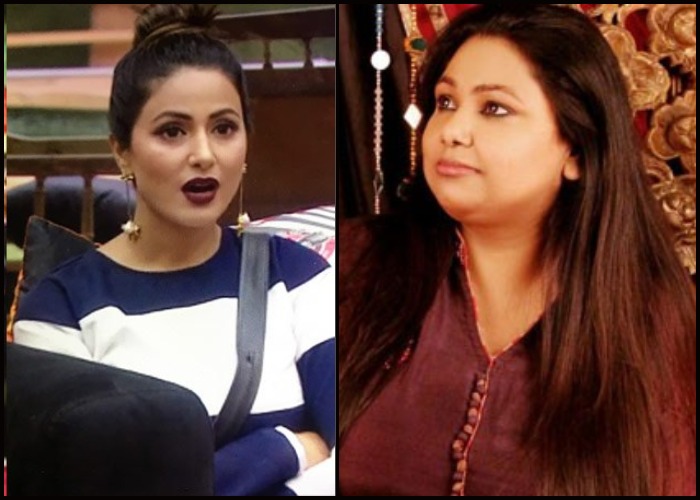 Everyone in the industry is having some or the other problem with TV actress Hina Khan. For unknown reasons, very few in the television industry have a good rapport with former Yeh Rishta Kya Kehlata Hai actress. And her recent stint in Bigg Boss 11 has earned a legion of haters both inside and outside the industry. Acclaimed stylist Neerusha Nikhat, who styled the likes of Mouni Roy and Divyanka Tripathi, is not very fond of Hina Khan and she has her reasons for that.
It all started when Rohan Mehra entered the house and told Hina Khan that she's being hailed as a style icon in outside world. Following this, Neerusha tweeted a screenshot of Hina Khan's stylist Hemlata Periwal aka Hemu asking her to sponsor her clothes.
Neerusha states that she's glad that she didn't sponsor her clothes for Bigg Boss 11. Hemlata, in return, blasted her for leaking her number on social media. She also tagged Neerusha's act 'dirty'.
It's not an alien practice for celebrities to wear sponsored clothes while making a public appearance. And so does Hina Khan. The chic garments she has been donning all this while in Bigg Boss 11 are sponsored. But why did Neerusha Nikhat has such a big issue sponsoring clothes for Hina Khan. She reveals all in an interview with Telly Chakkar.
She speaks on why she refused to sponsor Hina Khan's clothes. She said, "The reason I said no to the proposition was because I knew Hina when she was doing a show (Yeh Rishta) for Rajan Shahi. I know the whole story on how she exited from the show. Even though I've worked for a small time, I've worked with this woman. I know her, I know her intentions and I never liked her. So when I was offered to sponsor her in Bigg Boss for minimum 60 days, I denied."
Neerusha Nikhat also took a dig at Hina Khan's dressing sense. Talking about her fashion, she said, "When Rohan said that she (Hina) is the style icon, I was like sorry no! She is wearing clothes that are not even suiting her. My whole message was to Hina. Madam at least wear clothes that fit your body. Your height is 5'4' and you are wearing long gowns that are floor sweeping. Everything she is wearing is too much of an overdue. I'm a renowned stylist that is the reason I can comment on it. Main kal ki aayi hui hoon (I'm not a rookie)."
Neerusha also feels that Hina Khan doesn't deserve good people around her. Why? She answers herself.
"Of course it's (sponsoring) a trend; we've sponsored celebs like Mouni Roy, Divyanka Tripathi. But it's my personal choice whom to sponsor. I've seen Hina in two months; she is such a negative and cribbing soul. I don't like her personally. You are wearing 50k lehenga and sweeping floors; you are wearing a 20K gown and entering in a pool of water! You need to understand what that stylist would be going through, watching it outside. Honestly, she doesn't deserve good person around her."
Style icon is not about clothes, but about personality. Neerusha speaks about Shilpa Shinde and Arshi Khan's dressing sense as well. She said, "Shilpa Shinde sometimes wears good and sometimes really bad clothes but people like her personality. Arshi also, whatever brains she has she is using it to style herself. Hina is taunting Arshi, for a matter of fact Arshi nighties will soon come in the market. So I would want to sponsor someone who I would like as a person that was the reason I tweeted. The crux of the tweet was that thank God I didn't sponsor her or else I would have regretted it. Style icon is clothes, it's personality. How you carry clothes is what makes you a style icon."
Hina Khan has currently become the most hated contestant in Bigg Boss 11. A lot of people in outside world are having a problem with her stint on the show. Karan Patel has incessantly bashed her for lying through her teeth. Sayantani Ghosh also slammed her for shaming Arshi Khan during the court task. Recently, she garnered criticism for her 'tap water' episode with Shilpa Shinde.