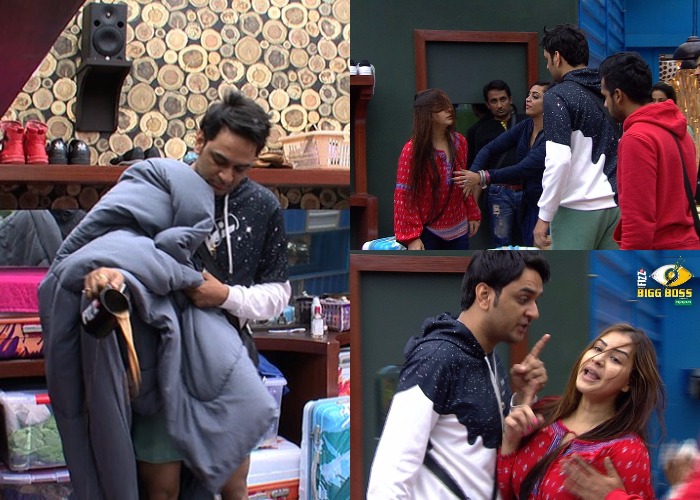 Right from the first episode of Bigg Boss 11, Shilpa Shinde has been grabbing headlines, perhaps for the wrong reasons. On the very first day, she came to blows with TV producer Vikas Gupta. Now, the house has been divided into two sects, one having Shilpa Shinde and Arshi Khan while other having housemates united. At many instances, Shilpa is seen locking horns with Vikas for no reason. In Thursday's episode, she's seen imitating him, ultimately forcing him to leave the scene.  
You can't miss the ghamasaan yuddh between #ShilpaShinde & @lostboyvikas54! Witness it tonight 10pm on #BB11! pic.twitter.com/48xrpQKLT2

— COLORS (@ColorsTV) October 6, 2017
In tonight's episode, it's going to be a fiery affair between the duo, that shared a not-so-cordial past. Colors' official Twitter handle tweeted the pictures from the precap where Vikas Gupta looks exasperated at something Shilpa either said or done. He's raising his finger at her. Precap has it that Vikas will be pushed to such an extent that he poured his copy all over Shilpa Shinde's clothes and belongings. Arshi tries to intervene and solve the matter. Puneesh is also trying to pacify angered Vikas.  
Jal gayi hai chai aur kya hai contestants ki raai? Find out tonight 10pm on #BB11! #BBSneakPeek pic.twitter.com/oMVOAwLEC4

— COLORS (@ColorsTV) October 6, 2017
According to a video posted by Bigg Boss 11's official page, Vikas is infuriated that Shilpa Shinde intentionally burnt his tea. And so in response, he's going to pour his tea all over her clothes! Shilpa is heard saying that she enjoyed spoiling his morning tea for him. She also teases Vikas by singing 'Uff uff mirchi, laagi laagi mirchi'. Vikas reaches her furiously which makes her call out for Bigg Boss. 
Watch the episode tonight to see to what extent will Vikas and Shilpa's fight go!