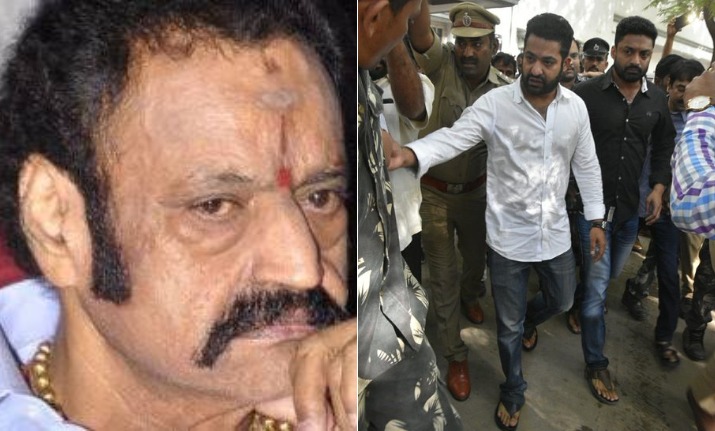 After the tragic death of Nandamuri Harikrishna, the son of former Andhra Pradesh Chief Minister NT Rama Rao, his actor son Jr NTR rushed to the hospital where N Harikrishna was taken after the accident. The former politician and the 61-year-old was father to Telugu actors Jr NTR and Kalyan Ram was involved in a serios car accident on Wednesday morning. The entire Tollywood industry is in a state of shock at his sudden demise.
His sons Jr NTR and Kalyan Ram rushed to the hospital where their father was taken. The videos of the actors arriving the hospital are being shared on the social media. In some of the videos, the actor is seen in an absolute shock, trying to keep himself together. He is trying to wipe away his tears, while his brother stands by his side to console him.
NTR'S son Nandamuri Harikrishna dies: Allu Arjun, Nagarjuna, Mahesh Babu pay last respects to the Telugu actor
ఎన్టీఆర్ అన్న నీకు ఏడ్వడం వద్దు అని చెప్పలేం...
అలా అని నువ్వు ఏడ్వడం చూస్తూ ఉండలేం...#RIPHariKrishnaGaru 😭😢 pic.twitter.com/qGE6r2XoTI

— Nani Tarak (@pushpakchowdary) August 29, 2018
After the news of Harikrishna's death came out, fans have been sharing throwback videos of the Jr NTR had spoken about his father and the bond he shared with him. In an emotional speech, talking about his father Jr NTR said, "My father has always taught the three of us that you can fall down, you can even reach the cusp of death, but always depend upon yourself to be successful. He never taught us to live under his shadows or to use our grandfather's (NTR) name to come up in life. He always told us to live like ourselves and promised that his blessings would always be with us."
ఏ కష్టమేదురొచ్చినా ,కన్నీళ్లు ఎదిరించిన ఆనందం అనే ఉయ్యాలలో నన్ను పెంచిన నాన్నకు ప్రేమతో జూనియర్ ఎన్టీఆర్,కళ్యాణ్ రామ్ గారికి మా #JanaSenaParty @PawanKalyan గారి ప్రగాఢ సానుభూతి #RIPHariKrishnaGaru #JanasenaniBirthdayCDP pic.twitter.com/xWGciWx0w9

— Nagababu Pasam (@PasamNagababu) August 29, 2018
"If something were to happen to my father, I can't imagine what that would be like," he added.
Be strong @tarak9999 #RIPHariKrishnaGaru
pic.twitter.com/2aZpl7prFl

— Tarakfangirl (@tarakfangirl) August 29, 2018
Harikrishna met with an accident at 4:30 an while travelling from Hyderabad to Nellore for a wedding. The accident took place at Nalgonda district, Telangana on the Annarpathi road near Narketpally. He suffer serious injuries and was taken to Kamineni hospital where he breathed his last.