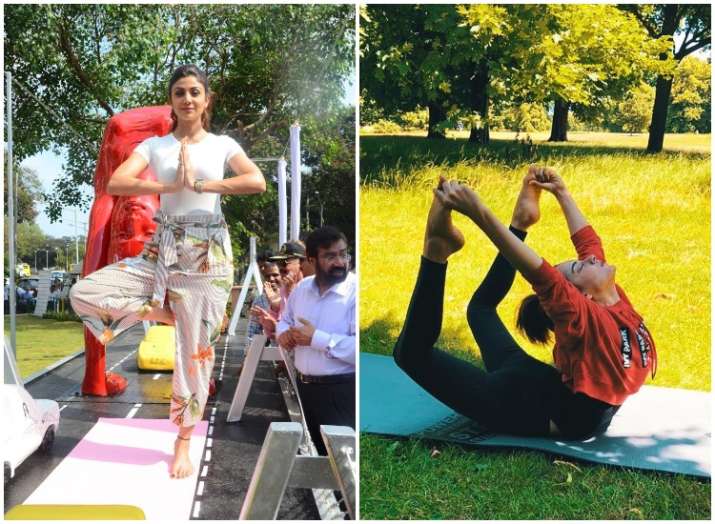 Bollywood actresses Kangana Ranaut and Shilpa Shetty are leaving no stone unturned in encouraging fitness goals this International Yoga Day 2018. Bollywood and yoga definitely go hand-in-hand and Shilpa and Kangana swear by this effective and meditative form of practice. On International Day of Yoga, which is celebrated on June 21 worldwide, both the Bollywood divas performed yoga asanas and urged fans to stay fit.
Kangana Ranaut on Yoga Day 2018
The official Kangana Ranaut team shared pictures of the Manikarnika actress performing yoga poses. "#KanganaRanaut shows her dedication towards #Yoga on #InternationalYogaDay2018 & encourages everyone to adopt Yoga as a lifestyle & a way to spiritual awakening. #YogaDay2018 #WorldYogaDay #internationalyogaday", the caption read.
In another post, the team posted a video of Kangana Ranaut practising yoga with a caption that said, "KanganaRanaut practicing the ancient science of #Yoga this #InternationalYogaDay2018 The key to practice Yoga is patience & stillness".
Shilpa Shetty on Yoga Day 2018
The yummy mummy of Bollywood Shilpa Shetty penned a strong message on International Yoga Day while performing a yoga asana. 
"Dear Instafam,Pranayama: Prana means life (no life without breath), Ayama means practice/control. So when you practice control over breath you WILL have control over your LIFE and MIND. It not only cleanses 72000 nadis/channels, your mind and blood ,but that cleansing process translates into energy.. SHAKTI.. This power helps you positively manifest your AURA, RELATIONSHIPS,SELF-AWARENESS and GOALS. This International Yoga day start with Pranayama.. Welcome the NEW you. Inhale the future, Exhale the past..Enjoy the present", the actress said.
Amitabh Bachchan on Yoga Day
The megastar of Bollywood shared Yoga Day greetings.
T 2843 - Greetings .. but the attire for yoga is not ideal .. that was a still from the Gujarat Tourism campaign .. love pic.twitter.com/twSqJkJPxi

— Amitabh Bachchan (@SrBachchan) June 20, 2018